Unique & Healthy Recipes for the BBQ!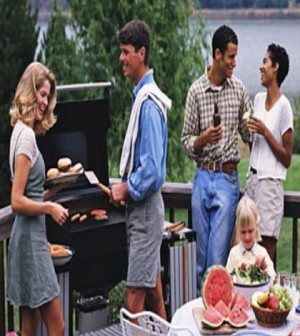 Tired of the typical burgers and dogs at every BBQ? This summer, turn up the heat with these invigorating yet simple recipes. Whether you're hosting or attending a party, these mouth-watering dishes are bound to be a success. The best part is that they're versatile and can be adjusted based on diet or allergy restrictions, and they're way better for you than your standard dog and chips.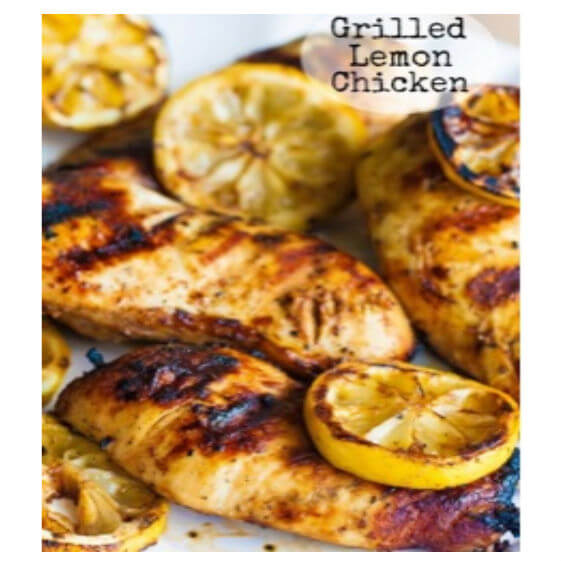 Grilled Lemon Herb Chicken
Ingredients | serves 6 | gluten free | dairy free
6 boneless, skinless chicken-breast halves
1 lemon, thinly sliced
1/3 cup pitted kalamata olives, halved
1/4 cup extra virgin olive oil
3 tbsp lemon juice
1 tbsp apple cider vinegar
2 tbsp chopped fresh dill
2 tbsp chopped fresh basil
1 tbsp honey
1 tbsp Dijon mustard
1/4 teaspoon ground black pepper
3/4 tsp sea salt
Recipe
1. Whisk lemon juice, vinegar, dill, basil, honey, mustard, pepper and salt. Slowly whisk in oil.
2. Cover chicken in a large ziplock bag with 1/3 cup of the dressing and half the lemon slices.
3. Seal and refrigerate for 2 hours. Reserve remaining dressing, with olives and remaining lemon slices.
4. Discard marinade in bag and grill chicken over medium-hot heat 6 minutes per side.
5. Serve chicken and drizzle with dressing.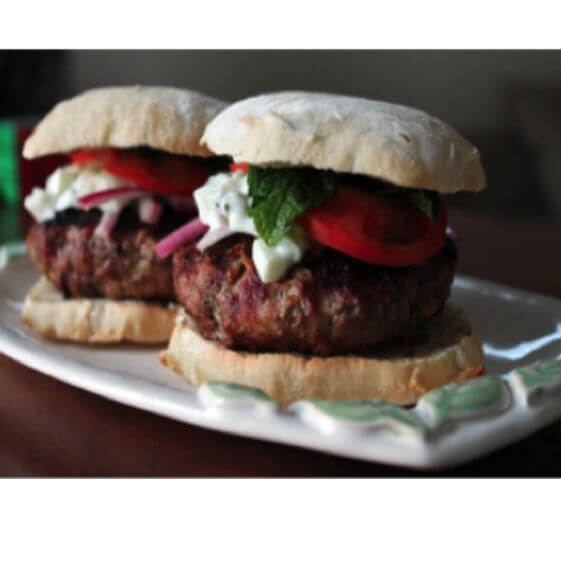 Greek Style Burgers & Feta Aioli
Ingredients | serves 5 | gluten free
Aioli:
½ c crumbled feta cheese
4 tbsp plain 0% Greek yogurt
¼ tsp ground black pepper
1 garlic clove, chopped
Burgers:
5 thinly sliced red onion
1 lb lean ground beef (works with chicken, pork and turkey)
½ c chopped roasted red peppers from jar
¼ c chopped fresh parsley
1 tsp dried oregano
¼ tsp sea salt
¼ tsp ground black pepper
1 pack of chopped spinach
1 large egg, beaten (optional for better binding)
2 garlic cloves crushed
5 ciabatta buns
Recipe
Aoili: combine all ingredients in food processor or blender, pulse until smooth, cover and chill.
Burgers:
1. Brush onion slices with olive oil and grill for 2 minutes on each side.
2. Combine beef and ingredients in large bowl, dividing into 5 ½ inch thick patties.
3. Brush grill with olive oil and cook for 6-8 minutes on each side, or until cooked.
4. Spread aioli over bun, top with onion, fresh spinach and more peppers.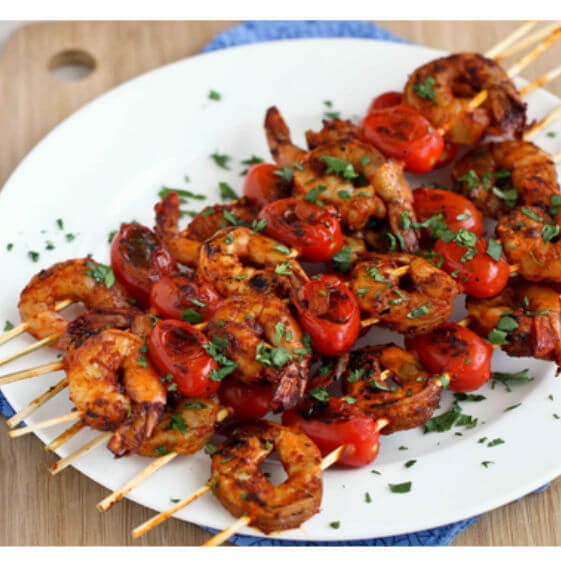 Shrimp & Tomato Kebbabs
Ingredients| serves 3 | gluten free | dairy free
3 tbsp olive oil or toasted sesame oil
2 tbsp chopped fresh cilantro
1 tsp freshly grated lime zest
3 tbsp lime juice
1/2 tsp salt
12 raw shrimp, peeled and deveined
3 jalapeno peppers, stemmed, seeded and quartered lengthwise
12 cherry tomatoes
Recipe
Whisk oil, cilantro, lime juice & zest and salt in a large bowl. Reserve 3 tbsp.
Coat shrimp, jalapenos and tomatoes with marinade.
Preheat grill to medium-high.
Make 4 kebabs, alternating shrimp, jalapenos and tomatoes.
Grill the kebabs4 minutes each side, until the shrimp are cooked through,
Drizzle with the reserved dressing.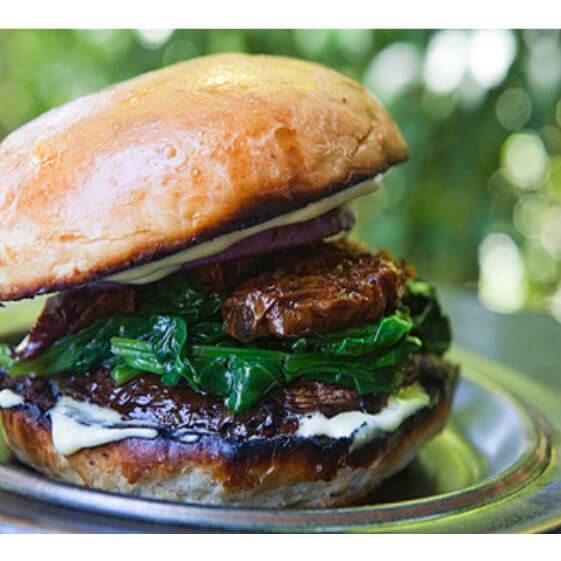 Grilled Portobello Burgers
Ingredients | serves 4 | vegetarian | gluten free optional
1 garlic clove, chopped
1/2 tsp sea salt
2 tbsp extra-virgin olive oil
4 Portobello mushrooms, stems and gills removed
4 slices sourdough bread, cut in half (optional gluten free bread or no bread)
1/2 cup sliced jarred roasted red peppers
1/2 cup sundried tomato, chopped
1/4 cup crumbled goat cheese
2 tbsp Kalamata olives, chopped, pitted
1 tbsp red-wine vinegar
1/2 tsp dried oregano
2 cups mixed salad greens
Recipe
Preheat grill to medium-high.
Mash garlic and salt on a cutting board until smooth (use back of spoon).
Mix paste with 1 tbsp oil and lightly brush over portobellos and one side of each slice of bread.
Combine and toss remaining ingredients (aside from bread) with reserved tbsp oil.
Grill mushrooms until tender, about 4 minutes per side; and bread until crisp, 1 minute per side.
Place grilled mushrooms bottom-side up on bread slices, top with salad mixture, and top slice of bread.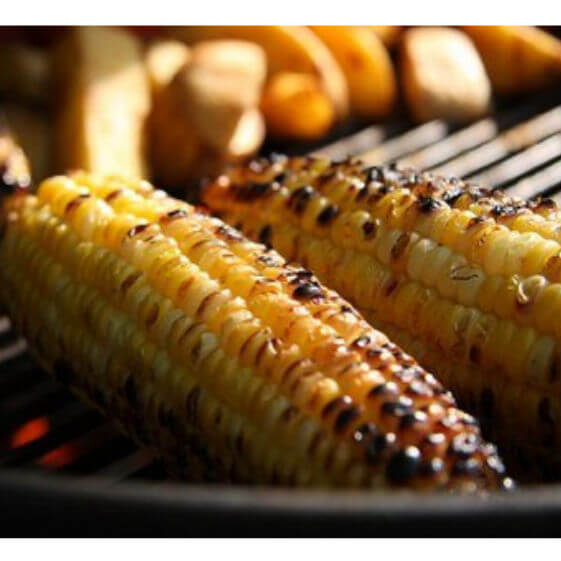 Spanish Style Corn
Ingredients | serves 8 | vegetarian | gluten free
8 ears corn
1 tsp sea salt
2 tbsp extra virgin olive oil
1/2 small red onion, chopped
2 garlic cloves, chopped
2 tsp paprika
1/2 tsp cayenne powder
1 tsp cumin seeds
1 tbsp chili powder
1/2 cup water
1 1/2 sticks unsalted butter, softened (optional coconut oil to replace)
1 tsp Worcestershire sauce
Salt and freshly ground black pepper
Recipe
Corn:
1. Heat grill to medium
2. Pull tough skin to base of corn leaving it attached and remove strings. Fold skin back onto corn.
3. Soak corn in large bowl of cold water with 1 tbsp sea salt for 10 minutes.
4. Place corn on grill, covering for 15-20 minutes, rotating every 5 minutes, or until kernels are tender.
5. Remove skin and spread butter mixture over cob while hot.
Spanish Butter:
1. Heat oil in pan over high heat. Sautee onion until soft, 3 minutes. Add garlic, cooking for 30 seconds.
2. Add spice mixture and sautee for 1 minute.
3. Add ½ cup water, sautee until mixture is thick and less liquidy.
4. Thoroughly mix or place butter in food processor, adding spice mixture and Worcestershire sauce until smooth.
5. Add butter to corn and season with salt and pepper to taste.

About Amanda Santalucia
Amanda Santalucia, originally from Montreal is a driven Marketing student, currently developing her Advertising career in Toronto. Remaining active as a young adult, her passion for health and fitness sparked several years ago while reading an intriguing health related book. After being diagnosed with various food intolerances shortly following, Amanda began to explore several diets, the effect of stress and different environments on the digestive system, food groupings, food health benefits and more. Currently, she practices a healthy lifestyle, free of gluten, dairy, meat, GMO's and refined food. Amanda enjoys experimenting in the kitchen and believes in creating foods using healthy alternatives without substituting great taste.