Top 5 Summer Salad Recipes
Forget counting calories, these salads will ensure you are bikini ready this summer. These refreshing recipes will keep you rev'd all solstice long. Mix things up by adding these mains to your menu. Ensure satisfaction by adding a protein of your choosing to any of these salads: chicken, shrimp, steak, tofu, beans, the possibilities are endless.
Caesar
This ain't your mama's Caesar salad! That's because it's my mom's. For one thing, no anchovies were harmed in the making of this salad dressing. Cut down on the carbs by avoiding croutons, (parmesan and bacon bits, too while you're at it).
In a blender liquify the following:
3/4 cup oil
1/4 cup vinegar
1 tbsp mayonaise
1 tbsp mustard
1 egg
1-3 garlic cloves
2-3 challots
Generous amount of parsley
Sprinkle in some sugar to dull the acidity. Add salt and pepper to taste, but skimping on the sodium is my recco to avoid water retention for a summer slim down.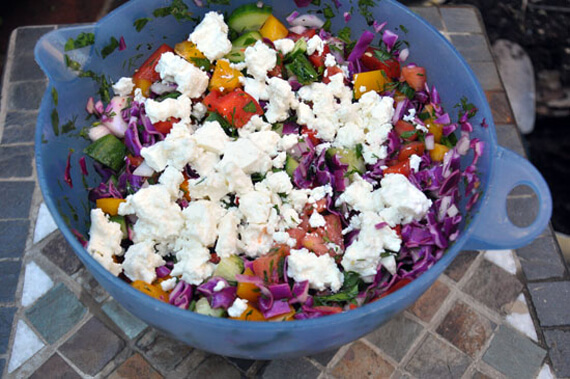 Ali Baba
The inspiration for this Mediterranean salad comes from a favourite Manhattan restaurant of mine. The Turkish terrace is a hot spot with many locations across NYC. What I love about this salad is the blend of textures, colours, and flavours. A trip to the Big Apple takes some planning, but this dish takes hardly any prep. Chop up some lettuce, shred a few carrots, slice a red cabbage, cucumber, and tomato, and have some Feta cheese on hand. Douse the salad in olive oil, white vinegar, lemon juice, oregano, salt, pepper, and crushed garlic.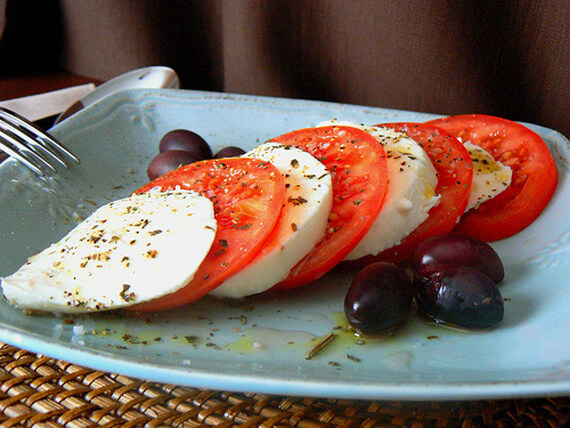 Caprese
This one is quick, easy, tasty (and, good for you: tomatoes lower the risk of certain cancers, reduce heart disease risk, and are loaded with antioxidants). Alternate slices of tomatoe and bocconcini, top with basil (fresh, or dried), and add a drizzle of olive oil. It's as simple as that. Buon appetito!
N.B.: Traditionalists refrain from using balsamic vinegar, but to each their own!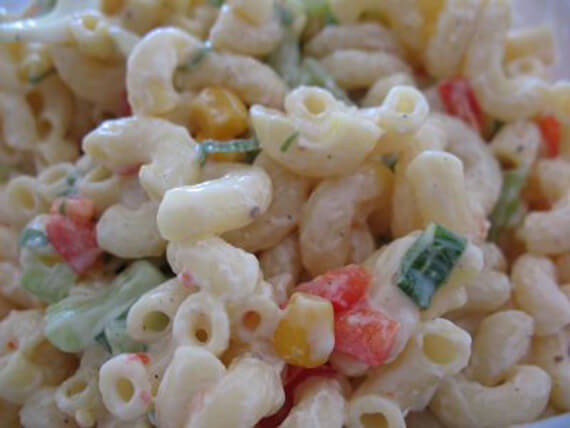 Macaroni
This chilled salad is a summer classic. As a side at a BBQ, or a meal all its own, you can't go wrong with the 'roni. Load it with veggies, and keep the carbs at bay after lunch. Opt for low-cal options (like low-fat mayonnaise) to make this delicious salad all the more beneficial this bikini season.
My grandmother's recipe (a word to the wise, Nanny doesn't use measurements, she "goes by eye", if it looks right, it'll taste right):
-Mayo (spoon it on thick, or thin)
-Sweet pickle juice (literally the liquid from your jar of bread & butter pickles)
-Onion powder
-Dice up celery and carrots (bell peppers work nicely, too)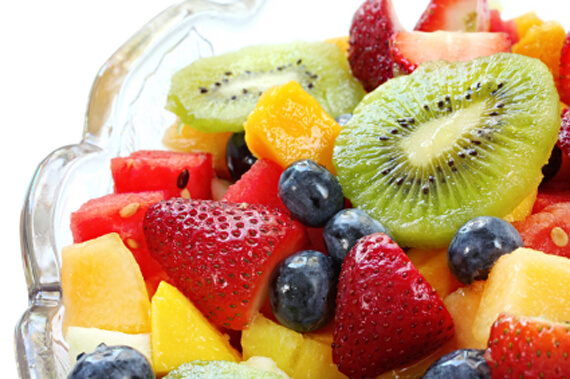 Fruit
Have it for dessert, or make it your meal! Toss strawberries and almonds in with your lettuce, tangerine and walnuts, or make fruit the main feature. Throw away the rules for this recipe, and simply make a salad with your favourite fruits. Warning: Excessive intake of fruit may result in flattery. Please enjoy responsibly.