Top 5 Free things you have to try this Summer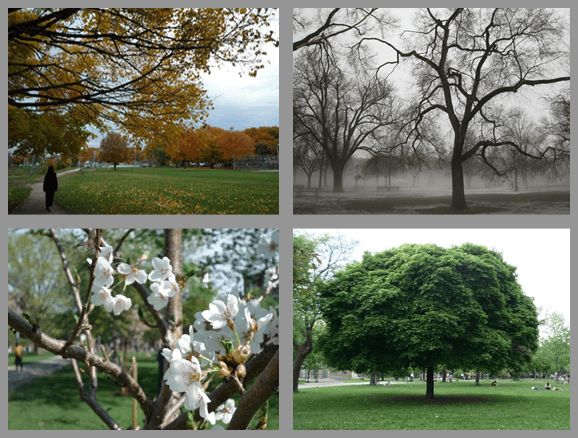 Some people think that summer is the season for brunches, patios, and all kinds of outings. Those can have some of us worried about our pocket books (do people still use these?), but fear not. I have compiled a list of my favourite 5 things to do that won't cost you anything but your time and occasionally gas. So without further ado and in no particular order, here are 5 free things you have to try this summer:
1. The Emerald Block: Trinity-Bellwoods Park
Ok, it's not quite emerald – just green but it's a staple location. This urban oasis sits between Queen and Dundas and is nestled between Gore Vale ave. and Crawford. Originally the site of the Garrison Creek ravine and later Trinity College of which the only remnants are the beautifully constructed stone and iron gates seen off of Queen street.
What is so special about it? Oh I don't know, maybe the leash free area for your pooch, plenty of field space to organize a soccer game, or the community centre that offers swimming pools, volleyball courts and tennis courts should you choose to splurge. I actually had the toughest time releasing this gem out of my arsenal because to me it truly is perfect. The perfectly spaced mature trees that offer the right amount of shade and privacy from the next neighbour. The laid back vibe it exudes, the way you feel as though you're watching the city drive by as you observe from a distance. The way you can bring your pup and actually give him a chance to stretch his legs.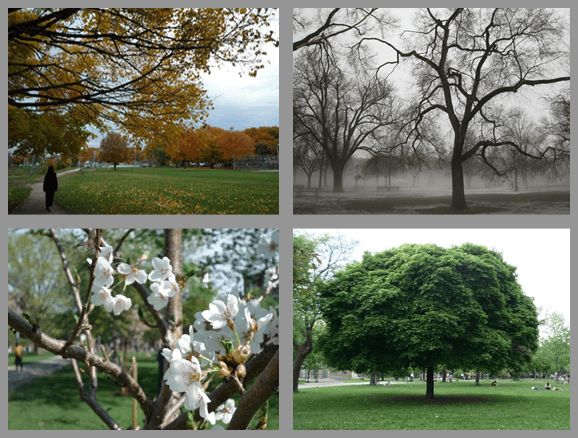 So try it out, organize a weekend softball game or something, spend a day running around with Fido, visit the park for a scheduled event, or spend it under a tree with a friend or a good book. Bonus points if you're sporting a Margaret Atwood novel – way to be Torontonian.
http://www.trinitybellwoods.ca/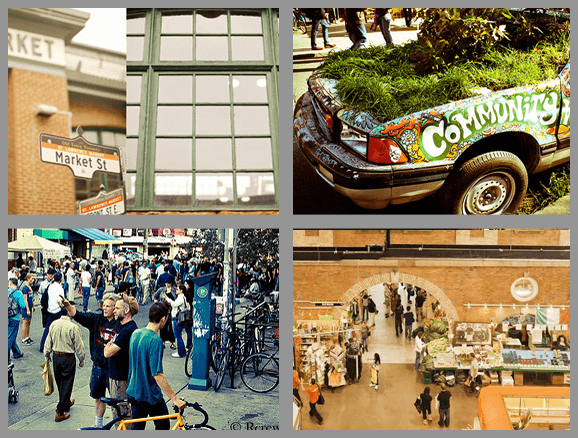 2. Put yourself on the Market: St. Lawrence and Kensington
Yes, I did bulk them together even though they are quite different and even though you're thinking "Hey! Markets are for shopping!" don't worry, I am not leading you on. These markets are so wonderful you can lose yourself for hours exploring and window shopping without spending a penny. But what makes both so great, is the events they host.
St. Lawrence market is well known for it's history; having almost 200 years worth of it in the single location at 92-95 Front St. Currently it is the home to a multitude of vendors of fresh and unique foods, a gallery, and even a cooking school! What's most spectacular is the architecture and the history that practically oozes out of every brick. Besides, where else can you find bacon jam?
Some events of interest: The Strawberry Festival (June 16) and Busker Fest (August 23) as well as their unique Shop the Market events where chefs take fresh local ingredients and teach you how to prepare a delicious and unique meal (Fees apply to these).
Kensington Market is the hipster, flower child version of St. Lawrence. It takes place predominantly outdoors and sits between Dundas and College, West of Spadina but East of Bathurst. Yes, it's also really close to Little Italy if you're in the mood for a Tiramisu, but we're trying to pinch pennies so follow along. I can't get into the details of what stores and gold mines you will find on this little network of streets, but I can tell you there are plenty. Ethnic shops and restaurants : Mexican, Spanish, Indian, Vegan, you name it, you'll most likely find it. If you can spare a toonie (yes I am insinuating this) try the churros or empanadas. However, the atmosphere in Kensington on a Sunday afternoon is nothing shy of electric. Although traffic is not cut off, the streets become practically pedestrian and street performers are perfectly interspersed to keep your attention in flow. Check out the 'garden car' near College, the unique art painted on building walls, and the Al Waxman statue to honour a Kensington Market star.
So why not put yourself on the market? And enjoy the atmosphere being in a market has to offer.
http://www.stlawrencemarket.com/ http://www.kensington-market.ca/

3. Lay Back for Take off : HTO Beach
One of my favourite ways to catch up with friends while enjoying the weather is the HTO beach at Spadina and Queensquay. Yet another gem I didn't want to disclose, but I'm feeling generous today. This unique location is what I can only describe as an urban beach. Hold the bikini and tanning oil! The boardwalk mimics that are found around the area's waterfront, but a small area was filled with sand in 2007, has yellow umbrellas strewn at intervals with two muskoka style chairs under each umbrella. Cute right? Sitting on the beach overlooking the water on Queensquay in what can only seem like a cottage-like experience is already blissful. Well I'm going to make your day! You'll get to watch planes take off and land at Porter too. The beach is located in such a way that you have front row seats to airport traffic, and since Porter flies frequently, you can guarantee yourself more landings and take offs than you'd ever hope for. Yes I know, I won't say more because I'll let you make those plans with your bestie right now.
Bonus points if you explore the area and run childishly around the wave boardwalks, rent a canoe or catch a free concert in the music gardens.
http://www.claudecormier.com/project/hto-urban-beach
4. Get some exercise : Edward Gardens
Another favourite I had to be forced to release although I doubt you could miss it on a map. Edward Gardens are botanical gardens located between Lawrence and Eglinton running along Leslie. At the northern most corner you will find Edward Gardens – A beautiful botanical garden worthy of a stroll on foot with friends and family. If you're lucky you may also get to witness a wedding photo shoot, that's how beautiful these gardens are. However, the highlight of this location, irregardless of the breathtaking garden, is the trail that starts here. Grab your bike or roller blades and propel your way through Willet Creek, Serena Gundy, and even Emerest Thompson Parks. In fact, the trails leading from this singular location can take you all the way to Lakeshore (or so they say). No gym membership required, and all it cost you is whatever gas you used up getting there.
Bonus if you stop by the stables and picnic while watching a riding lesson. Hope you brought a backpack!
http://www.edwardsgardens.org/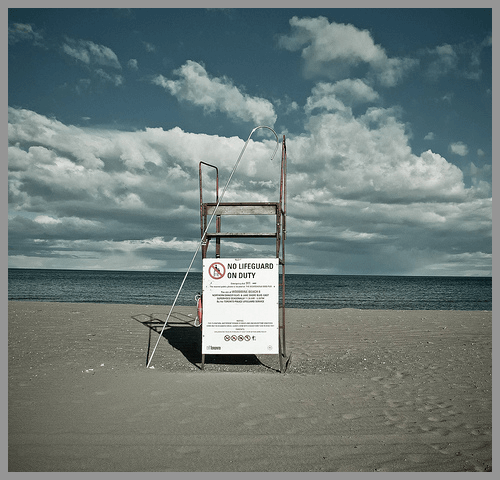 5. Soak up some Sun : The Beaches
If you've lived in Toronto for more than a minute you'll know about the beaches. Woodbine beach is the term most people use to refer to the beach itself while "The Beaches" is a fairly long stretch of Queen street far east of Carlaw. Pack your cooler, grab the sunscreen, fold up those towels and take a drive, but don't pull into the parking lot. They're overpriced and too busy. Instead roll down Queen street and once you feel you're in the heart of the Beaches (the district) take a side street and enjoy the fruits of parallel parking. Firstly, you'll be closer to the beach itself. Secondly, you will have skipped the tourist ridden, stuffy far west end of the beach and find a more spaced out stretch of that local sand. Here you can find the infamous boardwalk with bikers and roller bladers, an off leash park, and the beautiful lifeguard house. Bonus if you take a stroll down Queen street and take in all the unique offerings of this vibrant neighbourhood. Double bonus if you grab a meal at the Burger Priest, named one of Toronto's best restaurants and conveniently located in the Beaches.
http://www.thetorontobeaches.com/
So there you have it. 5 unique, historical and free things to do this summer in Toronto. So get outside, enjoy this city and all it has to offer because before we know it, the leaves will be brilliantly red and a blanket of the eerie white stuff will soon follow. I'll see you at one of the above!