Rose City Kitchen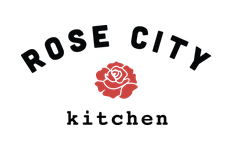 Located just west of Spadina on Queen, Rose City Kitchen is nestled neatly on the corner of Cameron Street. The restaurant features a white washed exterior with a beautiful red and black mural, open-air patio, and the inside is no less inviting. Seating inside is limited, but the food is just as great to go and the room is bright, spacious and decorated with red accents and a 12 foot vintage photograph of Petra, the "Rose City" from which the restaurant's name is derived.
The city of Petra once provided a hub for the trade of spices across the Mediterranean region. As such, Rose City Kitchen is devoted to representing the diverse styles and flavours that have travelled through its city of origin, incorporating a taste of Greek, North African and Lebanese (to name a few) into a highly original menu. In addition to its in house menu, Rose City Kitchen also provides catering services to events around the city. I was particularly struck to find out that, unlike other fast food style restaurants, everything at the Rose City Kitchen is made from scratch: the tabouleh, the falafel and even their pita, which they impressively stone bake daily.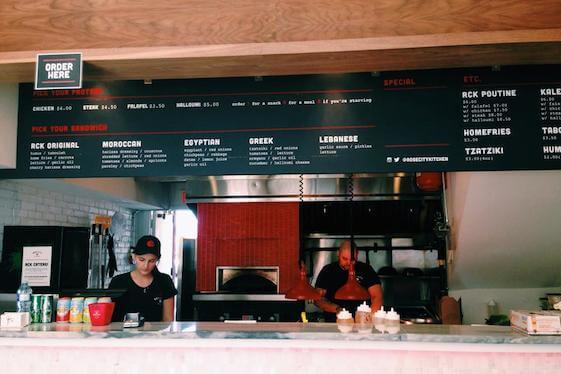 Rose City Kitchen creatively incorporates distinct culinary styles and ingredients from a number of different Mediterranean regions in its cheap and cheerful ($3.50 – $4.50) pita sandwiches, which can be served with chicken, steak, falafel or halloumi cheese. They aren't very big but they pack a ton of flavour, all the better to try out two! We absolutely loved the Moroccan, which we ordered with falafel, because who could resist fresh falafel in good conscience? Stuffed with couscous, red onions, tomatoes, almonds, apricots, chickpeas, and topped with a North African specialty, harissa sauce, it was incredibly light, sweet, smoky and fresh tasting.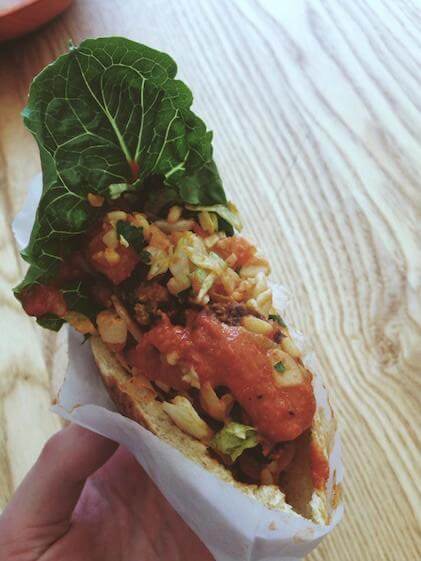 The Moroccan Sandwich with Falafel ($3.50)
Other signature sandwiches feature regional titles and ingredients to match, such as the Greek, which is includes tzatziki, cucumber, red onions, tomatoes, oregano, garlic oil and halloumi ($3.50 – $4.50, depending on your protein of choice)
The restaurant was converted from a food truck to a restaurant and catering company with the aid of the lovely and talented Gourmet Bitches chef Shontelle Pinch. True to its roots, Rose City Kitchen also features a wicked Mediterranean take on poutine ($6-$8). I cannot express how excited I was to try this.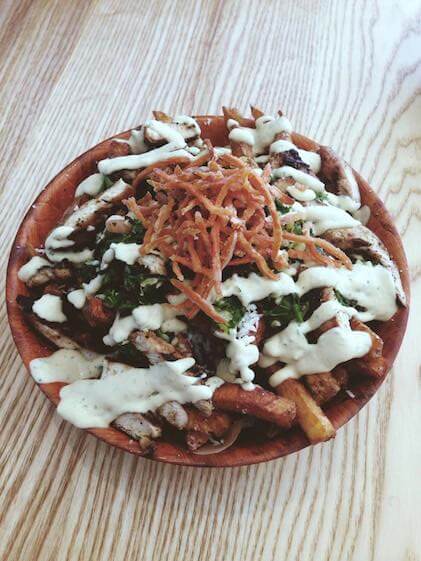 Here is a picture – isn't it beautiful?
That's fresh cut fries tossed in spices, with grilled chicken, hummus aioli, tabouleh and shredded halloumi cheese. We topped this off with one of the restaurant's three house made hot sauces – I went for the rose water scented hot sauce, which packed a decent punch and tasted great. Definitely want to try their signature cherry harissa next time I make a visit.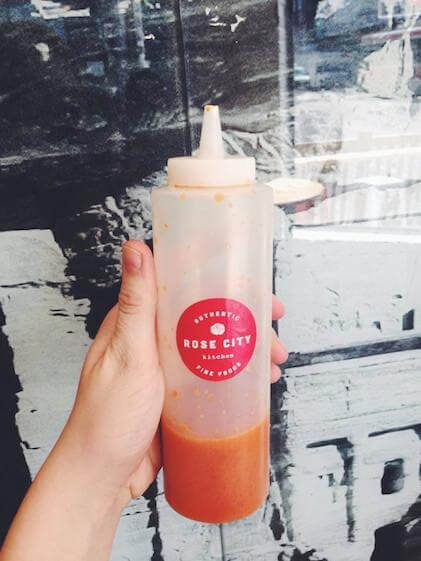 Rose water hot sauce
All in all, our experience at RCK was amazing. The kitchen offers a variety of vegetarian options and even gluten free pita and its diverse menu has something to offer everyone with a fondness for adventurous cuisine. The staff was helpful and friendly and our food was exceptionally fresh. The creative marriage of authentic ingredients sets Rose City Kitchen apart from your typical Mediterranean joint in a big, delicious, way and the restaurant would make a great choice for a quick bite or to cater your next event!
Rose City Kitchen
Twitter: @RoseCityKitchen
Instagram: @RoseCityKitchen
416-603-8102
Monday – Friday: 11am – 10-pm
Saturday: 11pm – 8pm
Sunday: 12am- 8pm
406 Queen Street West
https://www.google.ca/maps/place/Rose+City+Kitchen/@43.648737,-79.397177,17z/data=!3m1!4b1!4m2!3m1!1s0x0:0x326d9866ddb558a3
About Mary Anderson
Mary is a history student, freelance writer and avid culture junkie. Three years ago she moved from the nation's capital and began a love affair with Toronto that has only grown in strength since. In her spare time she can be found trying to complete her bucket list items of trying a Caesar in every bar in the city or crafting the perfect breakfast taco. Follow her on Instagram: @_mollieanderson