The Counter
One gorgeous and sunny Toronto Tuesday afternoon I set off walking to meet a girlfriend for lunch at The Counter; a 24 hour diner nestled within the trendy downtown Thompson Hotel.
As we arrived at 550 Wellington Street we were warmly welcomed and quickly seated at a cozy booth with plenty of sun flooding in through the large window. We began by ordering a couple of cocktails; the Berry Mojito and the Toronto Skyline. Within moments our drinks arrived looking absolutely fabulous. My girlfriend and I took turns trying each cocktail and both agreed that they were equally delicious. This was a big moment for me as I had never in my twenty-something years tried a Mojito! (Not a big mint fan.) But The Counters version was refreshing and tasty. The Toronto Skyline I cannot say enough about, it was fruity– but not too sweet– I definitely recommend both of these delightful mixtures to anyone visiting this establishment.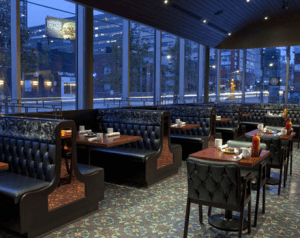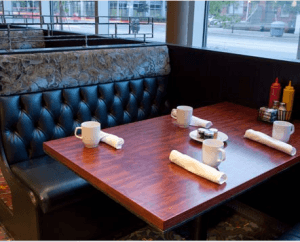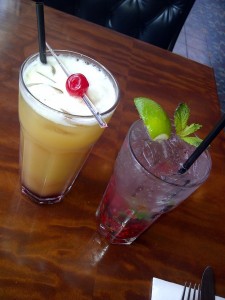 We wanted to really get a feel for what The Counter had to offer so instead of ordering the usual smoked salmon dish or salad we let the staff's imaginations go to work and had them decide what we were going to be eating.
Appetizers arrived and consisted of:
i. Mediterranean Dips- tzatziki, baba ghanoush, hummus & grilled pita ($8)
ii. Fried calamari served with spicy tomato sauce & lemon ($12.25)
iii. Fries & onion rings served with basil Parmesan, garlic aoli and curry mayo to dip ($6.50)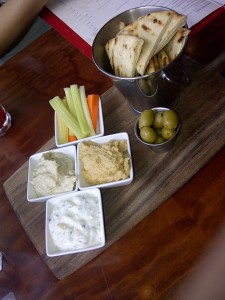 I started off dipping a small, triangular slice of pita into each of the three dips one by one. (Yes, I triple dipped.)Tasty and simple. Nothing crazy, but a fun dish to share with a friend. Next I dove into the calamari which looked promising based on presentation. Once again, good! The onion rings shared the same batter as the calamari and hit the same note with me. Now the fries, those were my favorite of the deep fried bunch! Crispy and flavorful. If you're looking for the instant satisfaction of a good crunch, then the calamari, onion rings and fries should be at the top of your to-do list.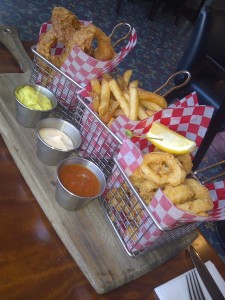 On to the entrees:
i. Buttermilk fried chicken served with cheddar mashed potatoes ($14.25)
ii. Double mac and cheese with truffle oil ($7.50)
iii. Threesome cheese melt with cheddar, provolone and Swiss on brioche
iv. Smoked turkey sandwich with brie, dijon mayonnaise, lettuce and tomato on toasted ciabatta ($12.50)
v. Chicken harvest salad- spinach, goat cheese, caramelized pecans, cranberries and sunflower seeds ($14.00)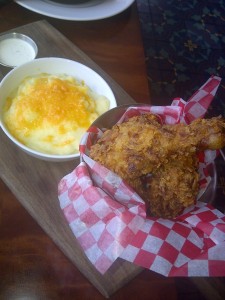 Our effervescent waiter explained to us that The Counter's fried chicken recipe was deemed "Best Fried Chicken in Toronto" by Blog.to. This little tid-bit of information excited me. I do not allow myself fried ANYTHING as a rule so knowing I was about to indulge in the best Toronto had to offer settled my mind a little– it was almost like I HAD to try it for the good of all man-kind. So I did. Crispy and delicious, and surprisingly not too greasy. It wasn't bursting with flavors from every angle but rather like its other fried friends it was low key and simple. My favorite part of the dish was the side of mashed potatoes which were covered with melted cheddar cheese. It was honestly the perfect side for this chicken. An ideal choice if your looking for the ultimate comfort food indulgence.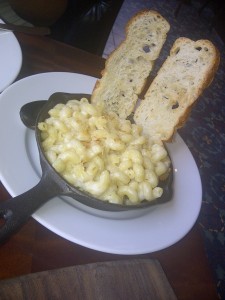 But if fried chicken and potatoes isn't your cup of tea and you're looking for the same ooey-gooey gratification, you could always opt for the double mac and cheese with a hint of truffle oil served with crisp and buttery crustini. Aside from my Grandmothers homemade mac and cheese, this has to be the most luxurious recipe I've had the pleasure of sampling. Very flavorful, warm and comforting. I could totally picture myself ducking into The Counter on a cold and rainy day and warming myself up with some mac and cheese. A modern twist on a classic dish.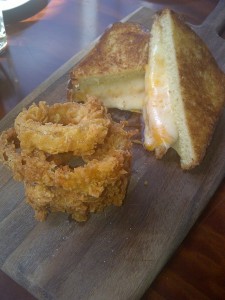 Now if you are utterly impossible to please and neither of the above dishes catch your eye you simply must try the threesome cheese melt a.k.a. THE best grilled cheese sandwich you could ever wish for. This sandwich was served with a side of onion rings and cut diagonally creating an over-flow of cheese on the small wooden cutting board the dish is served atop. The bread was crispy and buttery; this was by far my favorite of the comfort food style dishes we were served.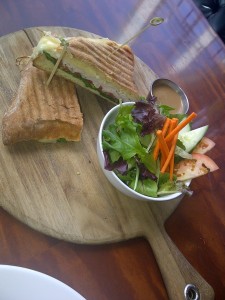 The smoked turkey sandwich was superb. I mean what's not to like? All the ingredients were fresh and complimented each other faultlessly, which is exactly how I felt about the chicken harvest salad. Both dishes were exactly the type of lunch I love. They were by far the lighter options we were served which automatically scores big points with a girl like me. I really enjoyed the combination of goat cheese, cranberries and caramelized pecans in the salad. This is one of those salads that fills you up and leaves you with no sense of deprivation.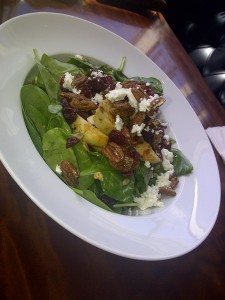 Introducing the star of the show:
i. CHOCOLATE FUDGE CAKE served with fresh strawberries & blackberries along side a perfect little latte with extra foam.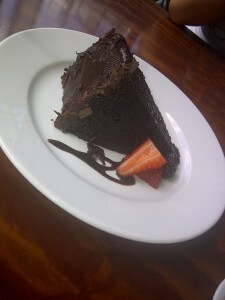 As the cake was set before me I was rendered speechless (and for those of you who are familiar with my writing or know me personally, this is not an easy feat to accomplish.) However I managed to pull myself together long enough to grasp my fork and take my first bite. YUM! OH-SO chocolatey and delicious (when did I become such a dessert lover?) and paired with the fresh berries kinda makes it 'okay' to eat! Okay fine, that's total BS but I mean at this point I am in pretty deep with all the deep fried foods so why not spoil myself a little further and eat the chocolate cake?! Totally worth it, and the perfect way to end off a very lush meal full of extreme immoderation.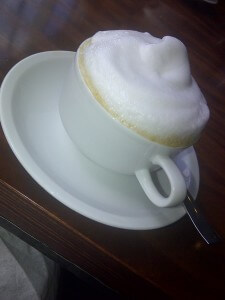 One last sip of my latte and somehow manage to lift my body from its seat and carry myself home, three bags of leftovers in hand. All in all a wonderful experience at The Counter. The staff were amazing; the service impeccable! The dishes were all delicious, however I will admit some were slightly over the top calorie wise. But why not take time in life to spoil yourself? This is what The Counter is all about! Old fashioned diner-style dishes that you can treat yourself to at any hour of the day! That being said; for those of you who want to visit The Counter but not overdo it, there are plenty of waistline-friendly options available as well, although once you see the selection you just may be influenced to set your diet aside.
As for me; personally I can't wait to enjoy some drinks on King West and sneak over to The Counter at 3 a.m. because as we all know calories don't count after a few beverages

The Counter– 416-601-3534 — 550 Wellington Street West, Toronto, Ontario (North east corner of Bathurst and Wellington.)
Feel free to e-mail me at aly@TorontoCityGossip.com, I'd love to hear the juicy details on your personal experience at The Counter and all about your favorite 24-hour Toronto dining option.
In the meantime be sure to follow me @TdotTweetHeart on twitter for timely updates on my brutally honest pursuit of love and deliciousness.