Nota Bene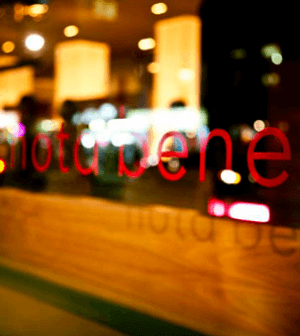 I was excited to visit Nota Bene for the first time ever since I learned it was named Canada's best new restaurant by Toronto Life and Air Canada's Enroute magazine, and was voted as one of Canada's top ten new restaurants by Where magazine.
My two girlfriends and I were running about five minutes behind so we decided to hop onto the subway like true Torontonians and found ourselves at Queen and University a mere two or three minutes later. We quickly crossed the road and speedily walked through the front doors of Nota Bene where we were greeted by a smiling hostess who offered to take out coats and quickly brought us to our seats.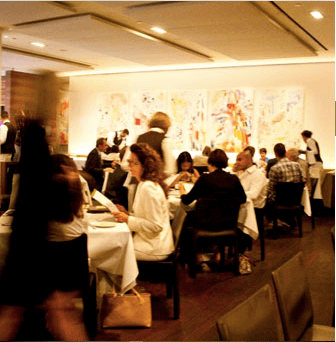 First impressions were good as it had a very welcoming atmosphere. The restaurant design is very art deco, chic and classy. The soft undertones of the table settings and benches contrast with the bold singular leather seats and compliment the beautiful abstract artwork by the young Canadian artist, Alex D'Arcy.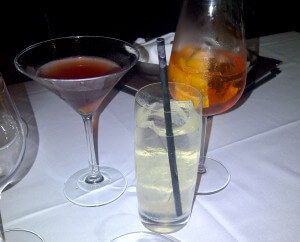 We started with cocktails. The first was Spritz Orange, which was light, refreshing and distinctly toned down from the usual bubbly. The second was Acai Martini, perfect for candy lovers as it tastes like a mixture of gummy bears/sweettarts/and red freezies! So good! Our third cocktail was NotaBene, the restaurant's signature drink, which is refreshing and delicious. We all agreed that it is a drink to sip rather than quaff.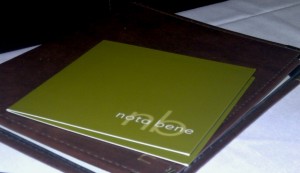 The menu at Nota Bene changes each season, so there are only a few veteran dishes. However, its menu is kept up to date on the website, so it's worth checking before you book to make sure the menu is to your taste.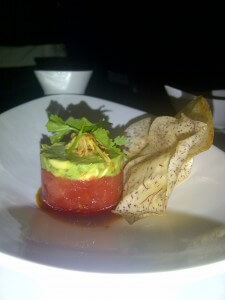 For our appetizers we decided to start with some raw dishes beginning with Hamachi Ceviche, made with coriander, lime, avocado and jalapeño. This arrives chilled so that the Hamachi is cool. I loved this and it was definitely my favorite of the starters. Next we had Big Eye Tuna Tartare, made with citrus soya, ginger and avocado. This is one of the lightest and best Tuna Tartare's I have ever had. Its presentation alone is beautiful and the flavor, which has only a hint of spice, portrays not even a touch of fishiness. It was a great hit with my friends and is one I would recommend to anyone.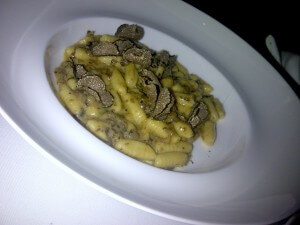 For our third appetizer we went with the Cavatelli Pasta, which is a truffle-scented mushroom Bolognese. This is very tasty and bursting with flavor. It is a dish made to be shared and for pasta it is surprisingly light and leaves room for more. Our penultimate appetizer was Crisp Duck Salad, made with sumac-dusted green papaya slaw with cashew nuts. The duck was ever so slightly dry for my taste (I prefer my duck to be tender and moist) but it was lean and about as light as duck can be. Pairing it with the mango was a very good idea. We finished with the Charcuterie Board, which was extremely fresh tasting.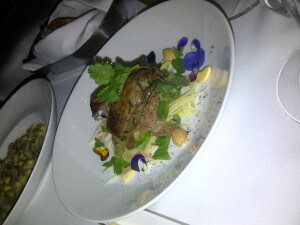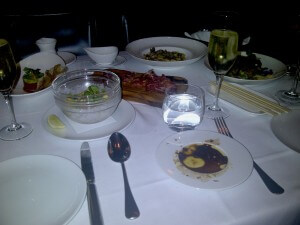 We had arrived at the restaurant armed with the knowledge that its East Coast Halibut is a huge favorite but as Jeff (our server) told us to our regret, it was sold out. I have to say that was the only disappointment of our visit. The service was impeccable. A glass of water doesn't even reach half empty before it is filled again and we were never short of the perfect cocktail or wine to accompany our food. As we contemplated the menu Jeff told us that the steaks come from Prince Edward Island and are aged for at least 28 days.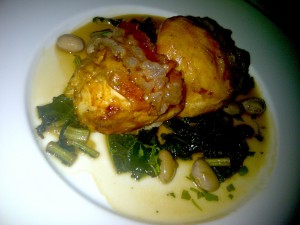 Deprived of the halibut we decided on three main courses, Thyme & Garlic Roasted Cornish Hen, Grilled "Rare" Hangar Steak and Mediterranean Seabass. The Hen is prepared with chanterelle mushrooms and tarragon. Cutting into the meat we could immediately smell the smoky bacon. My friends immediately got excited, though personally I'm not a great bacon lover (please close your mouth; it is not that shocking a revelation.) We all loved the smokiness of the chicken.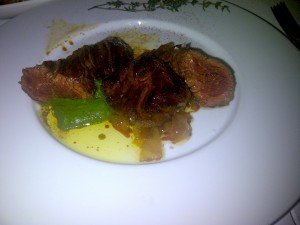 The steak is prepared with chimichurri and caramelized onions. All my friends and I love and appreciate a rare steak cooked to perfection. My friends would have preferred it without the chimichurri but personally I loved it. Being given a steak knife though would have helped. As it happened the Hangar Steak is only aged in house for a week, rather than the more expensive 28 days aged piece of meat. However, it was neither fatty nor tough, which is how I like my steak.
The mushrooms that came as a side are not offered on the menu because they're extremely rare and seasonal, but it is worth asking your server if they are available if you are ordering steak because they are absolutely delicious and a delightful accompaniment.
The seabass was prepared with hot chili oil, hon shimeji & cloud ear mushrooms. It was cooked to perfection and was fresh and delicious. For our side orders we chose Sautéed Rapini, made with garlic and chili, which was slightly bitter and perhaps a tad too salty (however, I always love some greens with my meal;) Caledon Farm Beets in a herb vinaigrette; and Pommes Frites. The beets reminded me of how my mother does them, so you will not be surprised to learn that I absolutely loved them.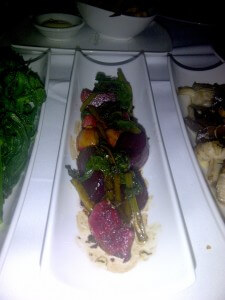 For the wine, we selected a white Grillo Feudo Arancio from Sicily to accompany the seabass and hen. This has a full-bodied bouquet and an elegant flavor with a taste of spices. It is a crisp and flavorful white wine that went particularly well with the hen. To accompany the steak we chose the Eberle estate in California's flagship Cabernet Sauvignon. This has a flavorful taste – rich black currant, and was the perfect pairing with the steak to bring out the taste of oregano.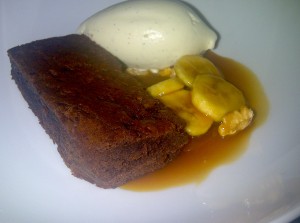 For dessert we went for Sticky Toffee Pudding, accompanied with pecan praline and spotted ice cream; Double Chocolate Brownie with vanilla ice cream, walnuts, banana and Kahlua caramel; Strawberry Sorbet with strawberries, Thai basil and mint. These were all delicious (though to be fair, I rarely meet a dessert I do not like!) My friend was surprised that the Sticky Toffee Pudding was warm but in a good way; it was a special moment for her. The Brownie was very rich, and sweet with an after taste of espresso accompanied by banana chips, walnuts and ice cream. Good, but the Sticky Toffee Pudding really takes the cake, so to speak. The sorbet was refreshing and lovely.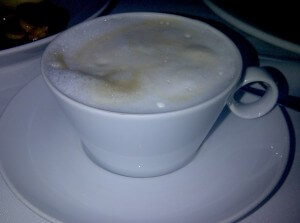 Taking everything into account, including the ambiance, the service, the wine and, most importantly, the food, I would have to say that everything was exceptional. I really cannot praise Nota Bene highly enough and I cannot wait for my next visit!
A special thanks to Executive Chef David Lee for taking the time to come out and introduce himself and of course the delicious dishes that he prepared for us. As well as Yannick Bigourdan for arranging such a memorable evening.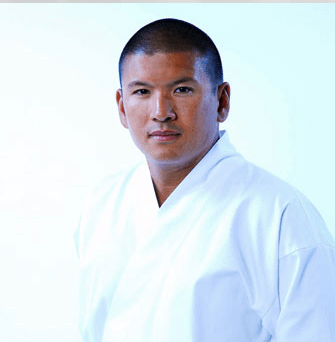 180 Queen Street West,
Toronto
Opening times –
Lunch: Monday to Friday, 11:30am to 2:30pm
Dinner: Monday to Saturday, 5pm to 11pm
http://notabenerestaurant.com/