Dessert Lady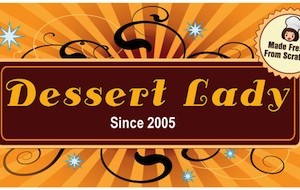 As Toronto is growing weary with the especially volatile weather this winter, walking into Dessert Lady is a warm relief. A warm, delicious relief. Dessert Lady has been providing the downtown core with heavenly premium baked goodies since 2005 and with Mandy Kan as the Executive Pastry Chef it is not hard to see why.
During our visit Mandy took our mouths on a journey that was surprising in it's variety and combinations of flavours. At Dessert Lady, experimentation with flavour combinations are embraced wholeheartedly and with gusto. This boldness quickly became our advantage as Mandy brought out or first dessert: the cupcakes.
Our first cupcake is a taste of summer and warmer climates, when you go to order your own it will likely be more efficient however to request the roasted pineapple coconut cupcake with vanilla buttercream icing ($2.50each). In this cupcake you will find a perfect paring between the vibrant tropical flavour that is found only in fresh pineapple and the rich creamy texture of the vanilla buttercream icing.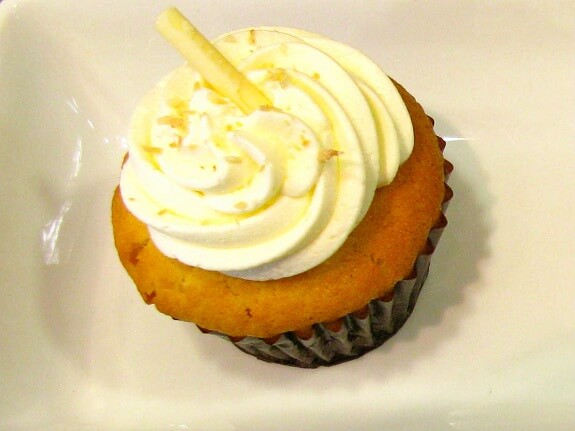 Next we were able to try the Dessert Lady's take on the classic carrot cake cupcake. At the Dessert Lady you can rely upon your carrot cake having a delightful balance of carrot, walnuts and cream cheese icing. You can truly taste each named ingredient, which Mandy assures us is a part of the mission of Dessert Lady, a mission I can confirm they are completing to the delight of our taste buds. The crunch of the walnuts is a delightful contrast to the airy carrot cake and certainly something worth coming back for.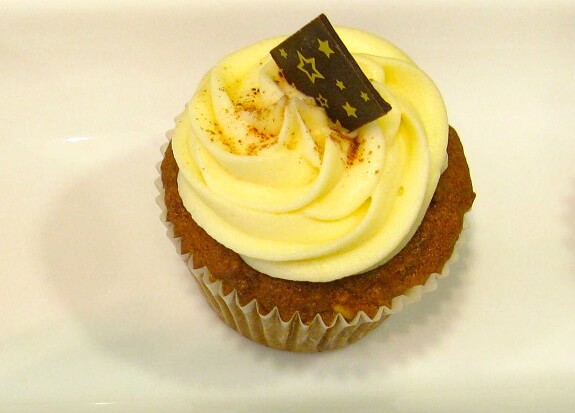 Our third and final cupcake of the day was definitely worth waiting for. The double chocolate cupcake with hazelnut ganache is the perfect treat for every chocolate lover you know. This baked wonder is able to satisfy the most pressing of chocolate cravings, but it's light and smooth taste ensures ones ability to enjoy it from start to finish without being overwhelmed.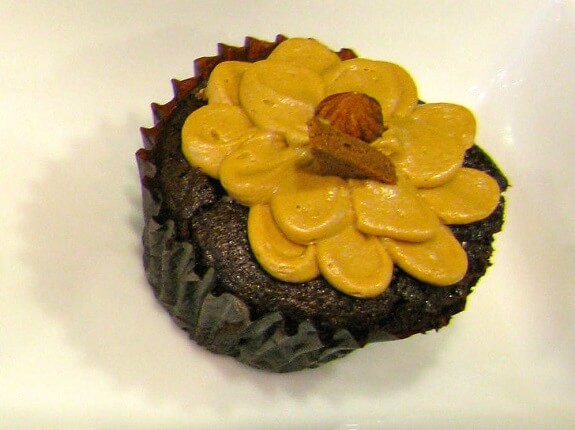 Next on our journey through the bakery is the incredibly fresh French macarons ($2.25ea). At Dessert Lady 12 different varieties are available every day. These top drawer French treats are limited to 12 changing flavours to aid in the ever challenging choice of which to take away with you. It was our pleasure to try both the salted caramel and the coco passion. Both of which were incredibly fresh and in true Lady Dessert fashion reflected their names with pride. The salted caramel melted in our mouths and the coco passion started with the soft flavour of coconut ending with a bold burst of passion fruit.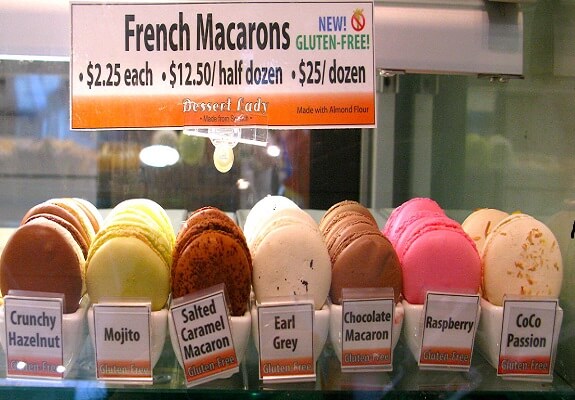 Next, we turn out attention to the ever eye catching tarts. It is to my great excitement that Mandy brings out the chocolate raspberry cremeux tart as I have had my eye on it since I arrived. This tart is truly a piece of edible art. Between the slow cooked chocolate and the fresh raspberries placed on top of the tart I am hard pressed to decide what is the best part of this decadent treat. Our second taste into these rich treats does not disappoint as we experience the bold and lasting taste of the lemon meringue tart (5" for $12). There is an addictive quality to the end result of the obvious care and skill put into this tart creation and one bite is nowhere close to enough.
Next Mandy treats us to the Dessert Lady exclusive double chocolate banana walnut cookie. This cookie is a banana explosion married with melt in your mouth chocolate and a hint of walnut for contrast. The final cookie Mandy offers is the cappuccino cinnamon which is another singular experience, this cookie offers a hint of cinnamon as you bite through the crunchy exterior into the soft cappuccino centre. Both cookies exemplify the magic that can happen in a kitchen when experience and passion are able to mix and mingle at will.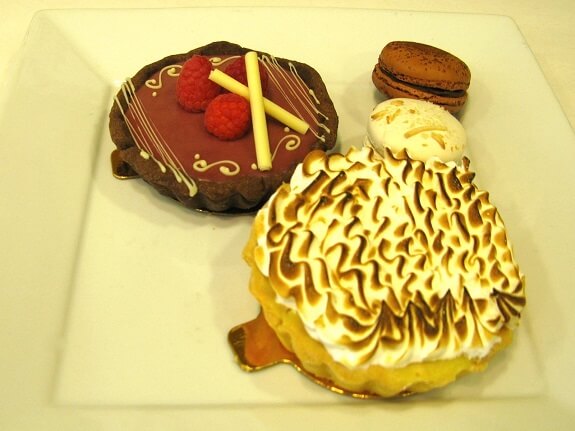 For our final taste of the day Mandy offers us rice pudding which is made with slow cooked aborio rice. You will not however find any trace of egg in this rice pudding, the rich and creamy taste is a result of the time and care spent encouraging the rice to reveal all it's inner secrets. At Dessert Lady what was once made as a common dessert is elevated to the exceptional.
As our visit with Mandy comes to an end the conversation is drawn to the many other offerings that can be found at within the Dessert Lady's walls. In addition to offering custom orders on cakes and cupcakes, you can also get your very own custom 3D cake.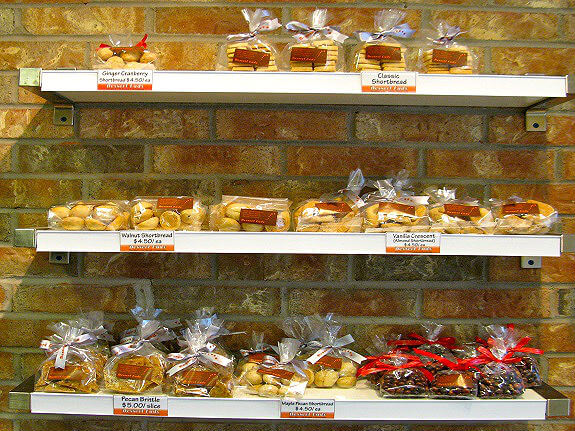 As we say our thank yous and goodbyes it with the knowledge that we will be returning at the first sign of warm weather to try some of the mouth watering from scratch ice cream and sorbet that is offered at Dessert Lady. With the quality and success of the adventurous flavours of the baked goods standing as their reference I will be counting the days until my return to try the coconut avocado ice cream that Mandy recommended.
www.dessertlady.ca @DessertLady_TO
Address: 12 Cumberland St, Toronto
Hours:
Mon – Wed 10:30am-7:00pm
Thurs & Fri 10:30am-8:00pm
Saturday 10:30am-7:00pm
Sunday Closed (by appointment only)