Bobbette and Belle
As little girls I'm sure most of us remember when we gathered our stuffed animals and put on our mothers shoes to host a Saturday afternoon tea party. This memory came into my mind as I entered Bobbette & Belle for the first time. Of course I replaced the stuffed animals with real people and my mother's shoes for my own.
This dessert boutique is located on the east side of Queen Street which for me was very reminiscent of a setting out of a book. An adorable little strip of stores ranging from antique and craft stores, to retail and oddity shops. You can find Bobette & Belle strategically located right in the center of it all.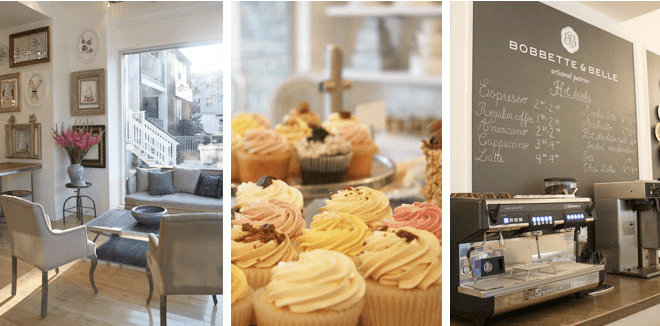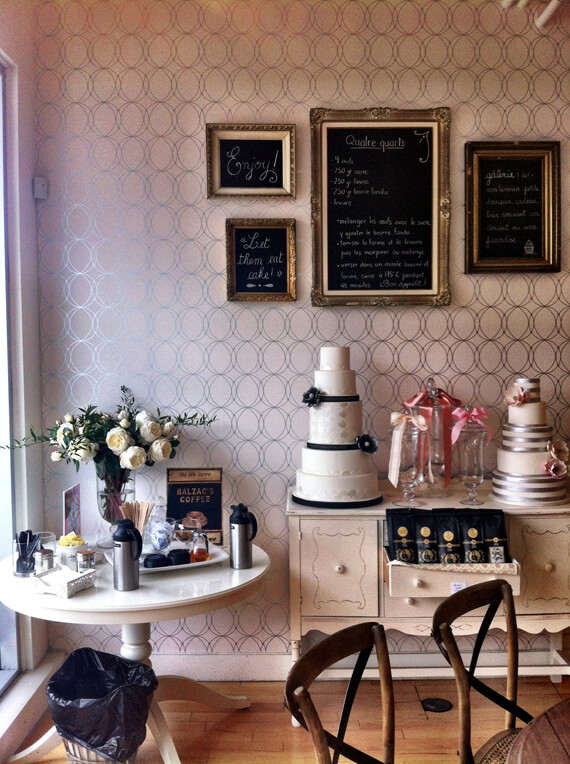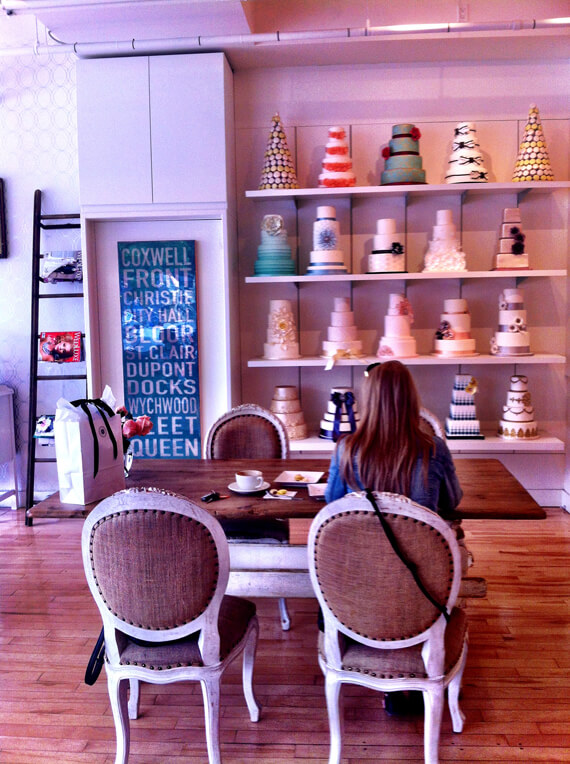 When we walked through the doors my friend and I were greeted by Allyson Bobbitt & Sarah Bell the owners of the establishment. These ladies are sweet as pie (pun intended), very welcoming and ready to impress anyone with their delicious treats. I immediately noticed the DIY decor. Being a big fan of DIY projects myself I had to ask who their decorator was, and to my surprise they did it all themselves! These ladies are as authentic as them come. Ranging from a tea cup saucer collage on the wall to some beautifully reclaimed tables! There was nothing commercial or "cookie cutter" about this place – which I adored. It felt like I was walking into a friend's luxurious cottage, rather than a generic store front.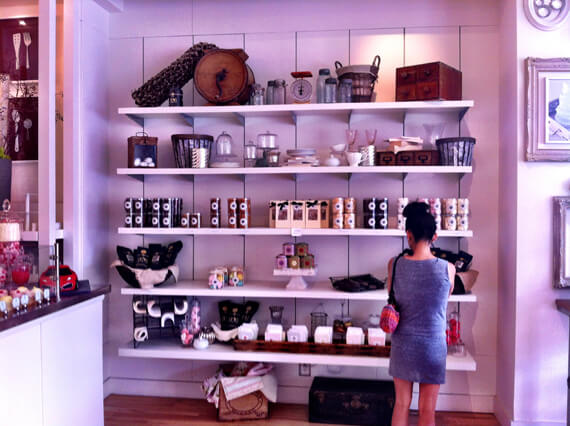 As we sat down to begin fulfilling my wildest dessert filled dreams, we were offered a beverage. I ordered a skinny latte, made with 1% milk and my friend had freshly squeezed lemonade. The lemonade was super refreshing and perfect for a hot summers day. While at the same time my latte was so tasty I had to keep reminding myself to slow down before I got the caffeine jitters!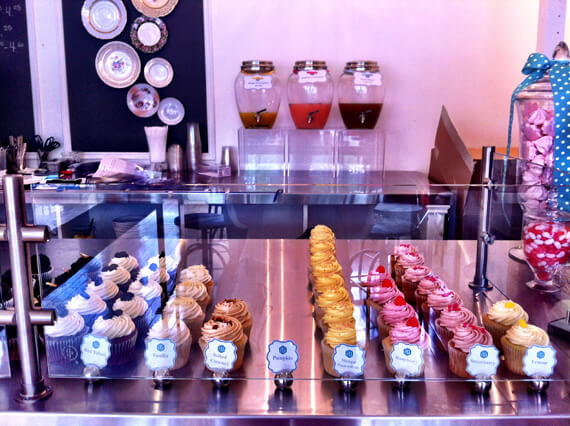 We chatted casually with the Toronto raised duo, to get a better sense of what Bobbette & Belle was all about. They stressed that everything is baked from scratch and that they aim to create the best versions of home baked goods. They achieve this by combining their experiences, education and personalities in everything they bake. Allyson's personal dessert preference lies on the saltier side of the spectrum, where as Allyson has more of a sweet tooth. This combination seems to have allowed them to create something for everyone to enjoy. It has also allowed them to creating some brand new salty/sweet combination treats such as the Chocolate Fleur de Sel. This cookie is the chocolate lover's dreams come true. It is a rich dark soft chocolate cookie finished with a touch of French sea salt. Yummy!!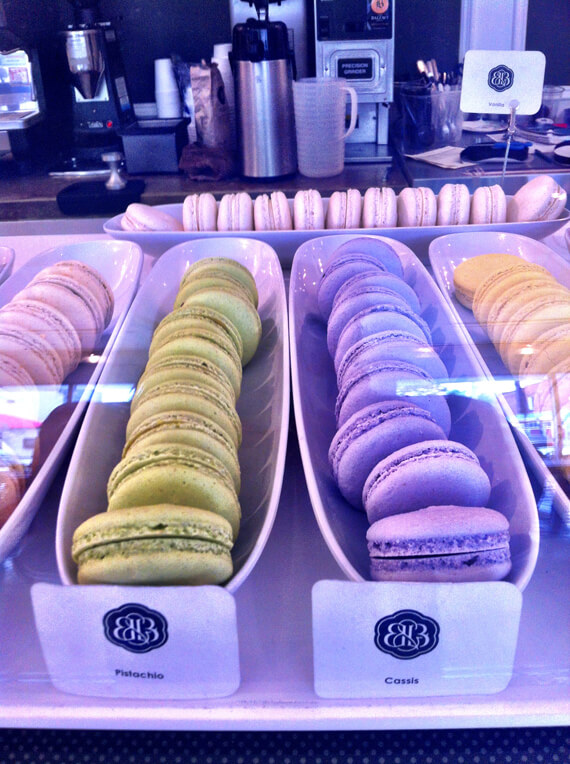 First we decided to try what they are known for best, French Macarons. Honestly, until this moment I thought a Macaron was a sticky ball of coconut covered in chocolate. How wrong was I! In fact, they are a Parisian specialty made simply of finely ground almonds, sugar, and egg whites. The four flavours we tasted were Salted Caramel, Cassis (filled with black current puree in a creamy buttercream), Passionfruit (filled with a white chocolate passion ganache) and Gianduja (filled with a dark chocolate hazelnut ganache). These treats could be a fashion statement, coming in colors and tastes to match any outfit or occasion. The light, crispy $2 treats are great for satisfying those sugar cravings, without over doing it.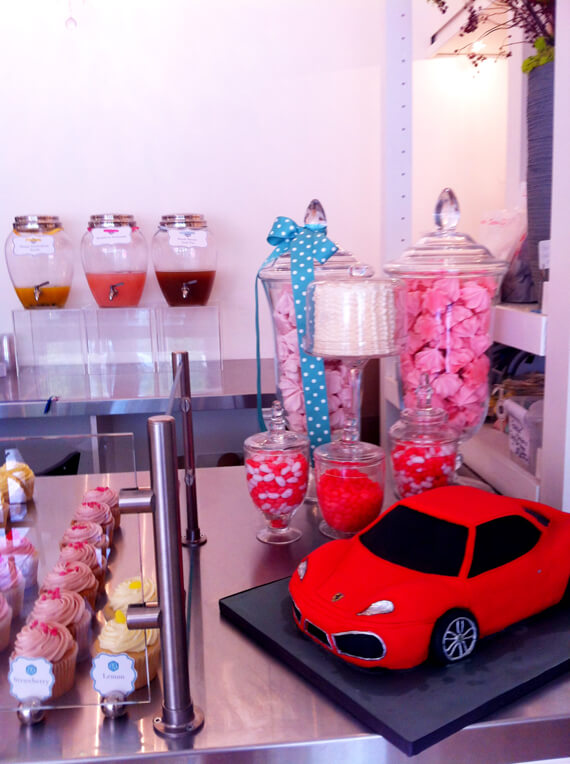 Next, we moved on to their biggest seller, the cupcake. They make 13 different flavours ranging from Vanilla to Mango Passion-Fruit. We were given the two classics, Red Velvet topped with cream cheese buttercream icing and my personal go to cupcake the Chocolate with chocolate Swiss meringue buttercream icing. The cake was rich and moist and the icing was not too sweet. By far the best cupcake I have tasted in Toronto so far, hands down. At, only $2.95 a piece I will be back for sure.
Ok, so at this point I was strategically planning an intense workout for the following day in order to counteract all these sinful delights. However, this did not stop me from indulging in the carrot cake, apple crisp, and a little something called an alfajor cookie (two creamy shortbread cookies, filled with caramel I believe and rolled in coconut) that was placed in front of us next. The carrot cake was moist, with toasted pecans, with cream cheese buttercream on top which was drizzled with caramel. We ate the entire piece and as you can see below couldn't resist having a little taste even before remembering to take a picture!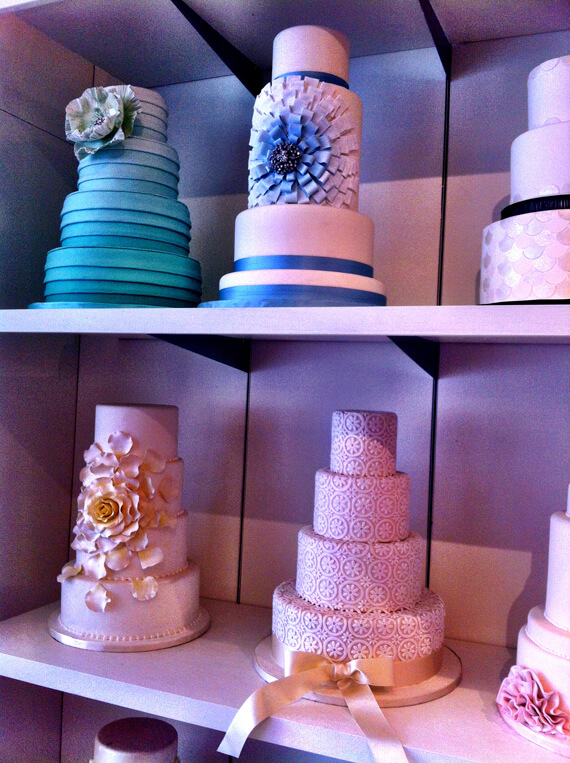 Bobbette & Belle can meet your most extravagant event needs with a variety of signature wedding cakes, custom luxury cakes, French macaron towers, wedding favours, decorative wedding cupcakes, and custom luxury mini cakes. They also make pastry cakes for any occasion which come in unique and delicious flavours such as Chocolate Chip Banana Cake, Coconut Pineapple, and Lemon Meringue. These cakes range anywhere from $28 to $115 in price and are worth every penny.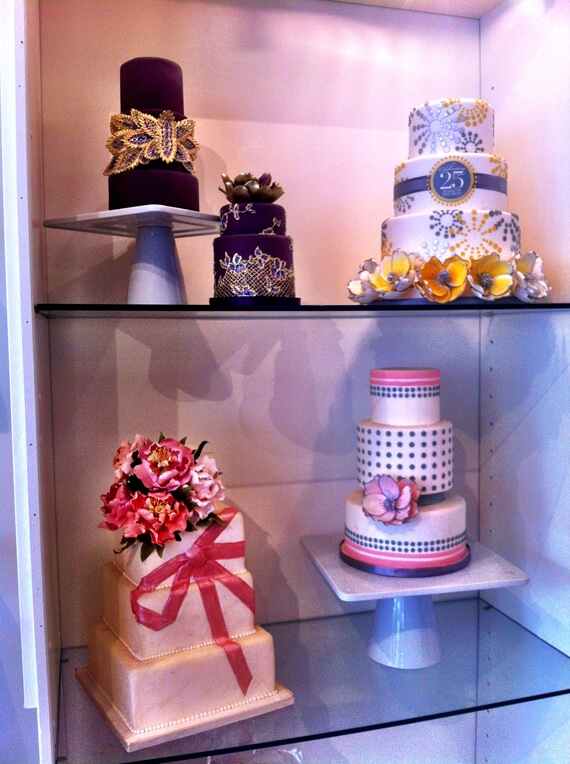 This is a great place to go spend a Sunday afternoon with some friends to drink coffee, eat some sweets and catch up. Or simply go alone with your favourite book; the atmosphere is extremely relaxing, and cozy.
Allyson and Sara also mentioned to extend a warm invite to our readers for an event called Wanderlust which takes place in Leslieville on June 22nd. They will be giving out free samples of homemade caramel corn… free samples… how could you not go.
Thank you so much for having us, you ladies really made an impression!
Bobbette & Belle
1121 Queen St. East, Toronto
(416) 466-8800
www.bobbetteandbelle.com
Twitter: @BobbetteBelle