CutiePie Cupcakes & Co.
Sometimes your path in life leads you to a place you never expected. CutiePie Cupcakes & Co owner Melanie Abdilla always thought she'd become a psychologist, but after years of school and work she discovered picking peoples brains wasn't her passion. Cupcakes, however, definitely were.
Melanie always loved baking and her sweet treats were so popular among her social circle that her friends implored her to start her own business. Flash-forward a few years and CutiePie Cupcakes as we know it is a successful catering company.
I had the pleasure of taste-testing these sweet mini treats first hand. Melanie explained to me that each CutiePie is custom made. This is no factory operation. Melanie makes the batter and the icing from scratch using her own recipes. She delicately decorates each cupcake and will even deliver them to you. She uses only the highest quality ingredients to ensure each cupcake is perfect.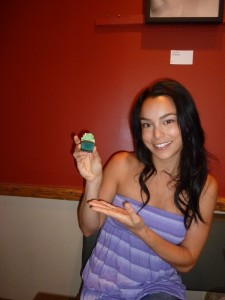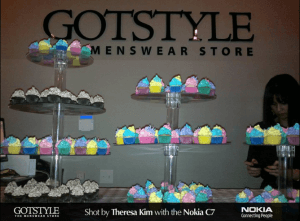 What makes a CutiePie Cupcake different from any old cupcake? Well, for starters, these aren't your average flavours! How does Lemon Meringue Squeeze, Fortune Cookie-ology or Hazelnut Crush sound to you? Each CutiePie cupcake is designed to taste like your favourite dessert. Heavenly.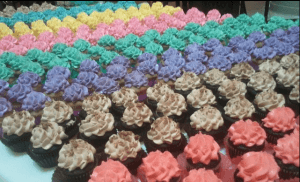 These little cuties are small enough you can actually eat them in one bite and not feel guilty about it. I sampled a few and my favourite had to be the Orchard Crisp. This sweet mini treat tasted exactly like a moist, bite of fresh apple pie. Even Jersey Girl Snooki loved this one! When Snooks was in Toronto, she tried Melanie's Orchard Crisp at The Century Room and gave it her fist-pumping seal of approval.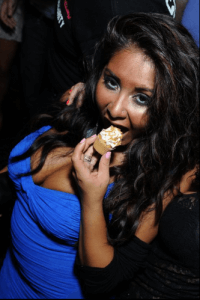 CutiePie Cupcakes are probably the most moist cupcakes I've ever had. The buttercream frosting is thick and rich, but not so sweet you need to worry about cavities.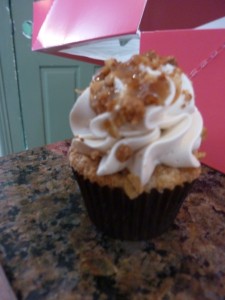 Being that they are baked the day they are sold its guaranteed that they will be fresh, moist and delicious. With over 30 flavours to choose from, it's impossible not to find the CutiePie of your dreams.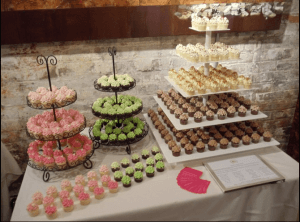 CutiePie Cupcakes are the perfect way to celebrate a birthday, baby shower or a bachelorette party! Perhaps you need your CutiePies to be the exact shade of pink to match the flowers in your wedding bouquet; Melanie can help you achieve that too. Melanie's created custom looks for everyone from discerning brides-to-be to corporate head honchos.
And hey, if Snooki loves 'em, I'm sure you will too.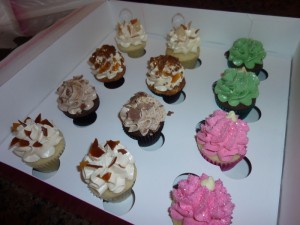 ***box of cupcakes, custom cupcake (green one) crazy for brulee (white on top), orchard crisp(crumbly pieces on top)***
http://cutiepiecupcakes.ca/