Mousse is Having its Moment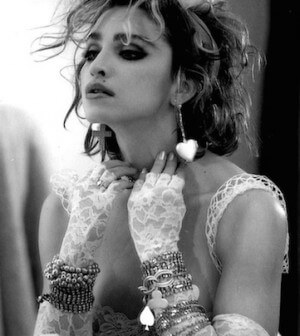 As models stomped the Fall 2014 runways at Fashion Week in their sky-high heels and drool-worthy outfits, I couldn't help but notice their hair. Whether it was slicked back in tight topknots or long and loose in big, beautiful curls, the culprit for this fall's hair trend was easy to spot: mousse.
Often thought of as a tired, crunchy, and "so 80s" hair trend, mousse has made a comeback this year and is better than ever. Gone are the days of big, teased tresses, as runways this year have welcomed sleek updos and effortless waves that girls are lusting over. Cheesy 80s pop powerhouses and 90s grunge girls are no longer the only ladies who can get away with over-the-top mousse looks – today's hottest models and celebrities are embracing the trend of our mother's past and going big, or going home.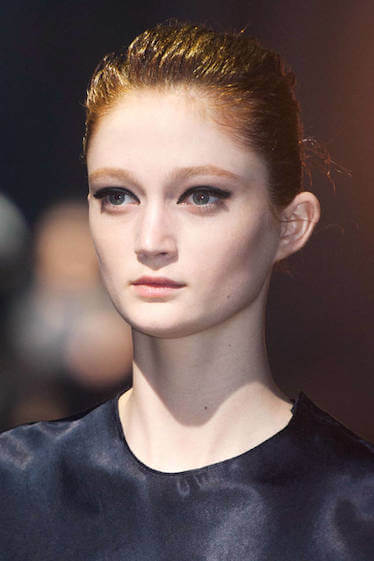 (Image Credit: http://www.harpersbazaar.com/cm/harpersbazaar/images/8Q/hbz-fw2014-hair-trends-sleek-strands-02–sm.jpg)
Seen on the runways of Lanvin's Fall 2014 Ready To Wear show, hairstylists used mousse to tame model's locks into sleek, wet messy buns that are all the rage. This new look has allowed women to get away with running to work after showering at the gym, and looking totally hot and on trend! The secret is having very generous hands – working the mouse into all areas of your hair and keeping it going until your hair is glistening. Sure, it may take a couple rinse and repeats before your hair is back to its glowing and fresh self, but that just means you can work the wet look for a few days at a time (no one will have to know your secret).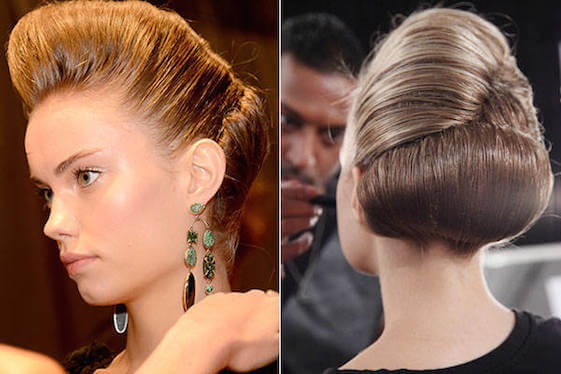 (Image Credit: http://www.harpersbazaar.com/beauty/hair-articles/spring-2014-runway-beauty-hair-makeup#slide-36)
Perhaps going the more traditional route, hairstylists for the Candela Fall 2014 Ready To Wear show used mousse to get that added volume for their 50s throwback hairstyles. Using the mousse sparingly and their teaser combs enthusiastically, hairstylists created the perfect bouffant that every dreamy debutante (and Mad Men-obsessed woman) only wishes they could wear. While some may argue that this look is tired, try updating it by creating an undone braid or messy pony with that mousse-enhanced dry texture.
Looking for products to help you get either that super sleek, wet look or that blown-out, dry and teased texture? Try some of my top picks below:
1. BUMBLE AND BUMBLE Thickening Full Form Mousse ($22 – $37 at Sephora)
2. DRYBAR Southern Belle Volumizing Mousse ($25 at Sephora)
*These mousses are perfect for that larger than life blown out look. Go big and bold by teasing your locks after slicking them into a tight high pony, or exaggerate a side braid by teasing at the tips.
3. OUIDAD PlayCurl Volumizing Foam ($25 at Sephora)
4. ALTERNA Bamboo Volume Weightless Whipped Mousse ($25 at Sephora)
*The Ouidad mousse has more of an oily feel, perfect for that wet look that is so hot right now, whereas the Alterna mousse has that perfect whipped texture for easy application. Generously coat your hair with either mousse before tying in a topknot or leaving slicked back (works best when hair is already wet or damp).

About Megan Dussin
Megan is a marketing student living in Toronto, working in fashion merchandising. She spends her time scouring thrift stores and flea markets for the perfect vintage pieces, sipping coffee on her balcony with friends, and exploring the city on foot. Obsessions include anything black, leather, or shiny. Follow her on Instagram at @megadeexo