Menchie's – 'Like a kid in a candy store'
That is exactly how I felt when I walked into Menchie's. From the bright colours, to the enthusiastic staff, to the incredible selection of frozen yogurt and toppings one can see why this is a fantastic spot to bring the family on a hot summer's evening.
When it opened in September 2010 in the heart of the Annex on Bloor Street, it seemed only a matter of time before the popularity of this place would explode. Having walked by it many times before having my own experience, it was clear that the lineups extending from the servery to the front door indicated that this was indeed a summer 'hot spot.' To compliment the hot summer weather, its corner location provided a very nice patio, perfect for families to sit and enjoy their cool treats on a hot summer day!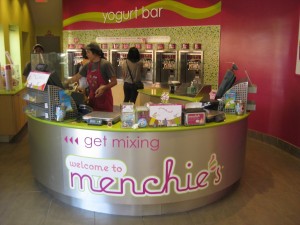 Menchie's features a unique experience for newcomers who have a cooler sweet tooth for the summer. Their 'serve it yourself' allows the customer to create their own exclusive flavours, along with any topping that you can imagine.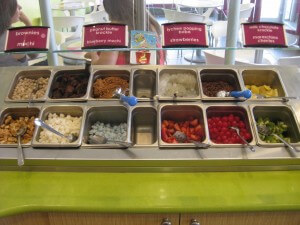 To start off, we went the sorbet and fruit-flavoured route, building my own pineapple and mango tart sorbet, topped with some beautiful fresh fruit, chocolate chips and graham crumbs. The pineapple was tangy, and seemed to have more 'pineapple flavouring' rather than pineapple taste. Still a very nice selection, but not one that I would get again. The mango tart sorbet was more of the same, but being a fan of mango, could appreciate the smooth, refreshing aftertaste that mangoes give.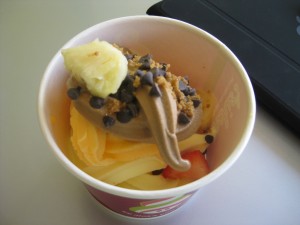 One of the most unique selling features of many of the flavours Menchie's serves are kosher, which definitely appeals to the Jewish community it borders near Spadina/Bloor. There is no difference or compromise in taste from kosher to non-kosher flavours, which helped make my decision solely based on taste.
For our second helping, we were given fresh made waffle bowls. All are made in-house, and we could tell as the back half of the shop smelled of freshly made waffles.
My friend Noel stuck with his pineapple, mango and honeydew sorbet mix, topping it with strawberries, kiwis, maraschino cherries and lychee popping boba.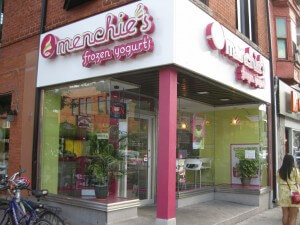 In mine, I went with my classic flavour mix of Red Velvet Cake/Cake Batter swirl and Cookies 'n' Cream. For toppings, I rekindled the 8-year old spirit in me, piling on a mess of chocolate chips, rainbow sprinkles, fruit loops and lucky charms cereal (yes you read correctly), graham crumbs, sour keys and sour cherry coke bottles. A whole lot of sweet to finish off a great afternoon.
With the prime location and friendly staff, it is easy to see why there is a steady flow of traffic in Menchie's. With its great corner location, it is accessible to both families in the area and to common foot traffic traveling along Bloor St.
It was a very nice afternoon and I would like to thank the staff personally for treating us so well.
Menchie's is located at 511 Bloor Street West. Their hours of operation are:
Monday-Sunday: 11:30 a.m.-1:00 a.m.
Twitter: https://twitter.com/menchiesyogurt @menchiesyogurt
Facebook: https://www.facebook.com/pages/Menchies-Frozen-Yogurt/95672953971