Make Your Manicure Last!
Nothing is worse than getting a fresh manicure and ruining it within a couple of days (or a couple of hours) and feeling like your money was wasted. We all want perfectly polished nails all the time, even when our lives get in the way (chipping, smudging, breaking… you get the idea). So after you leave the salon feeling like a new woman, it's so important to not only take preventative steps to maintain your manicure, but also knowing how to fix the little imperfections that are inevitable.
One of the tricks that I've learned over the years is to apply another top coat as soon as I get home after a manicure. Not to say that your manicurist isn't skilled, but a little extra help never hurt. Adding another top coat will ensure your nails are shiny longer, and hopefully will prevent your polish from chipping.
After a few days, I like to trim my cuticles again to keep them nice and short, and to prevent them from pushing the polish upwards. Moisturizing daily will keep cuticles tender and will allow you to easily push them back ever so often.
Once your polish does start chipping, you can either touch up your nails if you own the same shade, or remove your polish and redo them yourself. Sometimes starting from scratch looks a million times better, and it's great if you're a serial painter and get bored of your polish within a few days. Before polishing, don't forget to buff your nails – this will keep them smooth and prepped for polish.
If your nails are dry or brittle, start taking supplements like B-12 or zinc to keep them healthy and firm. There is nothing worse than breaking a nail immediately after a manicure (and if this does happen, file your nail IMMEDIATELY! Don't be lazy and let your nails become ragged and uneven – think of all the money you just paid to have them look flawless!)
To keep your hands moisturized and silky smooth between manicures, lotion up daily and always keep a hand lotion in your bag for those long days. Before bed, cover your hands in coconut oil and sleep with gloves on – you may look a bit crazy, but your hands will be so luxurious in the morning. It's like a DIY spa day, while you sleep!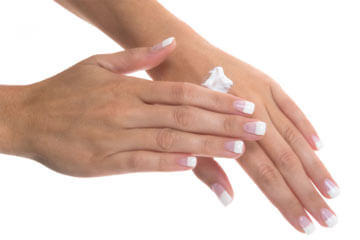 So whether you are a regular at your salon or only get a manicure for special occasions, keep these tips in mind to maintain your mani as long as possible. Having soft, polished, and trimmed nails speaks wonders of a woman, as you'll have everyone wondering, "How does she do it?"

About Megan Dussin
Megan is a marketing student living in Toronto, working in fashion merchandising. She spends her time scouring thrift stores and flea markets for the perfect vintage pieces, sipping coffee on her balcony with friends, and exploring the city on foot. Obsessions include anything black, leather, or shiny. Follow her on Instagram at @megadeexo