Pretty Feet: Why You Simply Must Get A Pedicure For Summer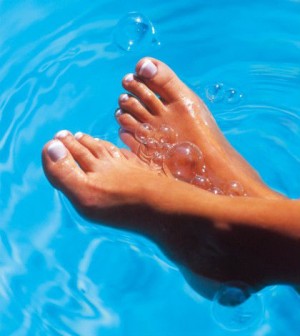 Summer is basically here: that means cute dresses, swimsuits and days at the beach. But it also means flip flops and open toed shoes, so make sure your toenails are just as cute as the rest of you!
The obvious: pretty toenails!
Freshly painted nails adds a pop of colour to any look. Choosing a colour from the extensive collection at the salon is way too much fun – and changing up the colour every few weeks is an easy way to keep things fresh!
Nothing beats a foot massage!
Can you think of anything more relaxing than having someone rub your feet (especially after a long day)? Not to mention, it increases blood flow to your feet and calves. Sign me up.
Getting rid of dead skin feels amazing
We all know how amazing we feel after exfoliating, so let your feet feel that love! Giving your feet the boost they need to look and feel their best begins with getting rid of all the icky skin we've had to deal with while wearing our winter-friendly footwear, and prevents bunions and corns from forming (and that's just not cute).
Keeping toenails trimmed prevents infections
Properly cutting your toenails regularly prevents them from growing inward, which is both extremely painful and conducive to infections. Having this process taken care of by a professional is certainly a good way to go!
Keep those feet happy and healthy!
About Alex Payne
Alex Payne is a fashion student living in Toronto, and a complete pop culture junkie. She's an avid blogger, writing about beauty, fashion, dating, music and film. She's obsessed with cupcakes, Kate Spade and The Simpsons. Oh, and vodka.