Pedicures at Pinky Nails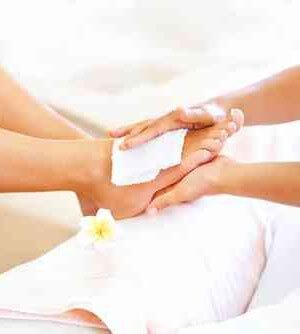 I absolutely love keeping my feet neat and tidy. There is nothing more unattractive than feet (generally speaking) that haven't been taken care of. Anywhere from dry skin on the heels to overgrown cuticles and if you're a woman – chipped nail polish. Gross! Mind you, I'm not a huge fan of feet other then my own, (especially mess feet unless they're exceptionally taken care of.)
That being said, I take pride in the maintenance of my feet and feel that everybody – men included – should receive pedicures. If you happen to feel uncomfortable going into a salon to have one done then the least you can do is buy an 'at home' kit and DIY.
My Mother taught me from a young age that chipped nail polish on toenails is unacceptable and looks sloppy. She always made sure her nails were painted and would periodically check up on mine to ensure they too were fully polished. I fell in love with spa pedicures since my first one when as a teenager. I remember always looking forward to going with one of my Grandmothers, who also loves keeping her nails looking beautiful and shiny, when I would sleep over at her house on weekends. Since then I have made sure my feet are always presentable. I'm totally guilty for enjoying the massage chair and foot rub that follows the procedure. I don't have steady hands in the slightest so having someone paint my nails for me is a dream. If I do it myself it literally looks like a five year old playing with paint for the first time. Unfortunately, I'm serious, but I am working on it.
A proper pedicure should consist of the following: a 10-20 minute soak in a footbath with some form of salts or bubbles added in, nail polish removal (if applicable,) cutting/filing of the nails, cuticle trim/removal, dead skin removal from the bottom of the foot using a foot paddle or blade, and then a foot massage followed by the application of your desired nail polish colour.
It really isn't that difficult yet so many places never fail to disappoint. I know about two months ago I went to a salon on King St West (I'll leave the full review for another post) for a pedicure and was completely unsatisfied. I felt rushed with no feeling of relaxation in any way, shape or form. It sucks when you're investing your money into any service and you leave disgruntled!
The only reason I chose to test out this salon was because I recently moved into the area and wanted to try out a place that was closer to home. However, I had a feeling I was going to be dissatisfied with the service as I favor a particular salon for this specific procedure.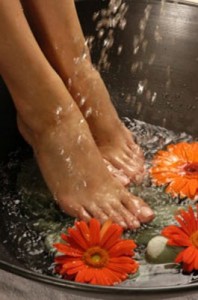 Yesterday I noticed I needed a pedicure badly after staring at my feet in embarrassment during my yoga session. How could I have let it go this long? Gross! I was in desperate need of a relaxing pedicure after my hot yoga session. The first place that came to my mind, after my previously disappointing pedicure, was Pinky Nails. My best friend agreed to come with me and off we went.
The women of Pinky Nails are always inviting as you walk through the door. Straight over to the copious amounts of nail polish colors I went to see if anything caught my eye. I decided to go with a pretty, soft color for spring by Essie this time instead of my usual French Manicure. I'm not one to be too daring when it comes to the unique color options for my hands or feet. I've convinced myself that the reason behind my decision for this Easter egg purple, that I've had my eye on for a few weeks now, is that we are in between closed and open toe shoe season.
I had made appointments for my friend and I so we only had to wait a couple of minutes until we were ushered over to individual pedicure chairs that were filled with fluffy bubbles. As we let our feet soak, we flipped through US Weekly and other gossip magazines as our nail technicians prepared for their performance.
As my feet began to slightly wrinkle I added some vibrations into my life through the massage chair. I always have fun switching between the kneading and rolling (I am easily amused at times.)
Jamie and Ivy came over to us with smiles on their faces and began to work their magic. Starting with the removal of the existing nail polish and concluding with a long and thoroughly enjoyable calf/foot massage before applying the final coats of nail polish.
My toes are clean, neat and shiny. The bottoms of my feet are as smooth as a baby's bottom; my calves have been exfoliated and lotion has been applied to them. I am at a state of total relaxation at this point.
I am then relocated to the designated drying area where I am offered a neck/shoulder massage. This is heavenly! I am feeling completely spoiled and pampered.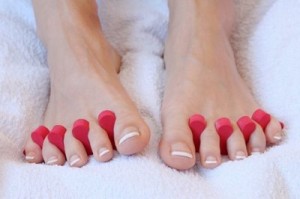 There is nothing worse than going in for a pedicure only to find you are being rushed out as quickly as you came in so that they can fit in more clients. While I was there about five customers had come in asking for a pedicure and instead of saying "five minutes" like the usual salon would, they politely asked them to return later or book an appointment for the following day. This always impressed me about Pinky Nails. I know that when I am going in for a pedicure I am going to be there for a good hour or so.
Besides the cleanliness, the friendliness and the incredible customer service, Pinky Nails nail technicians are perfectionists. They want to you leave fully satisfied so that you return frequently enough so they remember your name!
Now obviously they aren't perfect. I have been to Pinky Nails before for a Bio Gel full set and I was not impressed. They lifted and came off very quickly afterwards, so I wouldn't suggest Pinky Nails for anything other then a pedicure, but you can always try it out and judge for yourself. I did notice that they do have a private room for waxing and offer full spa services so feel free to take a look at their services menu.
In a few weeks, when it is officially open-toe shoe season, I will be returning to Pinky Nails for a pedicure and the application of my classic French Manicure to my toesies.
If you do end up heading over to Pinky Nails I'd love to hear your feedback of your experience. Feel free to email info@torontocitygossip.com to share it with me.
It is officially the beginning of spring so I suggest you call in advance for an appointment. Their pedicure chairs are always filling up quickly with their loyal clients.
Pinky Nails is located at 163 Church St, Toronto.
(647) 346-0588
Enjoy!
Xoxo