Hey, Listen! CMW Diary, Day 3: Rob Moir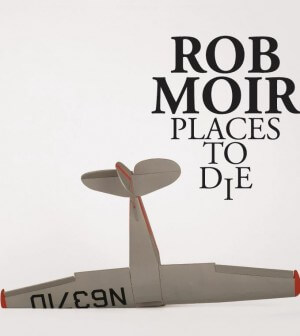 After an outrageous Wednesday night, it of course seemed like an excellent idea to attend a showcase at noon on Thursday. Typically, this idea wouldn't be met with praise, however the showcase was featuring Rob Moir, who just so happens to be an absolutely amazing artist! Armed with his acoustic guitar, Rob Moir delivered the most incredible sound: an awe-inspiring blend of folk and rock 'n' roll.
If you're a fan of early City and Colour, Bright Eyes, Ryan Adams and Bob Dylan, you're going to be as obsessed with Rob Moir as I am! I love a good folk artist as much as the next person, and to quote the immaculate Cohen Brothers, a folk song is never new, and it never gets old. Rob's album 'Places to Die' is one that will absolutely stand the test of time – the type of record that will appeal to listeners today, as well as 10 years from now. If that seems like a bold statement, listen to my favourite track 'Cold', and you'll be forced to agree.
If you want to catch Rob Moir live in Toronto, check him out May 22nd at The Rivoli. He'll also be kicking off a European tour, so if you happen to frequent Germany you can check him out there as well!
Twitter: @RobMoirMusic
Keep your ears peeled for more reviews of some incredible Canadian acts!
About Alex Payne
Alex Payne is a fashion student living in Toronto, and a complete pop culture junkie. She's an avid blogger, writing about beauty, fashion, dating, music and film. She's obsessed with cupcakes, Kate Spade and The Simpsons. Oh, and vodka.