Grill 4 U
Expressing views in written prose can often seem like a daunting task. The daring challenge of crafting one sentence being elegantly bounded by another tends to look more awkward than graceful. But when the emotion is genuine and the senses are natural, writing just simply seems easier. It's in those moments that the undertaking of putting pen (or typing?) to paper becomes enjoyable rather than painful. Words begin to flow and that thing we commonly refer to as "writers block" suddenly appears non-existent. The, may I say – tremendously, difficult part is finding something in this world that truly brings out that inner Shakespeare. Fortunately for me, being an athlete that loves to work up an appetite, good (and I mean good) food is usually a sure thing when it comes to bringing out that sweet emotion (show the love, Aerosmith fans).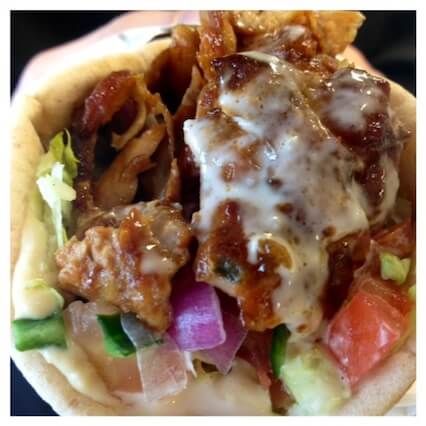 When I heard about the opportunity to review Grill 4 U I immediately jumped on it because it was a chance to try authentic ethnic food. Growing up in a family of mixed backgrounds, I've become increasingly fond of trying dishes from around the world. Now I'm not saying I've never tried a shawarma before, heck I live in the most multicultural city in the world, but what I am saying is that each place generally has a unique taste and style.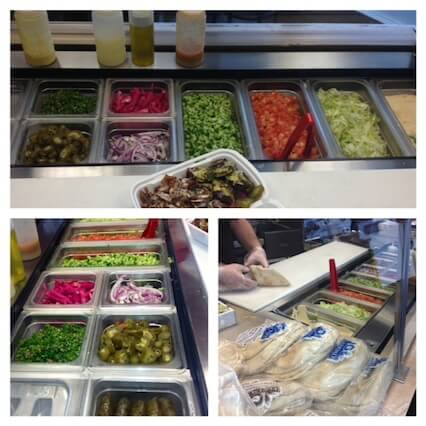 Upon my arrival to Grill 4 U, I immediately noticed two things – the first being the size. One thing I really love is the feeling of a home-like atmosphere when I'm out dining, and that's exactly what I received. Not too small but not too big, it seemed just right for a shawarma shop on the corner. Ambiance is important to me because it sets the tone for the experience and determines how you will view it in hindsight. To that point, ambiance isn't defined simply by the layout of the building but also the people in it, which leads me to my second initial thought. Leo, the owner of the establishment, was everything you would hope for and more. Helpful? Check. Enthusiastic? Check. Personable? The man made me feel like I've known him for years! Suddenly I found myself in the middle of a conversation, forgetting that I was making an order.
Eventually there was a break in our banter and I was able to figure out what I wanted to try: a classic chicken shawarma wrap and a falafel with chicken salad – a new one for my taste buds. My mouth quickly began to water as I watched Leo craft these heavenly creations from behind the glass. Hand chopped vegetables cut to size for perfect fit and traditional style parsley that takes two days to prepare; it wouldn't be crazy to say these guys know what they're doing.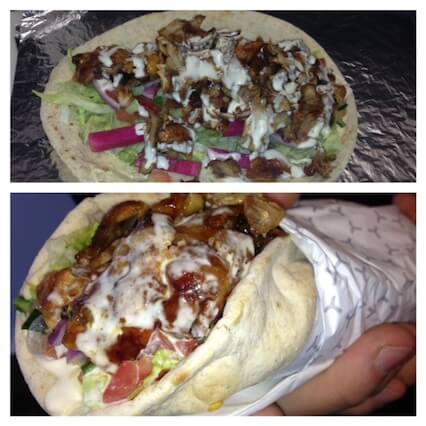 Inquiring about the evolution of the menu, I was happily informed that it's been five years of refinement to continuously improve the product. When it came to the moment of truth, to verify everything I had seen and heard, I wasn't disappointed. It would be a lie to say the first bite was the best, because I enjoyed every minute of that shawarma. Heated to the right amount of warmth, coupled with what seemed to be an eruption of flavour, I savored every moment. The best part of it was that the pictures were actually an accurate depiction of the final product. We all know restaurants add all sorts of bells and whistles to every representation only to let us down in reality (looking at you, McDonald's), but let me say honestly that Grill 4 U values their customer too much to make that same mistake.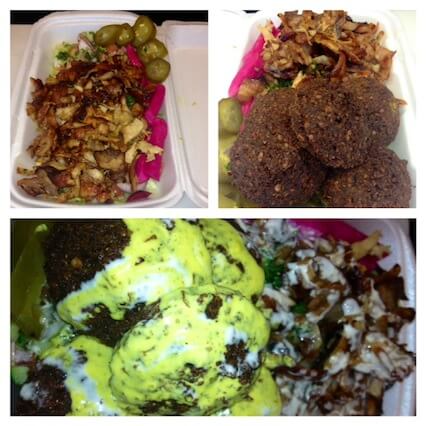 So anyway, once I was done and might I announce, more than satisfied with the shawarma, it was time to dive into the salad. If any of you have ever had an experience that completely altered the way you viewed something, then you can relate with me here. Yes the chicken, veggies and salad were delicious, but the falafels were to die for. Generally speaking, I have never been able to eat a falafel I thoroughly enjoyed, until Grill 4 U. I was compelled to ask what made it so different than the others. The response was simple – a "secret falafel sauce" containing a tasteful combination of curry mango; what is traditionally referred to as amba sauce. I fell in love the moment it hit my lips and yes, I didn't want it to end.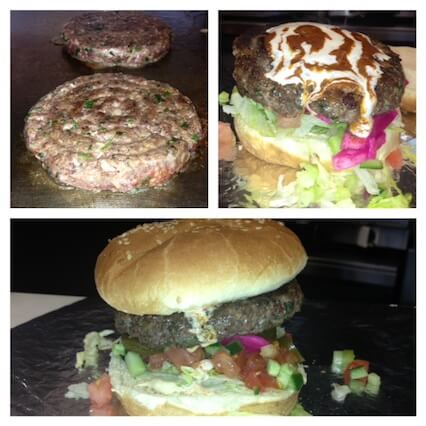 Unfortunately for me, after a divine seven minutes, my taste testing came to an abrupt close. As I was giving Leo some last thoughts while getting ready to leave, a young customer walked through the door to order some burgers. Part of the beauty of Grill 4 U happens to be their menu selection, along with everything else. I decided to stay long enough to see the burgers transform into a meal, thinking it would be just a couple of extra minutes. Much to my surprise (and delight), I was about to be waiting longer than just a couple of minutes. Grill 4 U upholds a standard on all items of their menu, not just the traditional foods. The burgers were slow cooked to perfection, for optimal quality. In hindsight I wish I had asked to give it a try but in reality, I was too full to even think about it.
In every city there are the mainstream restaurants you see at every corner, and then there are the hidden gems. It truly is a passion of mine to discover every diamond in the rough and share my experience with cultured people of similar interests. That being said, Leo and Grill 4 U are a must-try. It justly speaks for itself and is more of an experience than simply grabbing a bite to eat. Just try to remember not to rush through the experience and savor every bite, because that really is the best part.
*Grill4U also has a second location in the Vaughan area for those of you in the GTA.
218 Queens Quay West, Toronto
(416) 363 – 8169
– Chris Jugovic