Gifts for Her – Under $150
On the second day of Christmas with Toronto City Gossip…
I am showing you the hottest gifts of the season! Any women on your list would love one of these eight gifts. A Kate Spade wallet or Sperry Boots – Who would not love to receive those. Gifting one of these fabulous items would have you labeled as the ultimate gift giver.
Whether you are buying for a trendy teen, your grandmother or your mother in-law, there is something on this list for everyone. What teen would not love a fun faux fur vest? I know your grandmother would appreciate a well-structured wallet and your mother in-law will definitely gawk over this soft and cozy blanket.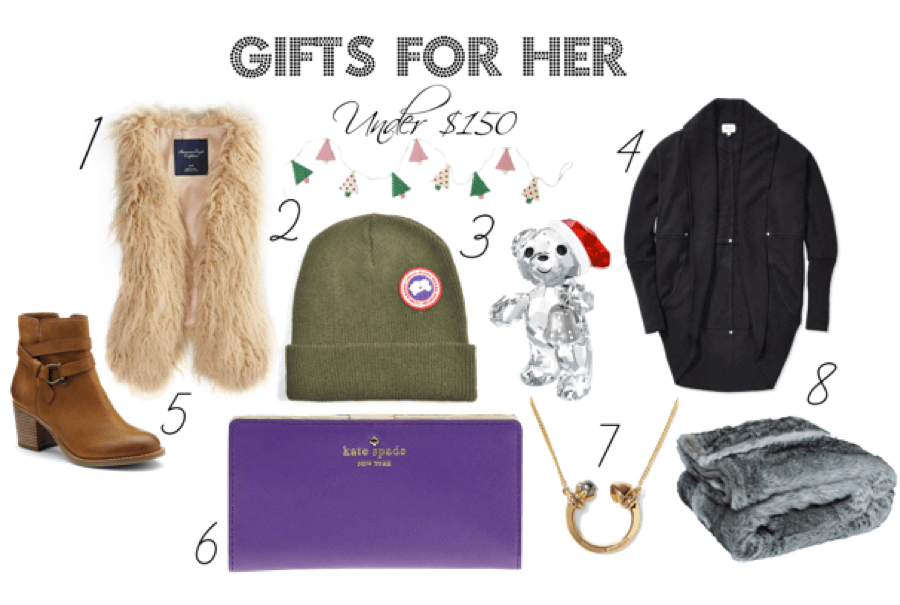 1. American Eagle $70
2. Canada Goose $55
3. Swarovski Crystal $100
4. Wilfred $100
5. Sperry $130
6. Kate Spade $100
7. Rebecca Minkoff $120
8. Urban Barn $100
This blanket will not only look great in any room, but it is also from a Canadian brand with multiple Toronto locations. To see this blanket in action, check it out in House of Chic!!
What's next? Stay tuned to find out or check for updates @TOCityGossip
XO,
Andrea McDonald
About Andrea McDonald
My true love in life is the wonderful world of fashion. As a self proclaimed optimist, activist for all and fashion fanatic, I am delighted to bring you everything you need to know about the Toronto fashion scene. I've got big dreams baby. @lifeof_andrea