Celebrity Chef Steve Gonzalez @ Brant House
We walked into the dimly lit Brant House on a beautiful Thursday evening and our ears were filled with the sounds of Mexican bolero and mariachi music. The venue that is usually decked out with disco balls, top 40 and jagerbombs was now full of long communal tables ready for a Latin inspired feast.
We came to one of Brant House's special celebrity chef dinner series to celebrate Cinco de Mayo in style with an amazing host, Top Chef Canada contestant and Toronto culinary guru – Steve Gonzalez.
There were two signature cocktails being served when we arrived at our table, the classic margarita (I mean, you can't go wrong with that one) and a version of an Old Fashion that was mixed with Tequila instead of Bourbon. I happily ordered the latter and got into the spirit by putting on the sombrero that was hanging on the back of my chair. OLE!
The set menu consisted of 5 courses that were bursting with Latino inspired flavors. We started with a lobster guacamole arepa, then into a tuna ceviche with passion fruit, wakame and jalapeno. Both were smaller bites and led us perfectly into the main course – roasted adobe pork shoulder with rice and beans, plantain and egg. The meal was broken up with a Central American treat, watermelon tamarind agua fresca , one word – WOW! The night finished with tres leches rice pudding with banana, anglaise, and mango for dessert.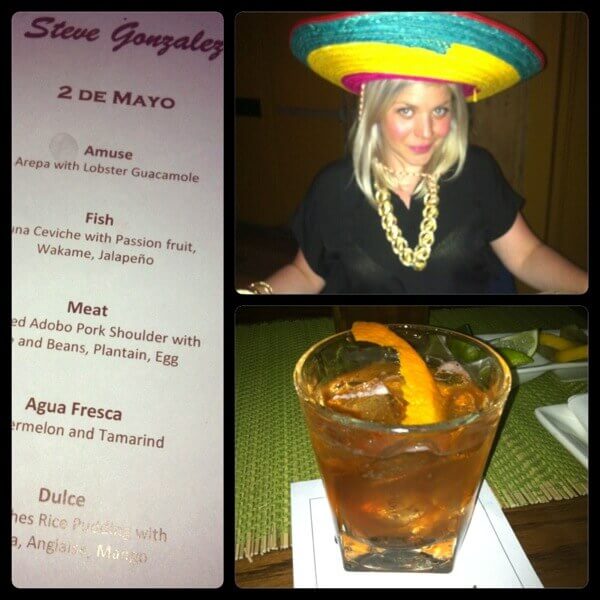 What a relaxing and enjoyable evening; I had great time meeting the other foodies at our table and also got to have a quick chat with Chef Steve in between courses. I asked a few quick fire questions to get to know him a little better.
TCG: What is your best hangover cure?
Steve: Pho or a brothy Columbian stew – It's all about the broth, it's the perfect pick me up to get through the day.
TCG: Favorite place to eat in Toronto
Steve: Wah Sing in Baldwin village http://www.wahsing.ca/
TCG: What keeps you inspired as a chef?
Steve: The seasons – fresh items
TCG: Do you have any Toronto City Gossip you would like to share with us?
Steve: My new Restaurant called Valdez – the theme is Latino Street Food and South American treats like ceveche.
We are super excited to hear about Valdez, look for a follow up post and review coming soon.
What a huge treat and unique opportunity to have Chef Steve Gonzalez cook a full 5 course meal for us – the Brant House dinner series are not to be missed. Keep an eye out and follow them for the next one, be sure to get your tickets right away – don't miss out.
Brant House Tickets and Information here -http://www.uniqlifestyle.com/
522 King St W Toronto, ON M5V 1K4
(416) 703-2800
Written by Erin Scheel

About Erin Scheel
Food Lover • Blog Girl • Recipe Rebel! My name is Erin and I am in a constant search for a full belly. I have lived in Toronto most of my life and have been enamored with the city's food culture and fascinated by the culinary possibilities this city has to offer on a daily basis. I'm really into cooking, vintage clothes, chocolate milk, craft beer, french fries, leftovers and then working it all off at the gym! Read it and eat it here: www.erinlovesfood.com, Twitter: @erinlovessfood, Instagram: erindotcom