5th Elementt
As my friend and I walked up to the front door of 5th Element, I wasn't too sure what to expect. This restaurant claims to be fine dining which is not the first impression I got. It was chilly inside, the decor was minimal and the mismatched strange photography on the walls through me off. However, the delicious smells of cardamom and coconut curry that filled the air immediately put me at ease and I was excited to sit down to a gourmet Indian inspired meal.
The restaurant seating was split right down the middle with booths on the left hand side and tables on the right. Although it wasn't very busy when we arrived, the few people who were dining looked like they were thoroughly enjoying their meals. Plates of fresh mango salad piled high, pyramids of rice and bowls of curries were being passes around, it all looked delicious.
The owner/chef John came over to chat with us and was very pleasant. He suggested we have a King Fisher beer – a light lager from India that would go very well with all the dishes he was going to send out.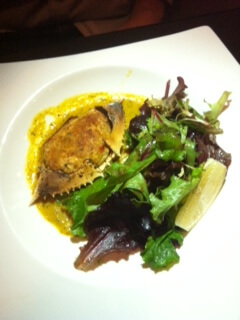 We started off with 3 different appetizers to share, The Mango and Clementine Salad with Feta Cheese and Masala Dressing, The Masala Tuna Tartare with Smoked Salmon and The Baked Crab Cake on Half Shell with Coconut Ginger Broth.
The presentation of everything was so nice; the mango salad was very tasty and refreshing, I was surprised that I even liked the feta cheese with it. I really enjoyed the Tuna Tartare with the fresh tomatoes and cilantro throughout, but I didn't get the small piece of smoked salmon served with it. I would have liked to see the tartare served with a few papadum crackers to give a flavourful crunch to the tuna. I wouldn't order the crab cake again, it seemed like it was frozen and then just baked up for us. However, the coconut ginger broth was sweet and amazing!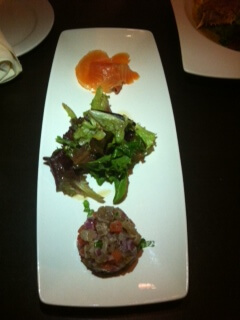 Our main dishes arrived as we were finishing out starters and they were a perfect size to share. The first plate that was set down was the Saag Paneer, a classic Indian dish of spinach and cottage cheese that I always love to order when I have Indian food. This is one of my favourite dishes and 5th Element didn't disappoint at all in its execution. Its success made me to want to try more of their classic Indian dishes.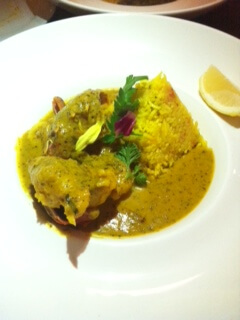 The next dish that arrived was the Lobster and Shrimp Moilee in a Coconut Curry Sauce. One big lobster tail and a few large shrimp came soaking in a delicious coconut curry sauce with rice. It was sweet and spicy at the same time, the shrimp were cooked perfectly and everything was melt in your mouth good.
The final dish we were served was the Braised Lamb Shank with a Garam Masala infused lamb Sauce. This dish was the most amazing braised lamb I may have ever had. It was so tender and just fell right off the bone. The flavours of the garam masala, ginger, garlic and tomatoes were layered together perfectly and each bite was better than the next. This was my favourite item of the night and would go back just for that next time.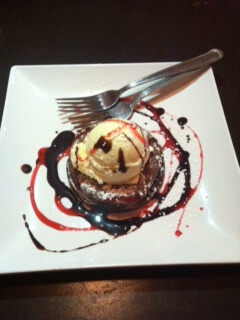 Of course, just when I think I can't eat anything more, it's dessert time. Well let me tell you, this dessert was worth feeling that much more full. We shared a little bite of heaven at the end of our delicious meal and split the Chocolate Soufflé, it was creamy and so chocolatety good.
All in all I had a good time at 5th Element and would go back there for their food any day, it was delicious. However, the decor and service was nothing to write home about – or blog about I should say.
If you are planning to check out 5th Element anytime soon, take a look at their 3 course pre fixe option. For only $22.95 you get to choose from a large list of appetizers', a main, dessert and it all comes with a glass of wine or beer of your choice. Doesn't that sound like a stellar deal? They also offer a lunch buffet and deliver take out 7 days a week.
http://www.5thelementt.com/

About Erin Scheel
Food Lover • Blog Girl • Recipe Rebel! My name is Erin and I am in a constant search for a full belly. I have lived in Toronto most of my life and have been enamored with the city's food culture and fascinated by the culinary possibilities this city has to offer on a daily basis. I'm really into cooking, vintage clothes, chocolate milk, craft beer, french fries, leftovers and then working it all off at the gym! Read it and eat it here: www.erinlovesfood.com, Twitter: @erinlovessfood, Instagram: erindotcom