Weekly Warm Up- May 12th – 18th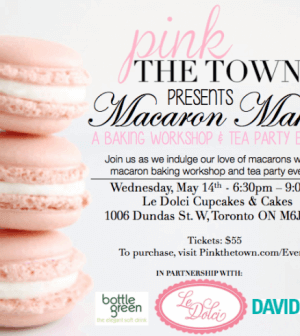 Hello again friends! Festival season is picking up in Toronto and there are so many great events on this week that I could barely choose just a few to highlight, I hope you get the chance to check out at least one or two of these, and maybe I'll see you there! Here is your weekly warm up:
CONTACT Photography Festival- All Week
Scotiabank's annual and sizeable CONTACT photography festival is back this year to highlight the talent of over 1500 Canadian and international artists in a host of venues across the city. The theme of this year's festival is photography and identity, and it is explored through a series of exhibitions and public installations. The photographs on display this year will be largely centered on individual and collective expression through photography and will tackle such subthemes as culture, masculinity, feminism, race, class, migration and character – just to name a few. The festival will showcase both contemporary and historical photography, and has a great deal to offer anyone with an interest in the field.
For more information: http://scotiabankcontactphoto.com/
Lana Del Rey at the Sony Centre- Tuesday, May 13th
After catapulting into fame in 2013 it is safe to say the dulcet, Nancy Sinatra – style crooning of Lana Del Rey has left her a mainstay in the current pop cultural landscape. Del Rey is effortlessly original, singing powerful ballads about loss, fame, money and love that manage to be both stylistically old school and entirely relevant to the contemporary human experience. She is currently on tour promoting her sophomore album, Ultraviolence, which promises more of the sultry and subdued Lana we love as well as appearances by all-star collaborator Dan Auerbach (of the Black Keys). Critics and concertgoers alike have met this most recent tour with rave reviews, revealing that the young songstress has matured considerably as a performer since her breakout. In short- Lana Del Rey won't be putting on a show to miss.
Listen to West Coast, a single from Ultraviolence: https://www.youtube.com/watch?v=oKxuiw3iMBE
Occam's Razor: Art, Science and Aesthetics – All Week
This beautifully curated exhibit, presented by the Ontario Science Centre, is a celebration of the commonalities between these three tents: art, science and aesthetics, in their simplest forms. The exhibit highlights the enduring beauty that occurs naturally in science and the science that is essential to great art. Works on display will be presented by a very diverse pool of artists and will include sculpture, paintings and instillations.
For more information: http://www.ontariosciencecentre.ca/ScienceNow/IdeaGallery/OccamsRazor/
Game of Thrones: The Exhibition – May 14th -18th
I'm definitely not alone but I'll gladly be the first to admit I am completely enthralled by Game of Thrones – the intrigue, politics, HBO ordained nudity – It's all good in my books, and for those among you who share my affinity, the onset of this free exhibition will likely bring you as much excitement as it brought me. After completely selling out two prior visits to Toronto, the window into Westeros is back with all the props, costumes, storyboards, stills from the set a fan of the show could hope for.
For more information: http://connect.hbo.com/events/game-thrones/game-thrones-exhibit/
Pink the Town's Macaron Baking Workshop and Tea Party- Wednesday, May 14th
Last but certainly not least, lest we forget that this week kicks off with Mother's Day and what could be more fun than taking your mom to this sweet little event, or making her a few delicious presents of your own after the fact. If you love Parisian style macarons and have ever wanted to try baking them yourself, than this event is for you! Le Dolci will offer the workshop and beverages will be served by David's Tea and bottlegreen. A sweet spring themed event and a great gift for mom? What's not to like.
For more information: http://www.pinkthetown.com/news/2014-05-06/Pink-the-Town-Presents-Macaron-Making-A-Baking-Workshop-Tea-Party-Event
About Mary Anderson
Mary is a history student, freelance writer and avid culture junkie. Three years ago she moved from the nation's capital and began a love affair with Toronto that has only grown in strength since. In her spare time she can be found trying to complete her bucket list items of trying a Caesar in every bar in the city or crafting the perfect breakfast taco. Follow her on Instagram: @_mollieanderson