The Beauty Room

If you have not treated yourself to a facial, I suggest scheduling one for the near future! In fact to be more specific, you have got to try out The Beauty Room at L Studio.
I used to be the girl who only washed her face with water and didn't really believe in facial creams, and all that exfoliate mumbo jumbo. But after visiting Amanda Chui in Liberty Village, I now know the error of my ways.
On an awesome side note, right off the bat I was loving this place as there are a couple free parking spots on the side of the salon. There is nothing worse than going in to an establishment for a full day of relaxation, and having to run down the street to your vehicle to put more money in the meter midway through.
Ok now moving into the good stuff, after completing a form which was based on my personal skin wants and needs Amanda decided it would be best to have the Derm Renewal Peel + Algomask facial. The Derm Renewal Peel gives the same exfoliating benefits as a 30% AHA (Alpha Hydroxy Acid) chemical peel without the irritation and excessive peeling that's normally associated with a chemical. The Algomask is a cooling and hydrating mask that helps with brightening the skin as well as reducing redness and inflammation.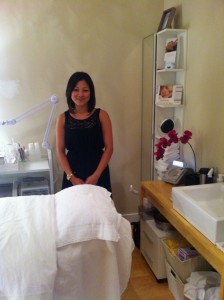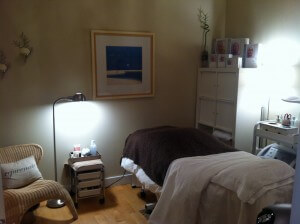 Amanda started off with a general cleansing of my skin under steam to remove any makeup and dirt, which was followed by a second cleanse using a product called "Deep Cleansing Solution". She then analyzed my skin under a magnifying lamp to address any concerns that I had as well as checked for the quality of my skin to determine which products I would benefit from most. The Derm Renewal Peel was then applied and left on for 5 minutes. Once the 5 minutes were up, Amanda applied a Neutralizing Gel to deactivate the peel and rinsed my skin clean. This mask is very reminiscent of the one Patrick Bateman uses in the movie American Psycho. If you are a fan of this cult favorite like me, this was worth the visit alone haha.
After addressing some blemishes I had due to improper care of my skin (shame on me), Amanada disinfected the skin and closed the pores with a high-frequency machine. Next, she applied the appropriate concentrates and massaged my face with them, followed by the Algomask. While the mask was on for 20 minutes, Amanda massaged my décolleté, shoulders, neck, hands and arms. This was by far one of the most relaxing treatments I have ever experienced. Many people opt for a massage to relieve stress, but take it from me a facial is for sure the way to go! After the mask was removed, a Treating Mist, eye and lip contour product, concentrate, moisturizer and SPF were applied.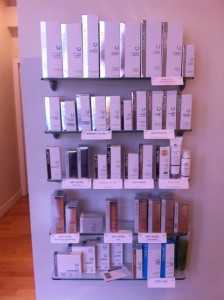 Many of you probably have some of the same concerns I had, such as having sensitive skin, or simply inexperience with these types of products and services. If so, Amanda is your girl to go to. She was sure to make me feel comfortable with everything and made sure I understood what each procedure was going to do for my skin. She also suggested some awesome products for me, such as the Hydramucine Concentrate from G.M. Collins which is amazing!
To top my experience off, we moved out to the main studio where I was given a manicure. This is no small feat as I am a chronic nail biter but she worked her magic and gave me the cutest pink nails. The manicure its self, even with me sneaking in a bite here and there, lasted me about a week and a half.
Amanda herself is a doll, we chatted about everything and anything! She has amazing customer service skills and is extremely knowledgeable in her field of work. If you are having any skin issues, or simply need a break, The Beauty Room is the place to go!
Also a bonus heads up to all you poor students out there, or really just anyone who wants to really treat themselves, TorontoCityGossip.com and The Beauty Room will be teaming up for a huge give away come late September! Did someone say $200 worth of free skin care products and great deals on facial services?! Exciting, stay tuned!!
Soon to follow as well, my review on L Studio!!!
39 Mowat Ave., Toronto, ON
Phone: (416)537-8500/(416)889-9948
Twitter: @beautyroomTO