The Body Blitz Spa Experience
Moving day. That one day that seems like it will never end filled with excitement, stress, disorganization, boxes, movers and the anticipation to just get everything back to "normal" as quickly as possible.
The week leading up to the "big day" and following seems never-ending and as hectic as ever. There wasn't a time that I craved a spa day anymore than during these weeks.
One evening I was doing a bit of research online trying to find the best spas in Toronto, even those hidden gems that aren't given enough credit, as a result of viewing TCG's beauty category and realizing it's about time to get some of these places up there!
I came across familiar names such as Elmwood Spa, Stillwater Spa, and Hammam Spa – a couple of which I have head the pleasure of visiting. However, I wanted to dig a little deeper and find a name that I didn't recognize and more importantly haven't been to.
This is when I found "Body Blitz Spa". An unusual name, I thought. I decided to take a quick glance at the website and found myself intrigued by their products and services.
A woman's-only spa? Annual memberships? Multiple pools? Therapeutic waters? A green tea hot tub? I must know more!
I read on to find out that not only does Body Blitz spa offer the typical massages, scrubs, body wraps, facials, steam room, sauna etc. but they pride themselves on their water system. How neat! I never would have thought that we had one of these here in Ontario, let alone downtown Toronto.
I figured it would be a typical "hot springs" type of place that would be found in British Columbia or somewhere in Europe.
Right away I searched for their social media buttons and found a link to the spas twitter account and followed immediately. I had to get in contact with someone at this spa to learn more!
The spa director, Sara deRuiter, was kind enough to send me an email back very quickly inviting me to take a tour of the spa, take a dip in the pools and enjoy "The Works".
I eagerly accepted and couldn't wait to set the date!
Sara recommended that I arrive 90 minutes prior to my treatment to use the therapeutic waters circuit. How exciting! I've never had to arrive so early before a treatment even begun. I was definitely intrigued. She also sent me an itinerary for my afternoon at Body Blitz.
I would receive the therapeutic waters and The Works (90 min treatment) which includes a tip-to-toe body blitz wash and scrub with a little pampering throwin in for those who like it rough and smooth. This starts with an invigorating body wash and scrub, using one of their signature scrubs from the scrub bar. After the body is washed and scrubbed, the body is rinsed and a neck-to-toe application of their body lotion is then massaged into the skin. The scalp is then nourished with their stimulating scalp serum and then a gentle exfoliating face wash is followed by the green clay face mask, balancing face toner, argan oil face serum and replenishing face moisturizer. The hair is then washed and conditioned leaving you feeling rested, renewed and silky smooth.
WOW! Are you serious? I am going to get bathed from head to toe like some form of middle-eastern Princess? How did they know I loved getting treated like royalty? Bring it on!
Need I say how excited I was for this?
I arrived 90 minutes prior on a Thursday afternoon to the hidden and deceiving spa. Located on Adelaide literally around the corner from where I was moving. Seriously? Just my luck, I would have been a dirty regular.
So far so good. Clean, organized, simple.
As I waited for the women at the front desk to finish helping the women that were in front of me, I decided to notice my surroundings. A juice/smoothie bar, a display of their products including testers for you to smell and feel the products to help you choose which is best for you. Very helpful!
I filled out my "new client" form and the anticipation level of what was next was increasing.
A man came in and was disappointed when he found out that Body Blitz was for women only and inquired if there were any places in the city that cater to just men – business opportunity much? I know so many men who adore being divas and would totally use a service like this. Shine on you crazy diamond.
Angela came out to greet me with a welcoming smile informing me that Sara wasn't feeling well that day and went home so she would be giving me the tour and filling me in on all I need to know about the establishment.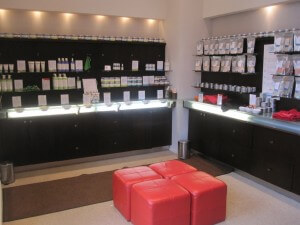 We walked over to the showcase of products on display where Angela gave me a bit of background information on the particular products that were going to be used on me. They had already customized my treatment – amaze!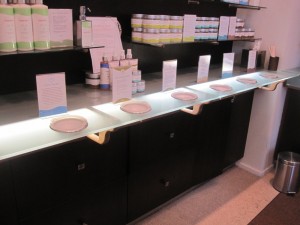 Body Blitz has their very own skin care line that is made with only essential oils, no perfumes, and is not animal tested – a star up on the fridge from me for that one. To extend the Body Blitz experience earth and sea elements are used in all of the products.
Angela added in that their argon oil serum is extremely popular right now so they've added a bit to each product. Think Moroccan oil for your body – how beneficial.
There is an entire wall of bath salts that are brought in from all different parts of the world – all of them except the salt from the Dead Sea are edible. Neat! The Dead Sea salt is used in the main pool at Body Blitz Spa.
Made in Canada and celebrating all things Canadian, Body Blitz supplies salt from Saskatchewan, moor mud from northern Ontario and oceanic clay from British Columbia, to name a few. These natural resources offer a myriad of health benefits which are passed on to you. Just another reason to be a proud Canadian!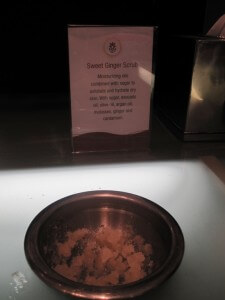 Angela informed me that I am going to be receiving the deluxe sweet ginger body glow. I love the sound of that – who doesn't like to glow? At this time I had the opportunity to test out the products that were going to be used on me so she tells me that my treatment begins with a mint lime body wash, followed by the sweet ginger scrub which will perfectly exfoliate every inch of my body, which is then followed by a warm milk and sweet orange oil which is massaged into the skin and then finishing with a grape seed and argon oil massage.
After my body is treated the spa therapist is going to move up to my face for a mini facial which begins with a Body Blitz replenishing face wash, followed by a mask with the green clay face mask, and then finishing with the balancing facial toner and argon oil serum and replenishing face moisturizer.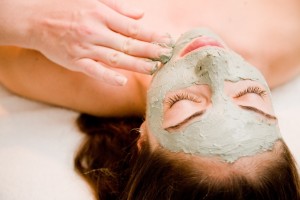 I asked Angela which product(s) is her favourite and she expresses how much she loves them all and it's so hard to choose but she uses the clay mask at least once a week to balance skin tone religiously.
Get me in there already!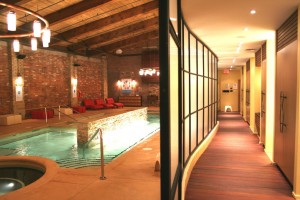 As I entered the facility to begin my tour, someone was just exiting the pool area so I was able to get a sneak preview of what I was in for and I couldn't have been more excited to disrobe and get in there. However, Angela was kind enough to show me around and I was more than interested to see what this unique spa had to offer.
Much like any other spa there was a room full of lockers where you are assigned a key to ensure your belongings are safe. Each locker obtains a laminated map with the recommended cycle circuit (which I will explain in detail shortly) for the pools, a small and large towel, a robe and flip-flops for safety and cleanliness while in and around the facility. How thoughtful!
Next to the locker room is a gorgeous, well-lit "beautifying" area, if you will. Body Blitz offers their chair brushes, hair dryers, perfume, body lotion, hairspray – you name it they have it. They want to ensure that you're ready to take on the world after your five star treatments.
Beside this area is the section for bathrooms and a separate section of beautiful rain head showers to rinse off before/after parts of the cycle. There is the main showerhead that is in the open and about 5-6 private showers if you wish to take a little extra time for yourself.
Angela pointed out the steam room and inferred sauna and then I was on my own!
Before entering the spa I opted for the antioxidant blended smoothie that I was told would be served to me poolside. It is made with pomegranate juice, fresh blueberries and banana. Delish!
Back into the locker room I go to put on my bikini and take on the pool circuit.
I entered the main poolroom and noticed some of the ballsier women who were enjoying the pools in the nude. You go girl! I personally feel the most comfortable in my bathing suit.
First step, rinse off. Second step, main pool for 5-10 minutes.
The main pool is absolutely stunning. In the middle of it there is a fountain pouring out fresh water constantly. This pool is the one with the Dead Sea salt in it. I found a spot up against a few of the jets and just relaxed. It felt so good to wind down after the week I was having. My ten minutes were up and after a quick rinse into the steam room I go for another 5-10 minutes of relaxation for step 3.
The steam room promotes detoxification. (find out what is poured into the steam) One of the women working there came in while I was in there and poured some substance that smelled like green tea or something similar into the timed steamer. I took a deep breath in and I felt as if I was clearing my breathing passage.
Another quick rinse and step 4 is to sit in a cold tub for the suggested time of one minute. In order for this to work properly, you are told to go up to your neck. This stimulates the thyroid. It is freezing in there but I couldn't give up, I was going to finish this circuit.
My minute was up and step 5 was the inferred sauna. In this area, as well as the steam room, there are signs that say absolutely no talking. Body Blitz spa wants all of their clients to be as relaxed as possible – this is a place for therapy!
Sitting in silence for another 5-10 minutes of detoxifying, a quick rinse and into the green tea pool for ten minutes. Yay! I was waiting for this all day.
There really isn't any difference in the appearance or texture of the water by any means, however, just knowing you are sitting in a hot tub of green tea feels so good. This was definitely my favourite pool.
Another minute in the cold (66 degrees) pool? Ahh I can do this! Literally staring at the clock my one minute is up and I can enjoy the remainder of my time in the main pool.
Don't get me wrong, this doesn't need to be a scheduled event each and every time and you can definitely choose how long you wish to remain in each pool, these are just the recommendations. Why wouldn't you though? It's so good for you!
In between my little adventure I noticed my smoothie was delivered poolside, as promised. My name was written on it and a "have fun and enjoy" message. It was absolutely delicious and refreshing.
I took a glance at the clock and decided I should probably get out, dry up, and put on my orange robe and sit on one of the big comfy red lounge chairs and wait for my treatment.
By the time I sat down on the chair Ann was ready for me. Oops! I underestimated how much time I had left over; I really wanted to chill on the chairs. They're so big and comfortable. Next time.
Ann lead me into the back area – this place is absolutely massive. It really is deceiving. The ceilings are so high, probably 24+ feet and the facility is just never ending with space. I'm assuming it was some form of warehouse before that was gutted and redone to look this beautiful.
I'm not going to lie, the rooms are a bit odd looking. All white, like an over-sized bathtub/shower and a red table in the centre with one big lamp over-top that consists of three inferred light bulbs to keep you warm. I felt like I was going to be experimented on or something.
I was given a disposable thong and told to de-robe and lay flat on my stomach. I was slightly intimidated as everything was so quiet and the room is not a familiar sight. I looked around and noticed a sink, a long silver hose, and some bath mits. I decided to relax and just let Ann have her way with me. She is a professional, afterall.
Ann returned to the room and turned on the hose to give me a quick rinse. I couldn't believe I really was going to be bathed by someone else.
She then took the mint lime body wash, which smelled delicious, and washed the backside of me from my neck all the way down to in between my toes with a bath glove. I'm not going to lie; I rarely even wash in between my toes myself – haha. Next up the scrub! Bye, bye spray tan – hello exfoliation. Every inch of my body was exfoliated and felt so good. The sweet ginger scrub smells so good. I remember trying not to nod off into a nap because I needed to remember the steps of the treatment to write about, but it was so hard! Especially after the warm milk was poured onto my body. This was my absolute favourite part of the treatment. Warm milk that smells like sweet coconut with a hint of orange poured on every inch of your body and then rubbed in – heavenly! I didn't want it to end.
Once the warm milk was rinsed off I was coated with the grape seed and argon oil, which was massaged, into my body.
I quickly realized that I obviously couldn't have just one side of me treated and that I would eventually have to flip to the other side and have the same done to me on the front. Topless? A little uncomfortable at first, but then I realized she does this to dozens of women daily and eased up.
Ann rinsed off, dried the table and helped me get back on to ensure I didn't slip off after my body was all oiled up on the backside of me. She repeated the steps on the front and then proceeded to dry me off and cover me in warm towels.
Facial time! I'm not going to lie, I fell asleep halfway through for a good 10-15 minutes so as I woke up the mask was getting put on my face and she asked me if I wanted my hair washed. Why not!
All of the products smell SO good and they're all natural. I would consider purchasing and using the shampoo and conditioner, which is rare for me as I am a dedicated lover of Aveda products.
My hair was rinsed and wrapped in a towel, my facial was complete and I honestly don't think I've ever felt this clean before. I had just experienced getting bathed by someone else. I could really get use to this…
Ann saw me out, gave me a glass of water, and bid me adieu. I thanked her for her relaxing procedure and proceeded to the locker room. I didn't want to leave!
I got dressed and decided to let my hair air dry and headed to the front desk. What an amazing day! It is just what I needed.
Not only did Body Blitz deliver, but also they impressed me beyond words. What an amazing facility! I immediately turned on my blackberry (which is not permitted upon entrance to the facilities) and began to brag to my girlfriends about my experience.
This really is a must-try for you women who love spas. Not only that, if you love to take care of your body then just visiting Body Blitz spa for the therapeutic waters is beyond beneficial. Taking care of your body is so important – if you are good to it, it will be good to you. Having the chance to detoxify, stimulate circulation as well as your thyroid and metabolism and then relax after it all in a nourishing pool – heavenly.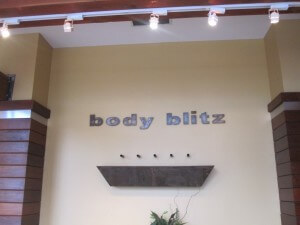 I even went onto my twitter account and messaged a few of the women that I know would adore this place. It honestly is a must try.
Body Blitz offers a discount on the pools on Tuesday, "scrub 'n mud Wednesday's" and a discount on services when paying to enjoy the pools. There are package deals, annual deals and drop-in rates.
They even have a no-tip policy!
Seriously, try it out, I guarantee you will be as impressed as I was.
Let me know! natashaj@torontocitygossip.com
www.BodyBlitzSpa.com
@BodyBlitzSpa