#WMCFW F/W 2014 – Day 1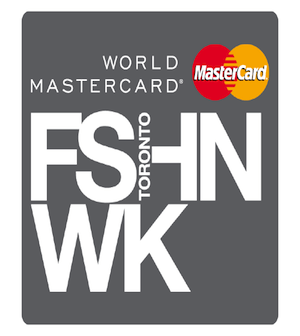 Well folks, World MasterCard Canadian Fashion Week has commenced, which means if you're down on King West in the next week you will be witnessing some fashionable people doing wearing questionable things (and by questionable I mean fantastic). The number of furs, heels, coats and jewls that I was witnessing today was overwhelming. There were also a few appearances by the Beckerman Twins, Elisha Cuthbert (Pheneuf), and the beautiful Coco Rocha. Beautiful really doesn't begin to describe her, but it will have to do for now, because ladies and gents, I am here to talk about the shows. There were lots of cool fabrics used, and lots to cover, so here goes:
Mikhael Kale
Starting off was Mikhael Kale, whose collection was full of studded garments and fantastic motorcycle jackets made in different prints and colors. There was a mixture of textures and fabrics used, but my faves were the long pink studded leather jacket, an amazing pastel blue biker jacket (full of studs, of course), and this one entire look that had a skirt, peplum top and a biker jacket all made in this amazing graphic teal and crème colored print. It was stunning! Leather jackets are a must for next Fall/Winter, and if yours is lacking studs, this girl wont be impressed!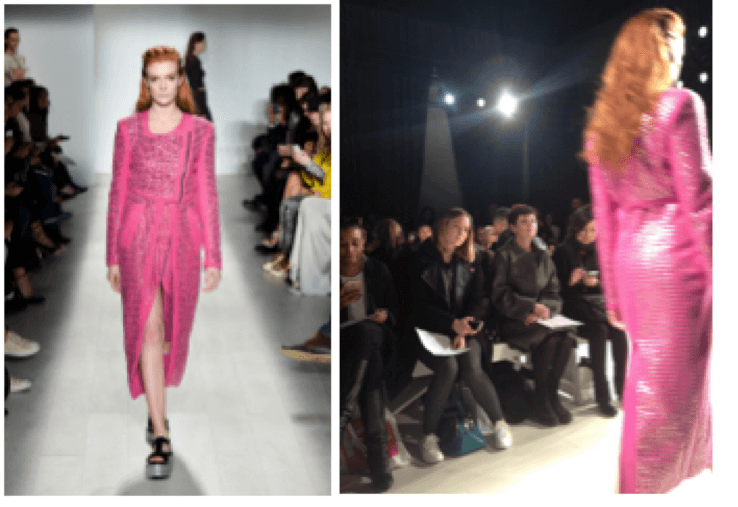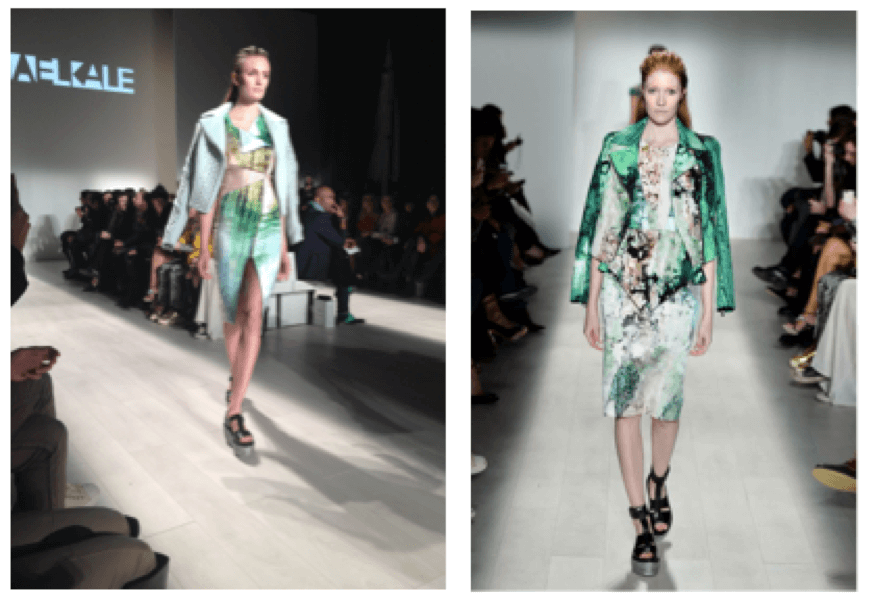 VAWK
The Fall Winter 2014 collection for VAWK incorporated a lot of black fabrics with some dresses having mesh cut outs as well. A few of the garments had the high low look with the back of the garment floating behind as the model walked down the runway. I loved this show because they had diversity not only in the models' looks and ethnicities, but also in the sizes of the models and they even had a model with a prosthetic leg. This was really impressive because a lot of designers tend to want to focus on the clothing, but this was a big step forward for the fashion industry, and hopefully this will be a trend in the future. Some memorable pieces included the amazing all black long letterman jacket, a super chic moto jacket with these cool metallic leather sleeves, and my fave dress of the collection, which was a floor length black maxi dress with a black mesh cape over top. It was so stunning! Overall the jackets and use of leather throughout the collection made me super excited for next Fall (not so much winter)!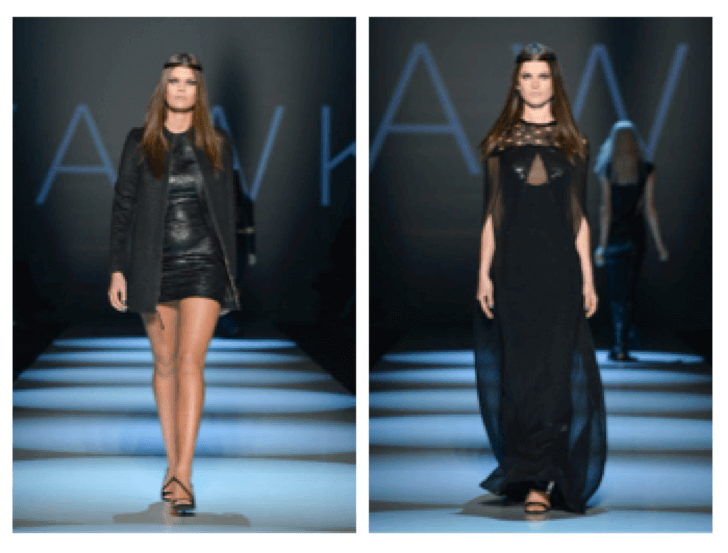 Beaufille
The Canadian version of the Olsen twins did an amazing job with their collection for Beaufille. They sent several of their models down the runway in black on black and ball-caps on backwards giving a very street chic kind of vibe. Some of the pieces to look for in this collection are a knit criss cross sweater, these INSANE (in a good way) quilted leather pants, an awesome oversized textured leather jacket, and of course the baller hats that these chicks were reppin' on the runway.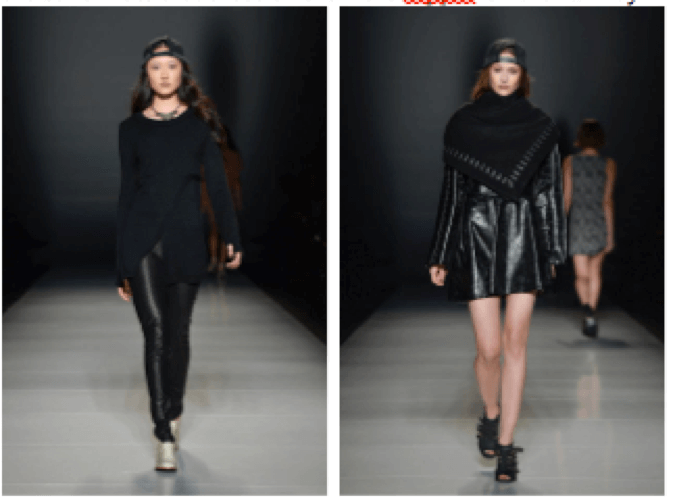 Line Knitwear
This collection had the typical dark colors like navy, burgundy and black for the Fall Winter 2014 collection, however the designers also threw in some amazing pinks and bold blues to brighten up the collection, which is very on trend and that makes me enjoy it even more! I absolutely loved this entire line and all of the different outfits in them. Also they had these AMAZING ear cuffs that went all the way around the outside of the models right ear. It looked so glamorous; I was falling in love every time a new model walked down the runway. My ultimate must see looks include the burgundy knee length jacket with leather sleeves, the cobalt blue short set, an amazing navy blue floor length coat, a pink knee length coat that has a varsity feel to it, and this amazing bright pink fur that was put over the shoulders of the model wearing this feminine pastel pink coat. After seeing this collection I'm so happy that next Fall/Winter won't be full of dreary dark colors!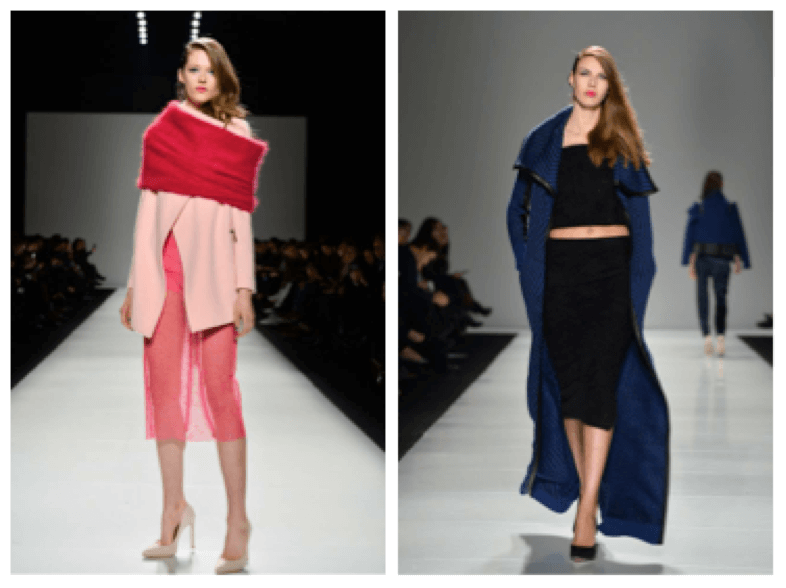 Sid Neigum
The first night was a successful close by the fabulous Sid Neigum. Andrea and I ended up getting second row seats for this one, so I ended up getting a better look (and better pics) at the collection. The way these fabrics were used was pretty mind blowing and the details on the skirts were very impressive. It had almost a torn look to it, like when you tear a piece of paper in half but it isn't straight. Some of my favorites were the rustic orange leather skirt, the yellow-ish oversized jacket and matching pants with the black stripe on the inside of the leg, the oversized knit sweater, the INSANELY amazing gold pleated turtleneck poncho, and this fabulous black dress. I'm super excited to wear these fabrics ASAP…do we have to wait till Fall/Winter 14?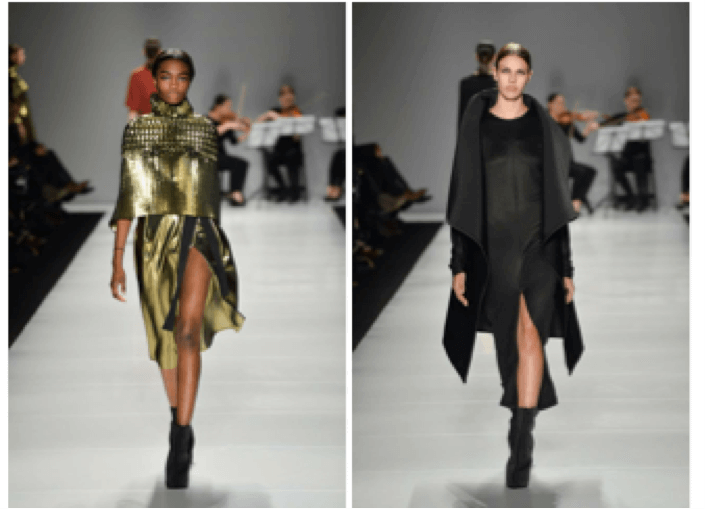 Did you guys hit the shows at all? What were your fave looks?? Let us know @TOCityGossip @Mel13Marchand
Melissa Marchand

About Melissa Marchand
I am originally from Nova Scotia, but in 2013 I moved to the 'big city' of Toronto to study fashion. I am a big believer in following your dreams, working hard but staying positive, and taking advantage of any opportunity that comes your way. I love yoga, wine and high heels…and wine. Follow me on Instagram @melissamarchand and Twitter @Mel13Marchand.