What's the deal with Beauty Oils?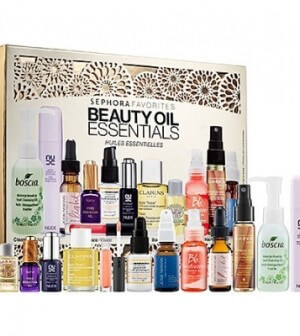 Beauty oils are slowly reclaiming their spot on the vanity. For years, it was nearly impossible to find any sort of oil based cleanser, let alone pure face oil. Everything from makeup remover to moisturizer was marketed as oil-free. Oils were the pariahs of the skincare world and we were taught they were bad for our skin. Now, the trend (possibly inspired by the hair oil explosion) has blossomed on the beauty scene and you're going to love it.
So why choose an oil for your skin? The most obvious reason is that oils are moisturizing. They have less water than creams and lotions, so they penetrate the skin and have better moisturizing properties. They protect against free radicals and other environmental damage, and can even help repair and replenish you skin cells.
Oils, contrary to popular belief, are great for all skin types. I worked with an esthetician that swore by beauty oils. She told me that oil tricks your skin by making it believe it's producing oil, which helps to regulate the oil production. Of course, this will depend on your skin, but think how great beauty oil with Vitamin E could be for acne scarring.
The best way to understand the oil resurgence is to dive in. I made my foray into the beauty oil world feeling gutsy and opted for a no-nonsense beauty oil. It changed my beauty routine and my skin.
Oils
There are tons of oils out there, from coconut to rosehip, and they all have special qualities. Google your skincare concerns and see if there's an oil that might help. Here are a few popular you ones that you may want to try out!
Josie Maran's 100% Argan Oil, a product that is 100% Moroccan oil and fragrance free, is great for a gutsy first timer because you can use it on your hair and body.
Rosehip is popular for reducing the appearance of scars, stretchmarks, fine lines and wrinkles. Trilogy makes Certified Organic Rosehip Oil for you to try out.
Alternatives
Oil based cleansers are extremely hydrating and take off makeup like no other product out there. With an oil cleanser, you don't have to commit, or worry about how a new oil might set with your makeup, and one of your favorite skincare lines may already have one. Philosophy makes Purity in oil cleanser form. Bobbi Brown makes a Soothing Cleansing Oil.
Tea tree oil is renowned for its blemish-banning and anti-bacterial capabilities. The Body Shop has a great tea tree oil line if you're looking for spot treatment oil. Testing it on small patches is great way to start out. It also smells divine.
Peter Thomas Roth is the anti-aging and acne treatment guru. He makes an oil-less oil. It has the benefits of an oil but doesn't feel greasy or heavy (Mind-you a lot of the new beauty oils are lightweight and don't leave that greasy feel). It reduces fine lines and wrinkles plus it moisturizes.
Oil lip treatments are big right now. Don't want to risk changing your skincare routine? A good option might be to try the Hourglass Oil Lip Treatment. It has 14 essentials oils and 10 lipid-rich oils that are great for moisturizing and protecting your lips!
Sometimes beauty trends don't live up to their hype— but I think this one might! What kind of beauty oils do you want to try?
About Moira O'Connell
Moira is a writer & makeup-lover based in Toronto. She has a background in archiving, coffee slinging & relocating (also signing Iggy Pop a little too loud). She's pretty sure she was born in the wrong decade, maybe even century. Swears by: red lipstick, bell bottoms & selkies. You can check out her lifestyle blog at http://lkewolves.blogspot.ca or follow her on Twitter @lkwolves