The Weekly Warm Up June 15th – 22nd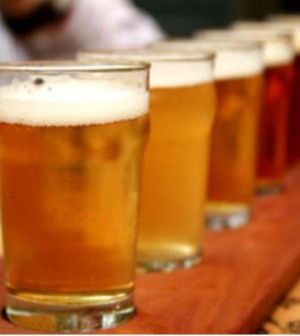 Ontario Craft Beer Week – All week
Ontario Craft Beer Week is a week-long, province-wide festival that celebrates the thriving locally-based craft beer industry in Ontario and exposes consumers to the premium quality and culture of Ontario craft beer.OCB Week events are hosted at breweries, pubs, restaurants and event venues across Ontario in cities such as Toronto, Guelph, London, Ottawa and communities from Cambridge to Vankleek Hill and from Muskoka to Niagara. With special events ranging from intimate to festival, OCB Week is designed to expose consumers to the craft beer experience through tasting events, brewery tours, meet the brewmaster, cooking demonstrations, food pairings, beer dinners, music nights, brewery collaborations and one-offs, exciting online contests and much more.
For more info: http://www.ocbweek.ca/
NXNE Festival – All week
North by Northeast is Toronto's premiere annual music and arts festival. The festival's main focus has always been live music, but it also includes a film festival, a comedy festival, art components, and a digital interactive media conference. Each year, NXNE Music presents hundreds of bands from Canada, and all over the world at over 50 Toronto music venues. There are innumerable great events to check out at this year's festival and entry is cheap so make sure you keep an eye on the great talent that will be present across the numerous disciplines that the festival has to offer!
For more info and a schedule: http://nxne.com/
Vice and House of Vans present: Vice Island – June 19th, 2014
VICE and House of Vans are offering a jam-packed lakefront party featuring nonstop music, food, art, skate & street culture, and all-around good vibes. The party takes place on June 19th at Torontos Artscape Gibraltar Point on Toronto Island as part of NXNE 2014.The killer lineup includes Good Musics very own Pusha T exclusively at VICE Island, Future Islands, Omar Souleyman, LE1F, Posterz, Mikey Dangerous, Mean Jeans, Cellphone, and DJs Jonathan Toubin and Brendan Philip. In addition, VICE Island will feature a House of Vans customization station, a skateboard and BMX ramp skated by some of Vans best riders, delicious food, and more.The party starts when guests are shuttled from the docks at Parliament and Lakeshore to Toronto Island aboard a private chartered boat, straight to a private dock at Artscape Gibraltar Point.The event runs from 3:00 pm to 11:00 pm and is open to all NXNE wristband holders and those quick enough to make it onto the RSVP list.
RSVP, ferry schedule, and full event details here: http://rsvp.vice.com/viceisland/
Female Eye Film Festival – June 18th – 22nd
The Female Eye Film Festival showcases the work of independent female directors from around the world. The films shown in this festival belong to a wide range of genres including experimental, documentary, action, science fiction and comedy. In addition to screenings, the festival hosts a series of artist talks, art installations and parties. This festival has been a mainstay on Toronto's festival scene since it was founded in 2001.
For more info: #/FemaleEye
About Mary Anderson
Mary is a history student, freelance writer and avid culture junkie. Three years ago she moved from the nation's capital and began a love affair with Toronto that has only grown in strength since. In her spare time she can be found trying to complete her bucket list items of trying a Caesar in every bar in the city or crafting the perfect breakfast taco. Follow her on Instagram: @_mollieanderson