What to Wear When Meeting the Parents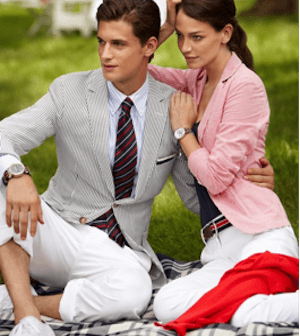 No matter who you meet, first impressions are always important and definitely something to bear in mind. When being introduced or introducing yourself to someone, the mark you make should ideally be polite, personal and memorable. Whether you come across a potential employer or a friend of a friend, putting your best foot forward is crucial to the foundation of a strong relationship, be it professional or social. While many of us are accustomed to meeting new people on a regular basis, there is, admittedly, one kind of first impression that stands out from the rest and tends to induce more anxiety. We hear it from our close friends, on television and from the two women chatting next to us at the restaurant—nervousness over meeting the parents of a significant other is definitely a thing. Interestingly enough, it seems that, when equipped with the perfect ensemble, appropriate hostess gift and right attitude, the bulk of these nerves dissipates so that everyone can enjoy the time they are given together and get to know one another much more intimately. So ladies, whether your plans are for breakfast, lunch or dinner, I'm here to give you some options that are bound to eliminate most of the stress of meeting the parents. The rest is up to you and how much of your sparkling personality you decide to let shine.
1. Breakfast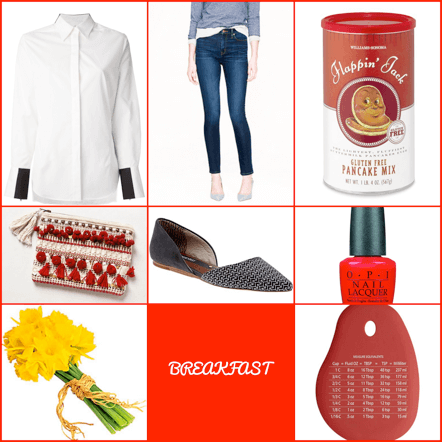 Though less common than dinner rendezvous, breakfast is actually a lovely time to get dressed up and enjoy a meal with parents you are meeting for the first time. The early timing makes it the perfect situation to wear crisp clothes (classic dark-wash skinnies and a modern take on the white button-down) as well as some cheery red hues to set the tone for the day. Keep the hostess gift occasion-appropriate and cohesive with some famous Flappin' Jack pancake mix, a bouquet of lighthearted daffodils and a cute and handy baking bowl scraper.
Shirt: 3.1 Phillip Lim, Jeans: J. Crew, Pancake Mix: Williams-Sonoma, Clutch: Anthropologie, Shoes: Matt Berson, Nail Polish: OPI, Silicone Scraper: Crate&Barrel

2. Lunch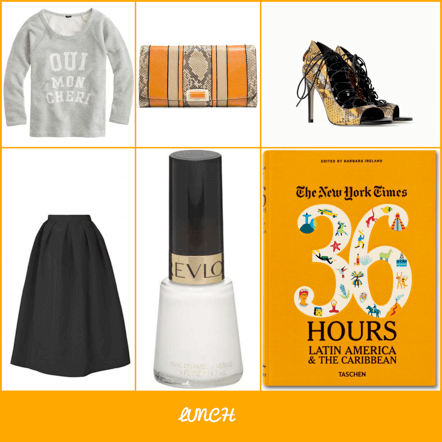 Ahh lunchtime. On a sunny spring day, there is nothing better than sitting outside and enjoying a nice meal. Tops with text are big this season, and this one by J. Crew is on point. For a feminine flare, dare to wear a luscious, full silk midi skirt that looks as luxurious as it feels. Match the sunny weather with mango-coloured accents and keep your nails clean and minimalist with opaque white polish à la Rag and Bone Spring 2013 runways. Taschen travel books are a fabulous gift idea. Hint: choosing one that focuses on a mutually appealing destination will give you lots of potential conversation topics!
Sweater: J. Crew, Clutch: Coach, Shoes: Zara, Skirt: Tibi, Nail Polish: Revlon, Book: Taschen
3. Dinner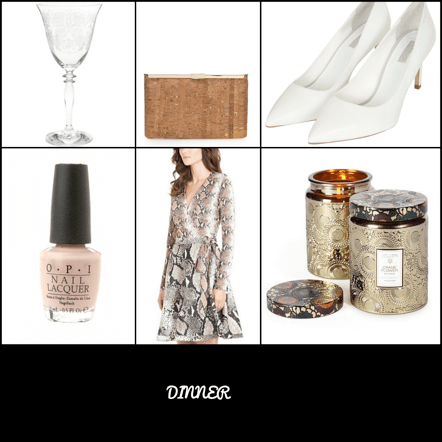 If you are invited to meet the parents for dinner, keep the word elegance in mind. A lady can never go wrong sporting classic cuts like Diane von Furstenberg's iconic wrap dress in a neutral snakeprint pattern and accessorizing with dainty pieces like these pointed-toe heels from Topshop. To keep things from becoming too formal, select a clutch with a cool cork texture. As for a gift, what's more divine than a gorgeous lacquered Voluspa candle and some elaborate wine glasses to toast the night away?
Wine glass: Anthropologie, Clutch: J. Crew, Shoes: Topshop, Nail Polish: OPI, Dress: Diane von Furstenberg, Candle: Voluspa
Meeting the parents takes a good night's sleep, confidence in who you are and, let's face it, a stylish outfit that helps to enhance both of these things. Opt for clean lines, bursts of happy colours and ensure that you are well groomed in the nail and hair departments (hygiene is always key people!). Don't forget to give some thought to a hostess gift that will put a smile on someone's face. After you've done this, all that's left is to be yourself!

About Krystin Chung
While other kids were busy playing hopscotch, I could usually be found in my closet, playing dress-up or making one of multiple daily outfit changes. Currently pursuing a BA in Art History and Communication Studies, I think of myself as a burgeoning fashion writer, eager to use my knowledge, love for fashion and creative eye to bring you only the best.