Vertical Restaurant
Toronto's summers are like a July long weekend. When the summer months are done, you are literally asking yourself where did the time go?! There is so much to do in the summer months in the city that sometimes you do not know where to begin; festivals, concerts, Blue Jay's games, boat cruises, or just dining out on one of the many gorgeous patios the city has to offer. There are so many great adventures and activities in the city that you must experience. This is why I am here, to help you make the right decisions and make sure you get the best out of Toronto, whether you are a resident, new to the city or just simply visiting. We welcome you.
It's Thursday, which happens to be one of my favourite days to dine out during the week. On this particular evening, I have been cordially invited to Vertical Restaurant, located in the financial district. Hearing nothing but good things about the restaurant from my banker friends who work in the area, I was quite excited.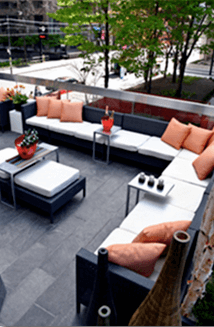 Vertical is located at First Canada Place, 100 King Street- I am greeted by the hostess, and introduced to Joe, one of the managing partners and Stefano, manager and sommelier. Observing from a distance, I am quite impressed with how personable the two gentlemen are with their clientèle. The patio has a tropical feel to it even with the construction the building is undergoing. It has a contemporary feel to it– think Miami meets Toronto with a live DJ that isn't too loud so you are still able to converse with your company. If you are just looking for some after work cocktails, the patio has a welcoming section with a bar. The patio and lounge overlook the park and waterfall facing King Street West.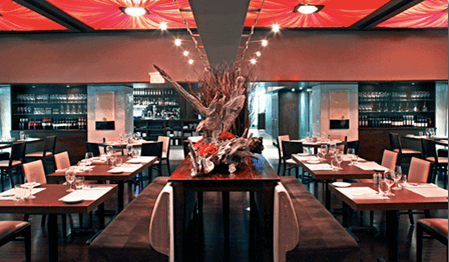 So you are hungry, not sure where to go. You want an atmosphere that is upbeat yet classy. Well, do I have something in store for you. Summerlicious is here, and during this time of the year some of the most amazing restaurants in the city create a prefix menu for you to indulge in. The cost varies from $25-$65 all depending whether you are dining out for lunch or dinner. I have yet to be disappointed. The event runs from July 8th to July 24th, so you have plenty of time to experience more than a handful of fantastic places if you are a foodie like me.
Vertical features a prefix menu all year long. Chef Giacomo Pasquini takes the time each and every month and changes it, so you will always have diversity here with both lunch and dinner. Vertical offers seasonal cuisine. It's menu is fixated on simplicity and freshness. In the summer months, Chef Giacomo develops the menu to be a little on the lighter side in comparison to the colder months in the year; which I find ideal.
You can tell Giacomo is very passionate about his profession as a Chef and recreates his grandparents and mothers' dishes.
At Vertical, everything from their meat to their produce comes from Ontario. They are supporters and believers in local businesses. After all, "Good Things Grow in Ontario."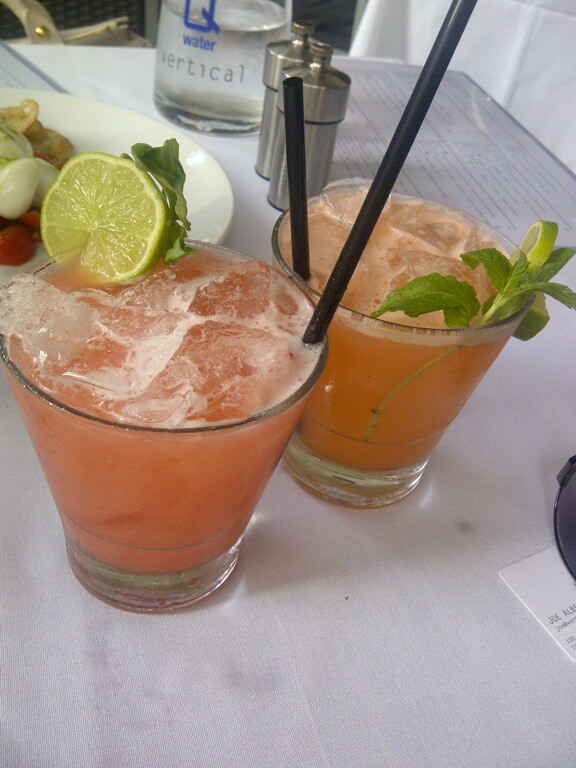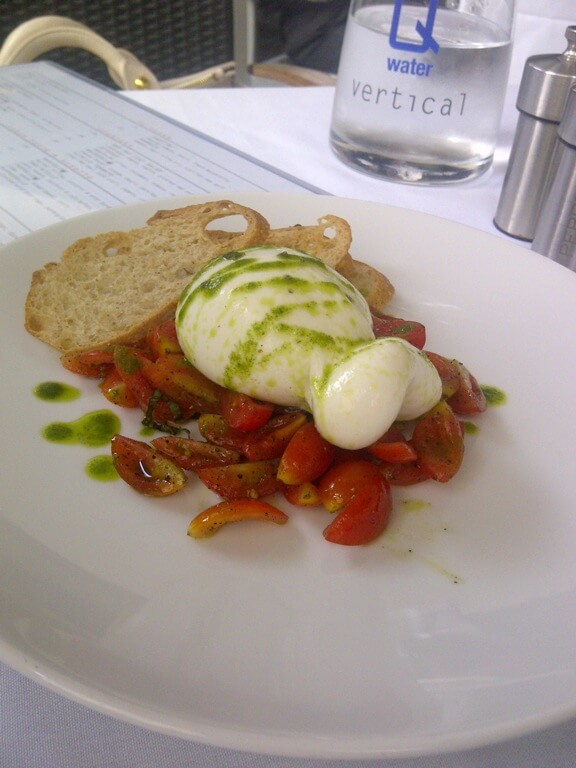 Vertical's cuisine is inspired by the diverse regions of Italy, using local ingredients. Italian food isn't ultimately my favorite, as I always assume every dish is heavy and I will leave with the feeling of being over-stuffed. I enjoy eating healthy so I like to have a variety to choose from when dining out. Here at Vertical, that isn't the case. The menu is simple and mouth watering. As I am seated out on the patio (a place I highly recommend to check out in the summer) we start the evening off with Burratta – a simple starter to share. It is a very light salad that consists of tomato, basil, olive oil and Sicilian salt. I LOVE tomatoes and this was a perfect starter to share. Stefano accompanies the start off with some cocktails, which are created with in house made syrup, that a named Bonnie & Clyde which happen to be their signature cocktails. The Bonnie consists of Bacardi white rum, house-made orgreat syrup, fresh strawberry and lime juice. The Clyde is made with Appleton Estate Reserve Rum, aperol, lime juice and house-made orgeat syrup. Both were extremely delicious, however being more of a fan of dark rum, my taste buds loved The Clyde. The Bonnie is a bit on the sweeter side with the strawberry juice. If you want a cocktail with rum, I highly recommend for you to make a pit stop at Vertical and indulge in this extremely creative cocktail. In fact, Vertical has a quite the exquisite cocktail menu, extremely creative.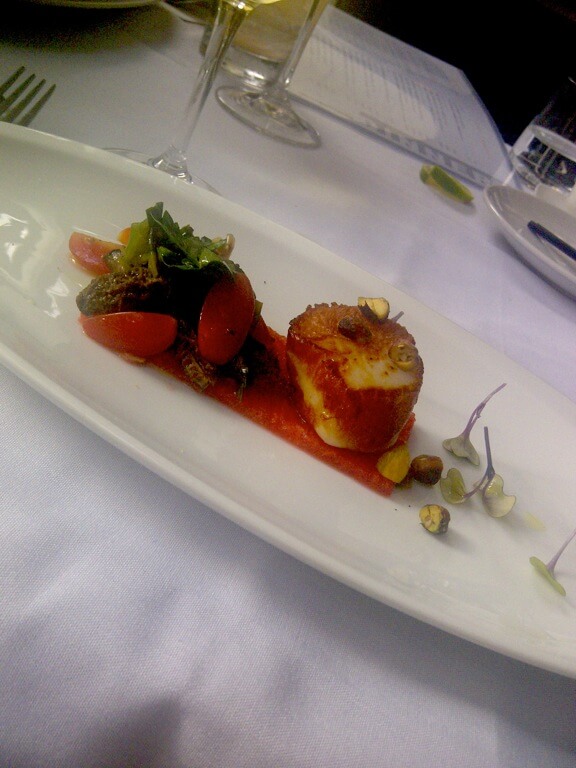 Our next dish to share were the scallops that were served over morel mushrooms, pistachio, watermelon, tomato, and spring onion. They were freshly cooked, very tasty and flavorful. The tenderness of the scallops goes really well with the crunch of the pistachios. The thinly sliced watermelon provides a sweet refreshing taste. This was by far the tastiest scallops I have ever had. Stefano, being the drink expert that he is, paired this lovely dish with a white wine which comes from the Southern parts of Italy- the Naples area to be more precise. The name of his suggestion is Ianella falanghina del taburno 08 – Campania. This pairing with the scallops is flawless. The two are meant to be!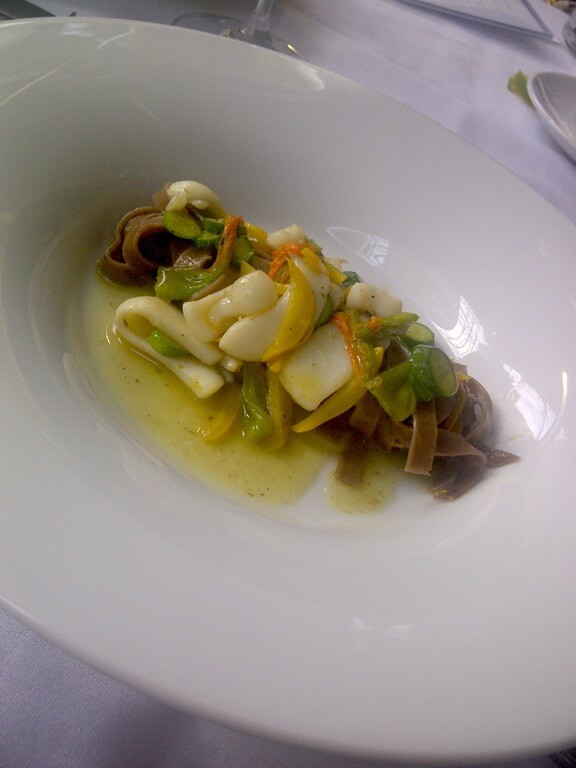 I am already quite impressed with the quality of service here, and of course the cuisine. Joe comes by describing to us our next dish alongside Chef Giacomo. They share a little bit of Italian history with us about the Tagiatelle and the development of the cocoa noodle. This dish is a very light pasta. It was quite a delight to try as I was very hesitant to eat something heavy. Paired with the Illa Mt Eden Chardonnay 'Bien Nacido VYD '08, these two went together perfectly. The Tagiatelle consists of cocoa noodle, zucchini, cuttlefish, zucchini flower and cracked pepper. So simple, yet so tasty.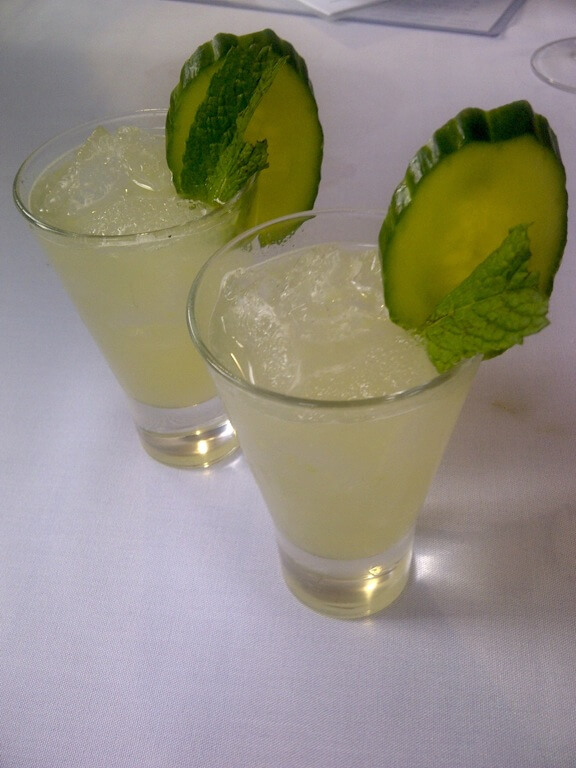 Prior to our next meal, another cocktail was in order and let me tell you ladies and gentlman– the most refreshing drink I have had! A drink that isn't sugary, and does not leave a gin after taste is the Cucumersome Cocktail here at Vertical. Oh my goodness! It's made with Hendrick's Gin, lime, mint, cucumber, rose water and bitters. On a hot summer day, this is a great drink to order. My recommendation is to start the evening at Vertical with this delicious, and mouthwatering alcoholic beverage. * two thumbs up*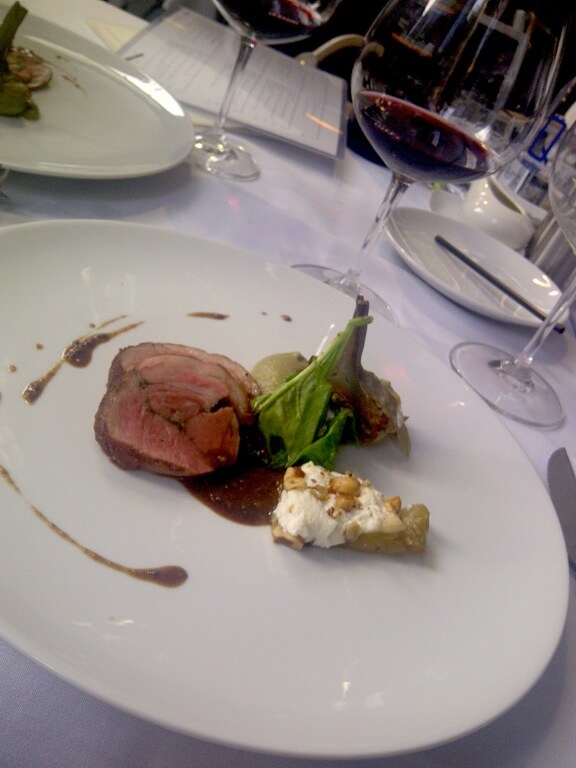 Our next meal happens to be my favorite – LAMB! I am huge lamb lover, as cute as they are they taste even better when they are cooked properly. This lamb saddle is cooked at fifty eight degrees. Paired with the Rappatu Frappato '09 from Sicily. This happens to be one of those meals that stand out in your mind and you develop a craving for. I kid you not, they have perfected this taste. MMmmm. The lamb consists of artichoke, spinach, ricotta and nut stuffed pepper with mustard jus. It is just exquisite! The way everything is all put together leaves you desiring more.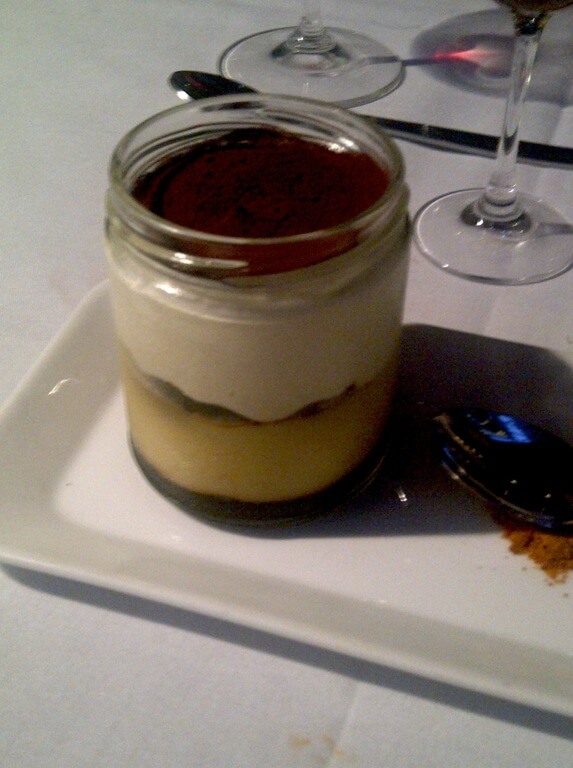 I am stuffed at this point and there is only dessert left. But, the question is do I have room? Well, perhaps a bite wouldn't hurt. Can I tell you I became addicted to the Tiramisu which was mascarpone, coffee gelatine, espresso, and chocolate sponge cake. MMMMMMMmmmm it was so delicious and paired with a dessert wine which usually isn't my favorite, however, the Barolo Chinato wine mixed with the secret herbs paired really well with the chocolate. Then there was a petite little cheesecake making it the perfect portion size which was paired with a Portuguese dessert wine – Moscato De Setubal. The wine enhanced the taste of the delightful cheesecake. If you are craving dessert and do not want anything on the heavy side, I would recommend the cheesecake because with the tiramisu, you won't be able to stop eating it. It's just THAT GOOD!
My overall experience here at Vertical Restaurant was splendid. The staff is friendly, the environment is comfortable and appealing. You can dress up and not feel out of place as majority of the crowd there is the Bay St group. I will be definitely returning back. I actually just might tonight for some cocktails. The Cucumbersome Cocktail has mesmerized me. If you are uncertain what to order, have no fear, here at Vertical they have a 'prix fixe' menu price $45 per person- Now that's a steal!
100 King Street West
First Canadian Place
P.O. Box 313
Toronto, ON
M5X 1E1
416 214 2252
www.verticalrestaurant.ca