#TrendyTuesday – Midi Rings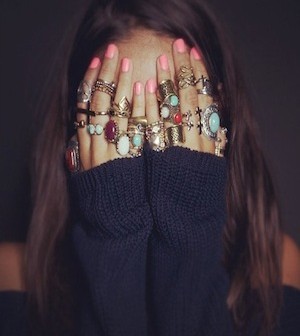 A true fashionista knows that their outfit is more than just the right skirt and blouse combo. From the flawless eyelashes, hairstyle and of course accessories; it is all about complimenting the perfect outfit. The hottest "hand trend" of the moment is midi rings and this #TrendyTuesday, it is all about learning where the best places are to pick up the rings and what outfits they look best with.
What outfits do these rings look best with? All! I wear my mid rings with an oversized flannel, leggings & doc martens or a trendy dress with some JC Litas. They are the ideal addition to add to a simplistic or funky outfit. Whether you want to stick to a plain band, a fun shape or a gem –check down below for where to buy em' all!
1. TopShop
2. ASOS
3. Forever21
4. Forever21
5. Guess
6. Dorothy Perkins
XO,
Andrea McDonald
@TOCityGossip
@lifeof_andrea
About Andrea McDonald
My true love in life is the wonderful world of fashion. As a self proclaimed optimist, activist for all and fashion fanatic, I am delighted to bring you everything you need to know about the Toronto fashion scene. I've got big dreams baby. @lifeof_andrea