Top 5 Movies to watch on Valentines Day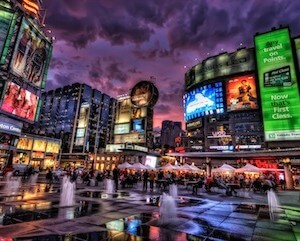 Valentine's Day is coming up soon and that can only mean two things: 1) You're trying to make last minutes reservations at a fancy restaurant and 2) It's almost time to buy chocolates at half off. Why not save you and your significant other some headaches and skip one of these two things all together (and I think you know which one I'm talking about) and hit your local movie theatre instead? While February may be a slow month for movies, there is no shortage of love-centric movies to help you celebrate Love Day. Check out your local theatre's listings to see if one of these 5 movies are playing at a theatre near you.
If you like rom-coms…
… and you enjoy ogling at Zac Efron, then That Awkward Moment is the flick for you! Efron, Miles Teller and Michael B. Jordan are three bros on a mission to avoid falling in love after Mikey (Jordan) gets divorced. Prepare yourself to laugh (and also drool at the hotness of this cast).

Release Date: Jan 31, 2014 (Wide Release)
Location: Scotiabank Theatre
If you prefer a darker romance…
… then you should see Endless Love. Passionate love takes a turn for the worse when desperation starts set in. And then after you can re-watch the episode of Friends where Chandler and Phoebe cover Lionel Richie and Diana Ross's titular theme song.
Release Date: Feb 14, 2014 (Wide Release)
Location: Cineplex Yonge-Dundas
If you're a softie at heart and want a simple love story…
… then you need to see Labor Day staring Josh Brolin and Kate Winslet. When an escaped convict spends Labor Day weekend with a depressed mother and her son, there's no telling what could happen. Also, did I mention Josh Brolin makes a mean peach pie? Mmmmmm… pie….
Release Date: Jan 31, 2014
Location: Scotiabank Theatre
If you like a little mystery and fantasy…
… you should consider Winter's Tale. Colin Farrell plays a wanted burglar who falls in love with an heiress who is dying of tuberculosis. When the gangsters who are hunting him try to kill him, he magically travels through time to present day without aging one day. Now he's on a mission to find out what happened to him, and to the girl that he loved.
Release Date: Feb 14, 2014
Location: Scotiabank Theatre
If you just feel like staying at home…
… then might I boldly suggest that you marathon every single Richard Curtis movie where he collaborated with Hugh Grant, followed closely by your choice of your favourite Nicholas Sparks adaptation. Because let's face it, you wouldn't be reading this article if you didn't have a guilty pleasure Nicholas Sparks movie.
BONUS
If you have kids and can't find a sitter…
… then make Valentine's Day a family affair! If you haven't already seen Disney's Academy nominated Frozen, then definitely try and catch the sing-a-long version. What better way to celebrate a day all about love, than a movie that shows people that love isn't just about finding the your soul mate, but rather love can be found anywhere and in anyone.
Release Date: Jan 31, 2014 (Sing-Along)
Location: Cineplex Yonge-Dundas
Debbie Wang
Rachel trusts her with all movie advice
About Rachel Hon
I am a 21 year old coffee addict, sideline hipster with hobbies bordering granny territories. If I could, I would grow cat ears and live comfortably snuggled up in some old man's apartment. But I don't foresee that happening anytime soon, so in the meantime, I am studying towards a career bound to an office chair where I would make water cooler jokes with any poor soul who would listen and look forward to 3 pm coffee breaks that would be the most exciting part of my day. Realistically, I am no more than the average human being wandering the land we call Canada.