The Weekend-Warm Up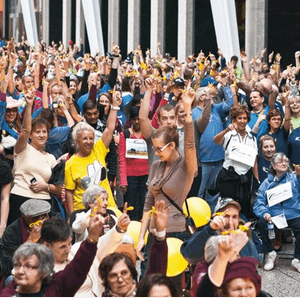 Hey there everyone! Hope your week was fantastic! Here are a few events happing in Toronto for the week of January 24-31 to get your weekend going:
National Spring Bridal Show – January 24-26, 2014
The National Bridal Show is a fantastic wedding planning resource in the Toronto and GTA area. The show features everything from the latest in wedding registries, fashion accessories, favours, flowers, cakes, DJs, transportation, and all the things that go into making every wedding unique and special. Brides are FREE but must pre-register online. Check out the Bridal Show website here for more details.
2014 Manulife Walk for Memories – January 25, 2014
Join hundreds of people and spread some sunshine in the lives of people with dementia at the 24th annual Manulife Walk for Memories! This family-friendly, indoor event raises money for the Alzheimer Society of Toronto while honouring and remembering those with Alzheimer's disease and other dementias. Stay warm, stay dry and stay entertained by the various performers on stage and set up throughout the course of the walk! Check out www.alzwalk.to for more information.
Chinese New Year Extravaganza at ROM – January 25, 2014
Celebrate the Year of the Horse in Chinese culture at the Royal Ontario Museum with a wide variety of activities. There will be lots of performances including Tai Chi demonstrations, Chinese music and dance performances, lion dance and martial arts. Other activities include arts & craft for children, interactive calligraphy and tea demonstrations, guided tours and special exhibitions around the Museum. This event is included in admission to the ROM. For details click here.
Toronto Roller Derby 2014 Season Launcher – January 25, 2014
The Toronto Roller Derby is kicking off their season on the evening of January 25th! This double header will see the Chicks Ahoy face off against the Gore Gore Rollergirls, followed by a full-length bout between Toronto Junior Roller Derby and Alliston Junior Roller Derby! For more information see www.torontorollerderby.com.
Toronto's Ultimate Travel Show – January 25-26
Let's not deny it: winter sucks. However, you can escape the winter blues by exploring warm and exotic vacation opportunities, or home-grown escapes. Discover cultures from around the world through many exhibitors, seminars and entertainment from around the world. For all the details check out www.totravelshow.com.
Free Concert Series: The School for Lovers: Highlights from Così fan tutte
Artists of the Canadian Opera Company Ensemble Studio present highlights from Mozart's Così fan tutte, a powerful and enduring piece about relationships. Così fan tutte is currently onstage at the Four Seasons Centre. For more information go here.
Sounds of Simon and Garfunkel – January 28-29, 2014
The Toronto Symphony Orchestra's conductor Michael Krajewski brings to life Simon & Garfunkel's classic hits. All songs composed by Paul Simon and Art Garfunkel unless otherwise noted. For all the details visit www.tso.ca.
Pay-What-You-Wish Thursday Night Socials at Gibson House – January
Go back in time to a winter's eve, circa 1851. Have some tea and sit by the fire in the historic kitchen. Play the board games you remember from your childhood plus the new ones we'll introduce from time to time. All ages welcome (children must be accompanied by an adult). See the website for more information.