The Bow Tie Ice Cream Truck
Nothing says summer like a sweet, cold ice cream. Whether in a cone, cup, milkshake, or split, a hot summer day is perfectly capped off with a sweet cold treat.
The Bow Tie Ice Cream Truck has been a fixture in Toronto's Entertainment District for the past five years.
Owner / operator Ake Alexopoulos takes pride in his business. After working in a warehouse for 25 years, Ake decided it was time for a career change. He bought an old 1982 truck and re-did the whole mechanical system himself. He is a religious cleaner; as I observed him at work, he was constantly wiping and cleaning as he goes.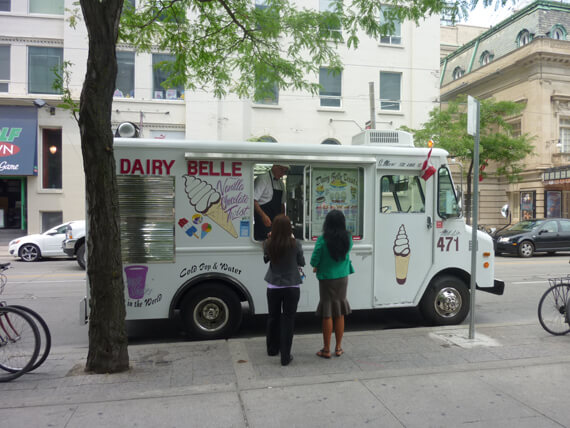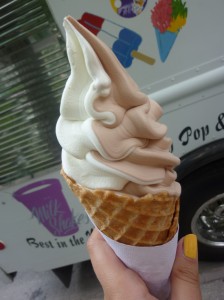 When it comes to quality, Ake only gets the best. He told me about other available products on the market which run at least $10 cheaper, but the taste just doesn't measure up. When asked about why quality matters so much to Ake, he said he relies heavily on return customers & word of mouth. If you don't serve your customers the best, they won't come back, he said. And he's right. Ake's ice cream really is spectacular. Rich, dense, creamy. No need to fear the "frozen dessert" impostor.
As I chatted with Ake, a very steady stream of people bought a variety of treats, the twist cone being the most popular. Of course there's more than the typical cone. You can get milkshakes, chocolate dips, icees, and splits.
One woman asked "is this 'real' ice cream?", another man told me that Ake has the best ice cream in the city. When I asked him why, he said "'cause he's the best dressed man in town."
Ake takes great pride of course in the operation of his business, but also in his appearance. The Bow Tie Ice Cream Truck gets its name, you guessed it, from Ake's signature bow tie. Working on King Street, the majority of the people in the area are typically nicely dressed, whether for work or the theatre, and Ake wanted to follow suit. The signature bow tie also brings back a feeling of nostalgia, reminiscent to a time when the malt shoppe guy and milkman knew you by name. Ake's work ethic and appearance could easily work back in Pleasantville.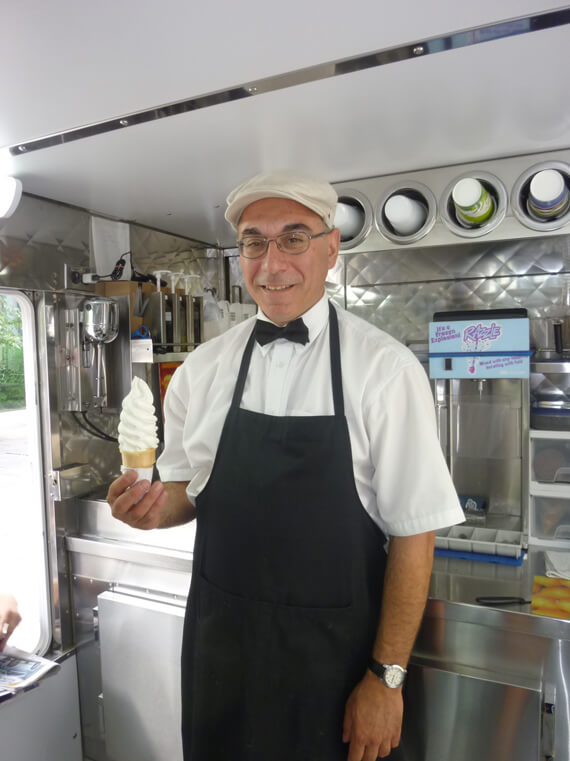 Another thing that sets Ake and the Bow Tie Ice Cream Truck apart is his grasp on social media. You can follow the truck on twitter at @bowtieicecream to find out where he'll be, or if there are any specials of the day. Ake says he's definitely seen an increase in business through twitter, and is getting to know his customers even better. He's even been able to fulfill requests for workplace appearances! The ice cream truck is available for private events too, in case you're looking for a late night fix at your wedding or birthday party.
Ake did share a few stories with me about some of his favourite regular customers, but you'll have to ask him yourself when you go by and find him. Just make sure it's the guy with the bow tie.
Michelle Rivard
for more stories like this, follow me on twitter @queenwestgirl