Earl's King St. Patio
After a long week of celebrating an array of occasions, I was ready to throw in the towel when a little birdie reminded me I had an engagement at Earl's. I had been looking forward to experiencing the Earl's Patio in the Financial District for quite some time now but the weather hadn't been very promising. I thought to myself, fingers crossed, Please don't rain now, just wait until later. It was one of those hot muggy days where the humidity is the root of all bad hair. You know, those days where the Weather Network should announce 'as little attire as appropriate,' of course nobody wants to see inappropriate spillage regardless how hot. Hey, you think it, I say it – don't kill the messenger. So I skipped along to my Earl's adventure thinking random thoughts about attire, well OK I didn't really skip, I actually hailed a cab. A short ride up a block and around the corner and it was 2 p.m. as I stood in front of Earl's big brown doors.
I was greeted by two hostesses followed by an introduction to Ann (the general manager) and Jacqueline (the regional manager.) Let me tell you, not only is the staff beautiful but also armed with personality and a sense of humor, I instantly felt at home in the atmosphere. As we walked through the restaurant to our patio table I couldn't help but notice how busy it was for 2 p.m. on a Monday. Our party of 3 was seated in a red cabana booth on the patio, a booth that can hold a group of 8 comfortably, definitely my kind of dining – nice and roomy.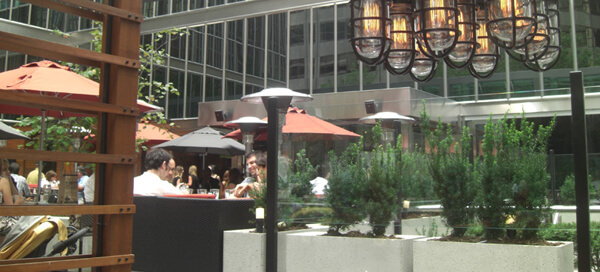 We began our experience with a Caesar seasoned to perfection with just the right spicy kick. I have recently found that the Caesar is the perfect cure to a hangover and a tasty beverage that eats like a meal. A singular pet peeve: restaurants that serve it without the celery stick need a hard wakeup call.
Dear Restaurateur,
Please serve your Caesars with celery sticks. Us, the customers, dislike requesting them. They are also a staple. Always include them.
Thank you,
Your Patrons.
As we're debating the importance of celery paired with Caesars I saw our waitress Frances carrying three wine glasses towards us and promptly offered us a taste of the white wine sangria. My first sip of this delicious concoction was instantaneously refreshing. On a hot, humid day the Earl's white sangria stocked with oranges, lemons, peaches, peach liquor, white wine and triple sec soaked together for a few days to fully unify the flavors, is the perfect drink. Absolutely de-lic-ious. The Earl's red sangria undergoes the same mulling process (if you will) however it consists of the classic mix of red wine and brandy paired with blueberry juice, raspberry puree, lemon juice, sugar, freshly cut apples, strawberries and oranges. Mmmm, get ready for re-hydration and make sure you splurge on a pitcher; your taste buds will thank you.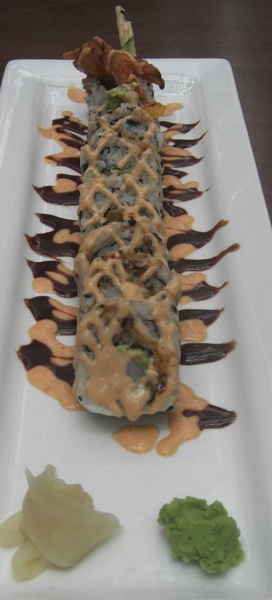 By this point I was a few drinks deep and my breakfast seemed like a distant memory. My stomach was grumbling and gurgling, as the appetizers showed up in timely fashion. We opted for the Prawn Dynamite Roll and Lamb Popsicles that came out in exquisitely presented form. The Prawn Dynamite Roll contained panko breaded prawns, mango, avocado, cucumber, togarashi mayo, a maple soy reduction, sriracha mayonnaise and toasted black sesame seeds served with a side of wasabi and pickled ginger. For a restaurant that does not specialize in Japanese cuisine, this starter was absolutely delicious and the ginger was fresh, a commodity only found at high-end Japanese restaurants. Not only is the ginger up to par, but the sushi is also hand rolled. That's two points for Earl's in one appetizer. So far, so good.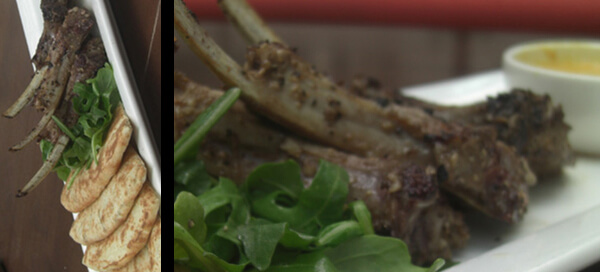 The Lamb Popsicles feature marinated grilled rack of lamb, served with toasted naan bread (baked in house as is all of Earl's bread) and a fenugreek curry cream sauce (which is again made in house.) These were absolutely delectable, soft and tender, cooked to perfection. I am personally a huge lamb lover and a hard critic, to me the worst that can be done to lamb is over cooking. At Earl's not only was the lamb perfectly cooked but, in my opinion, the portion of the Popsicles is ideal for a starter. It's enough to curb your hunger but not too much to leave you full before your entrée.
Needless to say, these appetizers were devoured within minutes. What was unexpected was that Frances, our wonderful waitress, once again promptly appeared with little lemon cleansers for our hands to clean up after a little finger food fun. This was not only unexpected, but it placed yet another point on Earl's report card.
We happened to know another waitress who was working, Tiana, who graciously requested the kitchen allow us to sample their ribs since we were sampling the menu anyway. Apparently the Earl's ribs are a must try, but I'll get to those in a moment. Once the request was placed more dishes poured out, this time something green. I love love love trying new salads and Earl's Santa Fe Chicken Salad was most definitely a unique Mexican twist on greens. Mixed with organic greens, avocado, black beans, corn, dates, crispy sliced up tortillas and half a breast of Cajun spiced chicken all tossed in a peanut-lime vinaigrette – yes I'm drooling recounting this salad. A bonus is that the chicken is dipped in Cajun powder then topped off with garlic powder to prevent charring and drying. An overall hearty and beautiful dish.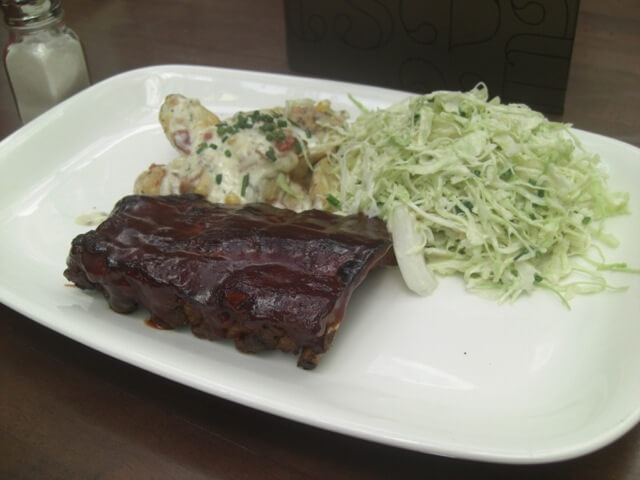 At this point I was already quite satiated but my eyes never rested knowing those highly praised ribs were around the corner somewhere. Yes I have a soft spot for meat if you haven't noticed yet. And after much anticipation, our half order of Earl's famous Braised Hickory Back Ribs appeared in front of us, a sight to behold. These ribs were cooked so perfectly the meat literally just slid off the bone. The only way I can describe these ribs is immaculate. The order comes with a side of coleslaw and warm potato salad. That's right, warm potato salad, something completely new to me, exclusive to Earl's and absolutely delicious. Of course the coleslaw is also nothing short of incredible … you know what? This entire meal is perfection on a plate! The three players in this dish intertwine and compliment each other perfectly in this southern inspired dish.
Ironically, the ribs aren't the dish I've been most excited to share with you. Although delicious, this next dish literally blew my mind and taste buds away. Fasten your seat belts, throw your phones in the bag and get ready for the throw down.
Now I consider my flavor palate to be very eclectic, I enjoy tastes of all cultures, and Indian cuisine happens to be one of my favorite palates. However, because of it's high sodium I sometimes stay away opting for fresh and raw foods regardless of my love for curry and butter chicken. The next dish we were presented was to die for. I would have never thought to order an Indian dish at a restaurant that didn't specialize in Indian cuisine, never! My favorite Indian spots are on lock down, and perhaps one day I'll share them with you. But now we focus on this little piece of heaven and it happens to have a story behind it:
There was a woman in Vancouver that owned a little Indian restaurant. One day someone went and tried a particular dish and fell in love with it. They had to have it and asked her to name her price for the recipe. But she refused the money and instead proposed a trade off for the coveted recipe. The founders of Earl's bought her a new set of teeth and in turn received a recipe that has remained exclusive to Earl's since then. The Jeera Chicken Curry is an authentic spicy Indian curry featuring tender chicken, coconut jasmine rice, and fresh baked naan. This dish is soooooooo good! Mild with a nice kick, and a definite must try for all.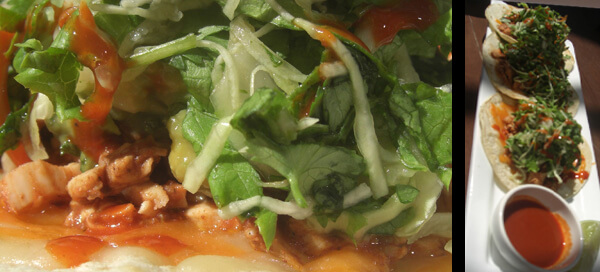 Now if you're looking for something on the lighter side there is a healthy and popular alternative, whjch I wasn't too keen on upon hearing about it. The Los Cabos chicken Tacos. I know what you're thinking, tacos? Really? Tacos?! Yep, they're actually not only satisfying but also flavorful. Two grilled white corn tortillas (gluten free of course) topped with spiced tomato, poached chicken (very tender,) melted cheddar and jalapeño jack cheese, avocado corn salsa, shredded lettuce and cabbage, chopped cilantro, salsa picante and a honey lime dressing. Even though I was skeptical initially, I found these so delectable that I went back again the same week for a second helping of these tasty treats. I'm not sure if it's the cilantro or that home cooked flavor that has me addicted but I am glad that I found them, and that additional tacos can be ordered for $5.50 each – a meal with a possibility of expansion.
Each and every day Earl's also features a drink special. We happened to be there on a Monday, also known as Mañana Mondays – featuring discounted sangrias and margaritas. A blended 1oz Margarita goes for only $4.50 and a litre pitcher of Sangria just $15. Go big or go home, get the pitcher!
This filters into my next observation: Earl's isn't just a place for a wonderful dining experience; it also features an atmosphere so pleasant that it becomes a great venue simply for cocktails with friends. Even if you felt like socializing with complete strangers there is a bar large enough to spawn all kinds of conversations. The Patio itself is wonderfully laid out and beautifully decorated featuring red accents on dark wooden furniture. The tables are well spaced, no squeezing between patrons for waiters here, and if your group is big enough you could possibly get a cabana creating more intimacy for your party. Since it's launch in July of this year this patio has become a local hot spot but beware, they do not take reservations – they work on a first come first serve basis. This, to me, makes it easier for anyone to get a table. For the single ladies, there is some good looking, well-dressed men constantly walking through those doors. And gentlemen, I did not forget you, the staff is beautiful and so are the women dining here. The entire ambiance on the Earl's patio is mesmerizing, energizing and absolutely satisfying.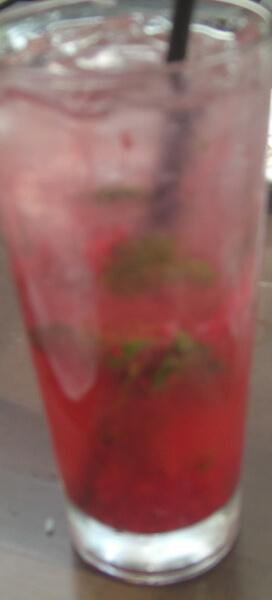 Our sampling included some drinks that were exclusive to Earl's. The Albino Rhino, for example, is a tasty beer originating out of Whistler B.C., but the manufacturer's inability to ship to Toronto drew the Muskoka brewery to become the local producer for this particular brand of beer. I am personally not a huge beer drinker, but from what we were told as well as what we experienced, it seemed extremely popular with the crowd. It also turned out that Earl's takes grape hunting very serious. They have been hunting the globe for unique wines. One such gen is the Riesling Blend from Australia, exclusive to Earl's, is a medium dry white blend. I actually preferred this over a more popular choice, the Villa Maria Sauvignon Blanc. Another unique alcoholic concoction is their Raspberry Mojito, and one of the tastiest I've ever had. It wasn't overpowered by the berries but you still got a nice strong note of mint. Made with Appleton white rum, fresh lime juice, in-house made simple syrup, muddled mint and raspberries – this is a Mojito you must try. Yet another beautiful concoction: the Raspberry Crush Martini. A blend of Smirnoff raspberry and vanilla vodka, raspberry puree, cranberry juice and fresh squeezed lemon juice make for a delicious drink with one hell of a presentation.
On that note, did you know that every day is shooter day at Earl's? Yes, 4 for $14. So who wants to go do some shooters tomorrow? I'm not kidding either. Catch me on twitter and we will plan a day out of it. Like the beverages and meals, Earl's has managed to put a unique twist on shooters as well. All the fruit juices and purees are fresh. No raunchy bar lime, this is real lime freshly squeezed. My favorite shooter by far is the super charged go kart, which is a broken down golf cart fixed. Mixed with amaretto, melon liqueur and fresh squeezed lemon juice (yes fresh squeezed,) it basically tastes like a blue freezy. I'm pretty sure you want one right about now, but just like Lay's chips, I "betcha can't have just one" and at $10 for 4, keep them coming. How about the Banzai Berry? It is like a kamikaze with a kick. It features Smirnoff raspberry vodka, raspberry liqueur, and freshly squeezed limejuice. I won't deny, that one didn't go down quite as smoothly mainly because my taste buds have a personal vendetta against Smirnoff.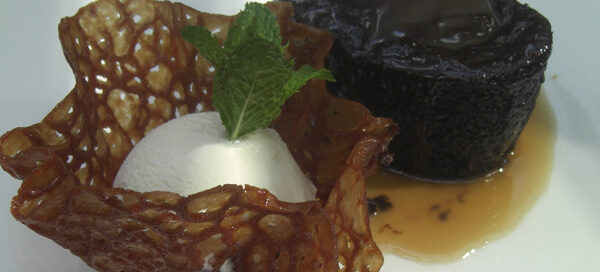 After taking a break and indulging in some liquid bliss, our dessert arrived on scene. That day was the perfect day for what we were presented. I was instantly drawn to the Chocolate Sticky Toffee Pudding, which was warm chocolate cake drizzled with chocolate and toffee sauces with a side of Mario's Gelati Vanilla bean Gelato in a candy snap basket. All to die for, every sugar loving cell in my body had it's own celebration. We also tried the Earl's S'mores, also quite impressive, aptly titled "Campfire S'mores" it was the first time I had ever seen it on a restaurant menu. House-made marshmallows and melted milk chocolate between graham cookies drizzled with dark chocolate sauce, and paired with chocolate and vanilla bean Gelato. They also feature a New York Style Cheesecake, which I found to be the same cheesecake you find everywhere else. If you're looking for a unique dessert, one that has Earls' stamp of uniqueness, get the Campfire S'mores or the Cake. You can thank me later!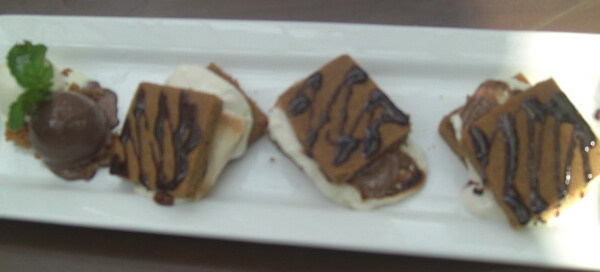 Overall, you can't make a mistake going to Earl's. For food, for service, for drinks, for atmosphere it will always be a hit. There's lots of eye candy for both sexes, it's loud, it's fun, it's a perfect place to let loose after work. So get there early, it tends to become a zoo. But that's just how I like it!
Earls Toronto Downtown King Street
150 King Street West, Suite 100
Toronto
(416) 916-0227
www.earls.ca