Tan on the Run
You know those days you just don't feel like leaving the house and whatever you need to get done that day would either complete itself, or it would come to you?
There are so many times I simply haven't been in the mood to begin the 'getting ready' process, which takes forever, and I wish that someone would just come over, put my head in the sink, shampoo+condition my hair and then round-brush it leaving me with full, bouncy locks to hit the town with.
I've yet to find my perfect personal hair stylist. However, I have found something that could possibly be just as fantastic.
TAN ON THE RUN. Obviously someone isn't lugging around a 500+ something pound tanning bed that unfolds in your living room from door to door. C'mon now, who over-exposes their precious skin to the damage of UV rays these days anyway? I know I gave that up a while ago (after having some-what of a tanning addiction, I'm not going to lie) and stocked up on SPF. Considering I am a recovering tanning addict I certainly feel the need to remain bronzed in the safest way possible – so I have turned to sunless "spray on" tanning.
I have a favourite "go-to" tanning salon that provides me with a glowing tan that one of my girlfriends has written about in a previous post, but on this particular evening I was doing some research for something even MORE convenient than a walk-in spray tan.
I was laying in bed doing some research on spots in Miami when I came across a mobile tanning service. I thought it was so neat! Someone who can come to me when I don't feel like leaving my house and will spray me from head-to-toe? I have known to be quite the diva and this was certainly a service that caught my attention.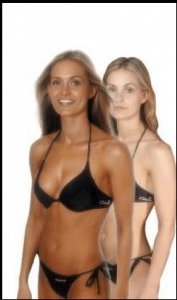 As I read on I decided to open a new tab in my browser and conduct a search out of curiosity for "mobile tanning Toronto". To my surprise someone in the city was actually offering this service! I'm not going to lie, if they weren't, I was going to figure out how to make it happen but Nicole, the owner of TAN ON THE RUN, beat me to it.
My curiosity lead to impulse so I went ahead and booked an appointment for Nicole to visit my house to teach me more about her services/products and of course give me the glow I was craving!
The day of was definitely exciting for me as I had exfoliated to the point of being ridiculously pale (under my own standards of course) and desperately needed my bronze fix. After all, life is better with a tan.
Nicole showed up with almost next to nothing. A little R2D2 looking machine and some black square thing. We introduced ourselves to one another and then she quickly asked me where the best spot in my house would be to set up shop. Considering I had just taken the covering off of my brand new cream-coloured ultra-suede couch and this was an unfamiliar procedure, I suggested the kitchen.
To my surprise the black square thing unfolded into a tent that fit right into the comfort of my little kitchen. How cool! The little tent like contraption fits almost anywhere. The company has gone to photoshoots, hotels, houses, on any set – you name it they can make it work.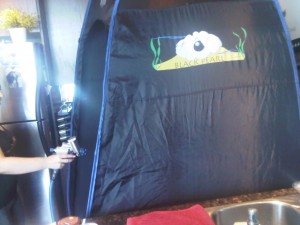 My roommate was also getting sprayed so I suggested that she go first so I could get a little background information on Nicole and her business. I had asked why she decided to start this company and she explained to me that as a Mother she found it difficult to find the time to actually head into a tanning salon and waste time waiting to get the procedure done. We both laughed and agreed that it is also the time most people aren't exactly looking their best.
Nicole started the company six years ago and began franchising three years ago. She now provides the TAN ON THE RUN service in six different locations including Toronto, Montreal, Malta, Fort Mc Mury, Richmond Hill, Montreal. You go girl!
I was surprised at how quickly the entire process is. My roommate and I both opted to go nude, as the only person who can see you is Nicole (or another certified tanning representative) who is spraying you from head to toe in the booth. I found the process to be extremely thorough considering it takes a mere 10 minutes to complete. Underneath the arms, in those little white smiley face lines underneath the bum cheeks, sides of the neck, behind the knees, all of these areas that a spray booth that sprays up and down just can't reach. She also blow-dries the whole body for you – how convenient!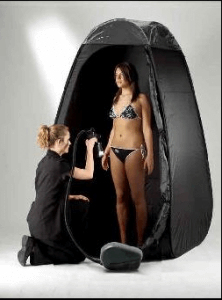 The actual brand of the spray is Nicole's own TAN ON THE RUN formula that she crafted from California which comes in light, medium or dark and can be completely customized to your preference. She mentioned that she had tried eight different solutions before deciding on this one to ensure that the tan turns out as far from orange as possible. I don't know anybody who enjoys looking like an Umpa Lumpa so that's very important.
The procedure is safe, mess-free, quick, simple and most of all convenient. After I was sprayed I immediately saw a difference in colour. I was getting darker by the minute! I looked like I had just sat at the pool bar in Mexico for a few hours and went in for my power nap. After 8 hours the tan will be completely set but you will notice colour immediately and you will get darker by the hour. Every time I went to look in the mirror I couldn't believe how tanned I was! I loved it.
My tan lasted approximately 5-7 days. I workout almost daily so I noticed certain areas where I sweat more coming off first but the rest I had to exfoliate off after the 6-7th day. I was so tanned for such a long period of time – it was great.
I find this service extremely useful to those who are on set for a photoshoot as the colour comes out immediately and you will continue to get darker during the few hours you're shooting so your glow is fresh.
The smell is nowhere close to that of the Mystic Tan or drugstore spray-on tans. It is actually quite pleasant.
Face and body touch up bottles are available from the same product priced at $20 for face and $25 for the body.
It is about $60 per session and $200 for four as a package option. That is pretty reasonable considering they're coming to you and walk-in rates are usually $40+ for a good spray on tan.
I would highly recommend trying this service if you're the diva-type who enjoys convenient pampering, a parent who makes every minute count, or the bodybuilder who needs an immediate tan for a competition. TAN ON THE RUN is the only mobile tanning service located in the GTA.
Be sure to check out the website for more details on locations, pricing, pre-tan instructions, maintenance instructions and more at: http://www.tanontherun.com/
Nicole Hyatt, Toronto
416-838-TANN (8266)
email: nikki@tanontherun.com