Swimming Against The Fashion Currents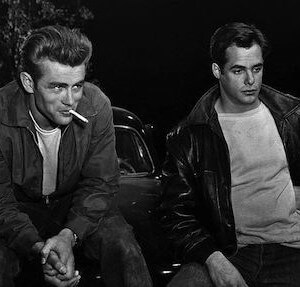 Fashion is simultaneously the most glorious and frustrating form of self-expression.
In a world that thrives on the need to accentuate individualism, fashion is one of the best ways to put your best foot forward and showcase the person that you want to be. It gives us the ability to transform, transcend, show up, or show off in whatever manner we choose. So, if it's such a remarkable source of creative expression, why is it so incredibly infuriating?
In this day and age, what's fashionable changes as often as I change my socks (and to be clear, I do change my socks on the daily). It becomes nearly impossible to be up on all of the latest trends, whether it be for street wear, foot wear, or make up. Following fashion trends is like following a Twitter account that sends out a new tweet every second; you can't possibly learn from such a prolific tweeter if they don't give you a few moments to catch your breath. Still, we want to look good and stay current. Luckily, finding a happy medium isn't as difficult as it seems at face value.
When considering the fashion and beauty industry, there are two things to take under consideration; trends that tend to be recycled, and trends that never die. Recycled trends are an easy gateway for Generation Y and Z (think vintage stores and your mother's bold prints from the 60's and 70's). Immortal trends are things that never go out of style and are able to be worn in any generation, such as a classic white-t or little black dress. With a few attention to details, keeping up with the Fashion Jones' is a simple, snappy job.
In order to stay current with the ever-changing fashion and beauty industry, be sure to:
1) Have a few "immortal" pieces in your wardrobe. For women, these could be the little black dress, a pair of sleek black pants, or a white blouse. For men, the "James Dean" white t-shirt, a blazer, and black pants are always good options. For both sexes, you can never go wrong with a well-fitted pair of jeans.
2) Have some pieces that you can put in rotation. Buy a comfortable number for your budget (approx eight or nine) and find ways that you can vary them in your daily life. For example, a pair of jean shorts will look great with flip flops, a floral boho tank, and a straw hat during the day, but can be used in a sexy night time look with a pair of black heels, tight fitting chemise, and elegant accessories.
3) Speaking of which, accessorize! Choose an assortment of accessories that work well for you, including earrings, necklaces, bracelets, etc. As a rule, vintage is always in, so if you can make it down to any second hand store, chances are you will be able to score some unique finds. Accessories are the easiest things to get through the revolving fashion door, so have fun with them!
4) Don't throw anything away. Let me be straight, I'm not expecting you to be a hoarder, but do remember the runaway fashion train. I eternally regret giving away a burgundy crop top that my aunt gave me when I was sixteen. Now that they're back in style, it would have been nice to flaunt it again.
5) With make up, the general rule is light in the summer, dark in the winter (and at night). Keep your make up light and breezy with an SPF in the summer, and have a trusty foundation on hand with a coverage you're comfortable with for the winter. A black eyeliner, a good mascara, and the proper shade of red lipstick is always in line with high fashion.
6) Choose a couple of trends from the current season that you like, and purchase some pieces that will help you get the look. During the superhero graphic-t phase, I bought a few cute shirts for twenty bucks that I still own today. In the same vein, I still have a pretty spectacular orange lipstick from MAC's collection last spring. If something in the fashion or beauty industry speaks to you, find a way that you can integrate it into your wardrobe.
7) Finally (and this is the most important point, in my opinion), have a budget when you are shopping. Maxing out your credit card in the name of looking good is definitely not in fashion. Figure out what you can spend and stick to it. You can save a lot of money by using things that you already have in your closet anyway, and you don't have to spend a fortune to look like you have.
Art, in every form, is all in the eye of the beholder. There are things on the runway that look like royalty, and then there are other things that look like something out of David Lynch's worst nightmare. Know what you like and find a way that you can make it work for you. Beauty is supposed to be fun and creative, so make sure that you are enjoying. A little bit of money and a lot of love can go a long way during any runway season.