Susur Lee's Creative Indulgence
I am writing this to share with you the love I have developed for Lee Restaurant on King West. Susur Lee is a world renowned chef who has been named one of the top 10 chefs in the world and is also the creator of the magnificent gem within Toronto we know as Lee. After reading some mixed reviews, several of them being negative, I was extremely skeptical of going, but this was before I was told the dessert dumplings are like an "explosion in your mouth." This came to me from someone who doesn't have the strongest desire for sweets, so I knew I just had to try it. Plus, its Asian inspired and I love me some Asian food.
My friends from out of town popped into the city and wanted to grab a bite to eat so I thought, why not try something new? I decided to take them to Lee Restaurant located at 601 King St West. Walking into the restaurant I became slightly embarrassed. The chairs reminded me of my elementary school days, the tables are too close together, I feel like we have no privacy and the menu does not sound appealing– then appears our delightful waiter. She asks if any of us had ever been there before, to which we all replied a quick "no, first time." She then dove right into the menu; explaining each of the creations and makes her own recommendations. Suddenly I was slightly intrigued!
Our waiter delivered our dishes followed by explanations of the ingredients as well as how it has been cooked. Amazing! I love knowing how my food is being prepared and what it was cooked in considering I am known to be quite the creative chef myself. That being said, I'm extremely judgmental with any dish that is being served to me. I always seem to find something wrong with my dishes when I go to a restaurant; whether it is too much of this spice or missing that spice, I will usually always find something wrong with it.
At Lee's the cuisine is very impressive- enriched with texture, and spice that gives the dishes a "whole lot of flava." I cannot even express in words the feeling that occurs in my mouth when I eat the duck confit roll that contains spiced nuts, oven-dried pineapple, goat cheese & Canadian ice wine syrup. MMMmmmm, to die for! It is quite the experience and always leaves your mouth watering for more.
Now what if I told you that this mouth watering sensational experience didn't stop here. The menu at Lee Restaurant is not only extraordinary but is a sharing menu as well so bring your besties and try it all! Start off with the Singapore style slaw– it is a definite must have for all. Be prepared to fall in love if you are a salad lover like myself. As for the meat lovers; the slow braised beef with sour cream, potato leek purée & crispy shallots is another must. The caramelized black cod with Cantonese preserves, miso mustard with grilled turnip cake is definitely an ultimate favorite. Susur Lee's sautéed jerk chicken is one of a kind and if you love jerk chicken, this is incomparable to any other. Oh and if you are going all out at Lee's then please do not forget to get the dessert that "explodes in your mouth" called the "Tong Yuen Sweet Rice Dumpling" which is comprised of Chocolate garnish, shredded coconut, hazelnut, peanut and sesame seeds.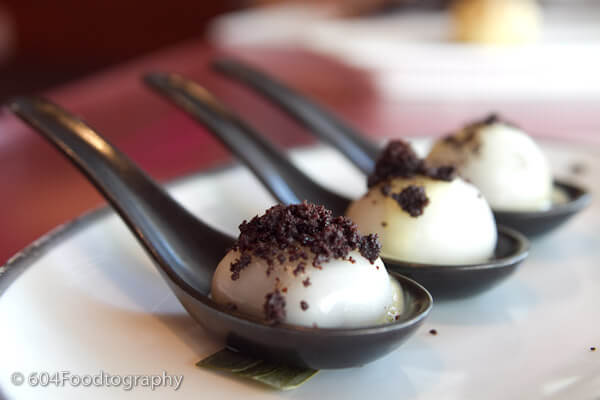 Lee's just did a recent expansion due to the high volume of traffic coming through its doors. So you will not be waiting an endless amount of time just to be seated for a table for two. I remember one night the line to get a table was right out the door, if not further. Everyone just couldn't get enough of Susur Lee's delicious creations, after all neither can I. Living rather close to the restaurant does not help my indulgences. I cannot wait until the patio is open in the summer.
See you at Lee's.
(PhotoCredit: 604Foodtography)