Sparks Salon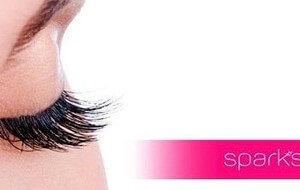 Recently, I have been lusting over full, beautiful eyelashes. I decided to do my research and to my delight, nestled in King West, I found Sparks Salon. I made an appointment and this past week I was introduced to the beauty that is eyelash extensions.
When I first walked into the salon I was greeted by humble and energetic staff. It was immediately evident why I have heard so many wonderful things about this popular King West/Liberty Village Salon. Their menu is extensive. Beyond eyelash extensions they offer massages, teeth whitening, and hair colouring – just to name a few. However, the displays of nail art caught my eye the minute I walked in. Elegant designs right down to the smallest detail would make any woman feel glamorous.
After gawking at the nail art for quite some time I proceeded to walk up the stairs to a small 'studio', if you will, where I was greeted by the lovely Megumi. I have to say she is probably one of the sweetest individuals I have ever met. It is clear that she is passionate abut her craft. Megumi went on to tell me that she has been doing eyelash extensions for just over three years now and undoubtedly an expert. Megumi added over 65 individual eyelash extensions on each eyelid. At Sparks Salon this is referred to as "The Dramatic Look". The procedure itself took around an hour to do. Honestly, this hour was extremely relaxing – to the point where I found myself nodding off every now and then. After the hour passed I was excited to open my eyes and see the end result. Fabulous! Beautiful! I am in love. Needless to say, I was nothing less than pleased with the end result. "The Dramatic Look" delivers very natural, yet full and long doll-like results. There is definitely no need for me to spend any time putting on mascara anymore.
Particularly for their eyelash services, Sparks Salon offers individual lash extensions or flare extensions. For a more subtle, natural look the cost is around $100 fr a 'full set', the "Dramatic Look" that I got is around $145 (most popular) and for the "Extreme Look" it is $200. However, Spark Salon is offering a special package for the Christmas Holidays which includes 4 professional lash extension refills and 1 lash removal for $199.00!!! Regularly priced at $300. This deal won't last long so make sure you get over there as soon as you can so you are all set for the Holiday Season.
I would definitely recommend readers to use Spark Salon. They are a small salon with great staff who are experts in their field. It was a joy getting my eye lash extensions and I can't wait to go back and try out their other services.
Visit the Sparks Salon Website for a full list of their services and follow @SparksSalon on Twitter
Sparks on King: 1004 KING ST. WEST TORONTO – (647) 351-8982
Sparks in Liberty: 100 WESTERN BATTERY, UNIT 7 TORONTO – (647) 347-1788
Monday: 12am – 8pm
Tuesday – Friday: 10am – 8pm
Saturday: 10am – 6pm
Sunday: 10am – 5pm