Soliciting Temptation Review – Tarragon Theatre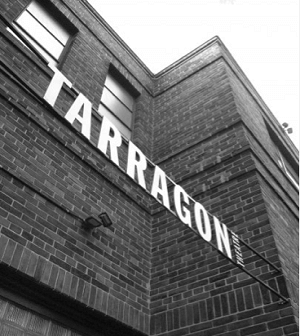 I had the recent pleasure of attending a performance of 'Soliciting Temptation' by Governor General Award winner and Tarragon playwright-in-residence Erin Shields, directed by Tarragon's Assistant Artistic Director Andrea Donaldson, and starring Derek Boyes and Miriam Fernandes.
The play focuses on a business man who had traveled to India for work, but decides to indulge himself in a local, very young looking prostitute…or so he thinks. Quickly she turns out to be a protestor, who is trying to bring about a change to the world, and help sex-workers all over be liberated.
Set designers did a fantastic job with this show. The space itself is super small, but they made it appear much larger, building a very realistic hotel/motel room. Another thing they did very well was create the illusion of being in a hot, uncomfortable climate with the use of a mosquito net and several pieces of furniture to create a hazy, almost unclear atmosphere.
The show starts off with a man who looks like has awoken from a nap, but drenched in sweat. The fan doesn't work, the A/C doesn't work, he even at one point stubs his toe. Nothing seems to be going right for him, a theme that reappears quite frequently in this play.
When there is a knock at the door, he opens it to find an angelic, young (almost too young) and beautiful woman has appeared. The lighting for this scene was absolutely fantastic. The use of lights behind the actress gave the appearance that the girl has appeared almost from heaven, which is how the man reacts when he sees her.
Now, stepping out of the play for a minute, child sex-workers in countries like India are a real-life issue. A heartbreaking and sinister trade that family's fall victim to when there is literally no money available to them. Whomever casted the couple did a fantastic job in picking Fernandes, especially for her looks. She (with the help of some makeup) genuinely looks like she is twelve.
Soon after the girl is invited into the room, we learn that she is actually a woman, who is essentially protesting his actions by creating and putting herself in a 'sting operation'. Once the audience learns this,
all we can think about is, "What's going to happen next?"
I won't give any of the juicy details up, but I will say what I did and not like about the show overall. I enjoyed a lot of the deeper ideas the show was trying to make aware to the public. I generally find that watching shows allows me to examine my life and determine if I am making good choices. I also found the idea of 'power' that was presented in the show to be interesting, because there is a non-stop shift of power from the very beginning. I did not however enjoy the script. The actors did a fantastic job in delivering lines and adding true emotions to the situation, however, the lines themselves I found to be underdeveloped. I also found the female character to be very annoying (just to be clear, I am referring to the character, not the actress). She was filled with these crazy assumptions, twisted and manipulated words, and spoke passionately without knowledge. I honestly found her to be irritating, manipulating, and childish. Now, these may all be on purpose. Maybe we are to feel for the male character; maybe we are to find the female character to be corrosive. I just felt it to be quite off putting because it seemed like she spoke (or rather yelled) for the sake of opening her mouth, opposed to justice and education.
Overall, this definitely is a unique play, and I applaud the Tarragon for continuing to explore risqué shows that push buttons and unveil/reveal a world we choose to ignore, or didn't know existed.