Seven Grams
It's a tough gig in the competitive world of coffee shops. With so many huge corporate companies (I'm sure you can name a few!), an independent business really needs to stand out to succeed.
Nestled on the corner of Webster Av at Avenue Road, Seven Grams Espresso Bar is a new player to the game. Their passion is to bring their guests a premium coffee and an unforgettable cafe experience.
The facade of the cafe was very pretty; exposed brick with bright windows, attractive easy to read signage, and a sandwich board with a preview of the delicious treats I could expect to find inside.
As I entered the cafe, it stood out based on aesthetics alone. You're greeted by a split level stair case upstairs, to the bright main service area, and a stair case downstairs, leading you to lots and lots of seating. The bright orange walls really popped out!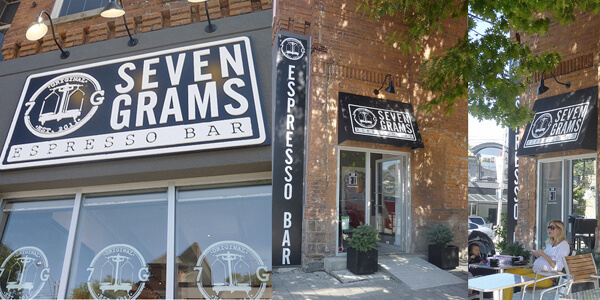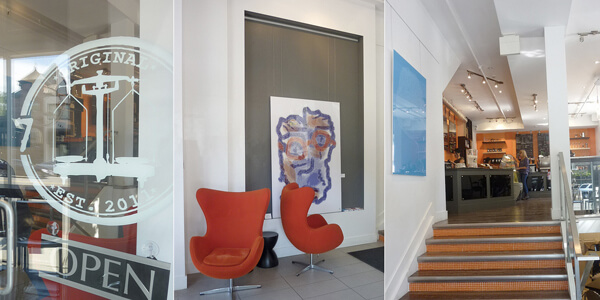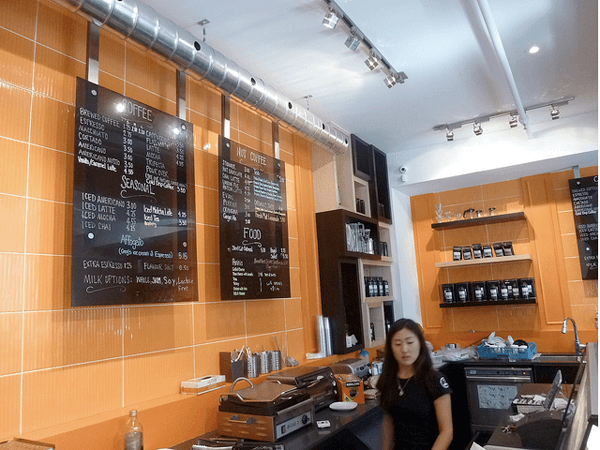 I went upstairs and looked for Neil, the Manager at Seven Grams. Neil & I sat down to enjoy some coffee and hear about the cafe and it's history. Over the years the space at 131 Avenue Road has been home to, among many things, a carpet store and an art dealer. When owner Heran opened her spot, wanted to create an atmosphere that was welcoming and offered more than just coffee.
The walls of Seven Grams are naturally an excellent place to display art work. That's precisely why Heran has partnered up with local Toronto artists to bring a rotating art display. The current display is by Antonio Pendones (http://www.antoniopendones.com/), a regular customer of Seven Grams who just happens to create intriguing pieces using only his iPhone.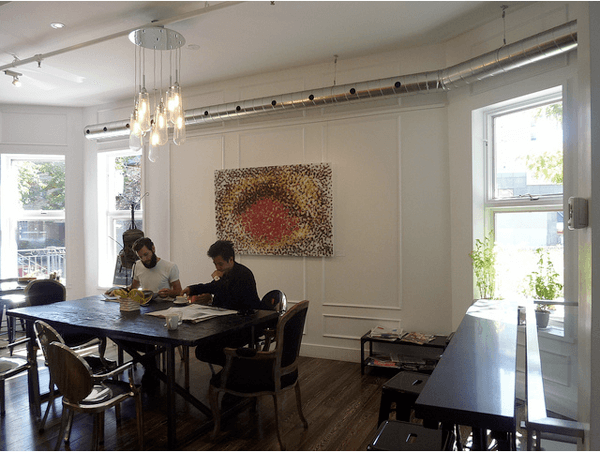 There is tons of seating at Seven Grams. Bright red lounge chairs greet you at the entrance, upstairs there are bar stools, and a large dining room style table for communal seating. Downstairs is home to a row of two-top tables with chairs and a banquet. Also, a little nook built around a fireplace adds warmth and coziness. The patio seating outside was full during my visit, as it was a gorgeous day. Seven Grams really does feel quite cozy and homey, all the while maintaining an air of cool artsy sophistication.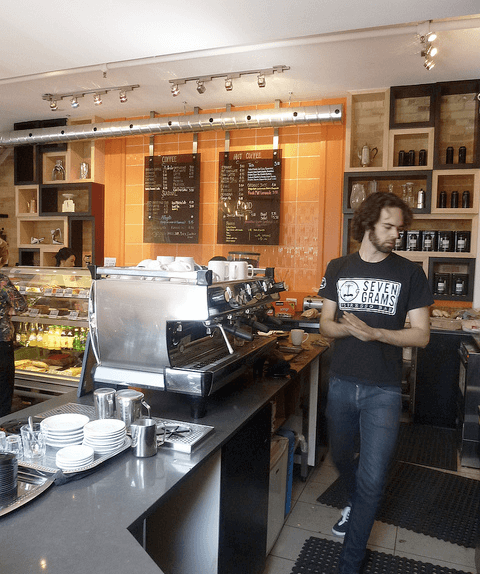 Neil and I sat right by the Barista John. Neil asked me what I usually drink; Double Tall Vanilla Latte. We discussed if I am able to tell the differences between brands of coffee. Being a bit of an espresso connoisseur, I said I think I can. John served me up a Vanilla Latte. No need to ask for double. Every espresso drink at Seven Grams is served with two shots of espresso. And no need to ask for size. Every espresso drink is served in a 10oz cup. Why might you ask? Because Seven Grams likes to do things the way they were meant to be done; that means correct proportions of milk to espresso to foam.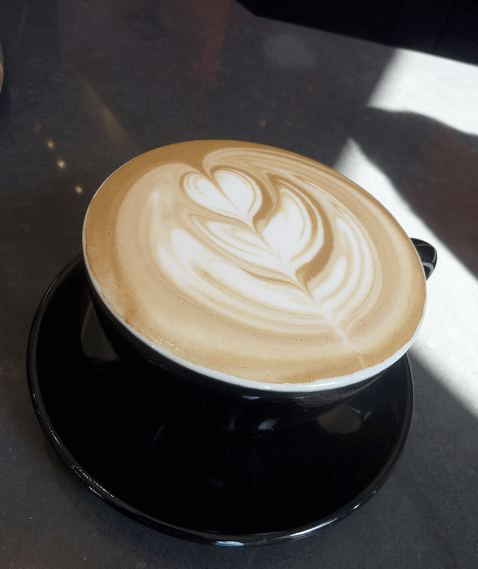 My Vanilla Latte was delicious. Perfectly sweet, strong and foamy. Next we tried a plain ol' cup of Joe. But this cup was anything from ordinary. When you look at how drip coffee is brewed, it's the same process every time: grinds go in filter, water is poured over them, coffee is done. But not all beans are the same, and some should be brewed longer, shorter, with hotter water, etc. It makes sense. So that's why Seven Grams has a machine called the "Trifecta". It brews a single cup of coffee perfectly every time. Neil and I sampled a freshly brewed cup of Ethiopian Yirgacheffe beans. When you drink a cup of coffee from the Trifecta, you best not spoil it with cream or sugar, it's meant to be taken black, that way you can enjoy the subtle notes and nuances of the blend. This particular cup had a very citrusy taste, with subtle notes of cloves & cinnamon spices. Did I mention the Trifecta at Seven Grams is the only one in North America?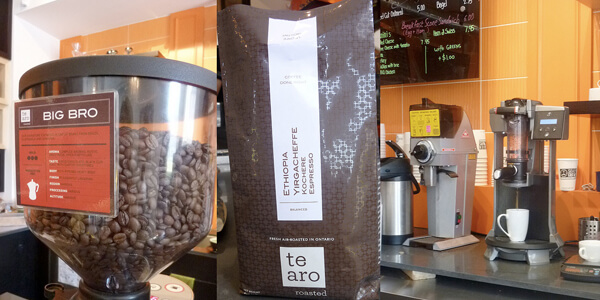 Seven Grams is full of beans, and they get theirs from another local source, Leslieville's Te Aro. Of course the coffee world awards it's best with certain honours, and this years Colombia Cup of Excellence was awarded to Finca La Primavera. With its baked sugar aroma, notes of jasmine and wild honey, and sweet finish, this is a cup of liquid gold. Want to try one? Well of course you'll find it at Seven Grams.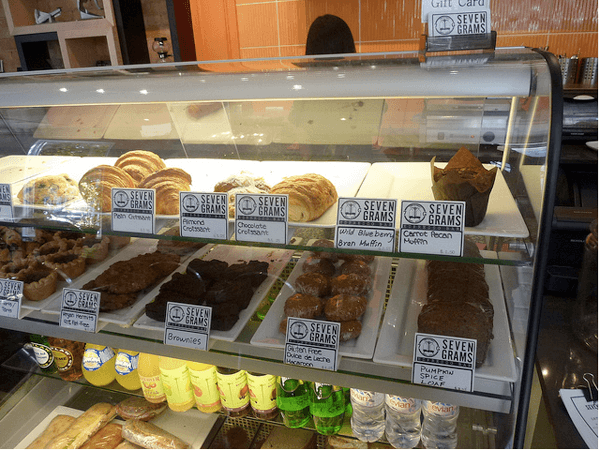 The cafe also offers a selection of house-made scones & muffins, as well as house-made sandwiches. With their free Wi-Fi and welcoming atmosphere, it's a bloggers heaven. And a coffee lovers heaven. And an art lovers heaven. I guess what I'm saying, is it's just heaven.
For more stories like this, you can check out my blog at www.QueenWestGirl.ca
http://www.sevengrams.ca/
131 Avenue Rd., Toronto (647) 351 – 1317