Seru Holiday 2012 Preview
Sometimes in life, you come across a new fashion business model so refreshingly remarkable, you just have to blog about it.
Wanting to share their passion for handbags and create something unique is an idea many can say they have tried to build their business on, but few can say they have succeeded. Amrin Huq of Seru is one of those few.
Starting the Seru online boutique in November 2011, she collaborated with her good friend and fellow designer from Pakistan, Ayesha Tahir Masood, to create what can be described as a beautiful and distinctive handbag experience.
I was lucky enough to attend Seru's Holiday 2012 collection preview this past Thursday. Firstly, besides showcasing great handbags in a beautiful art gallery, it was one of the most welcoming events I have ever been to and my thanks go out to both the Seru staff and its owner, Amrin for being such gracious hosts. That being said, Seru has fantastic handbags and clutches.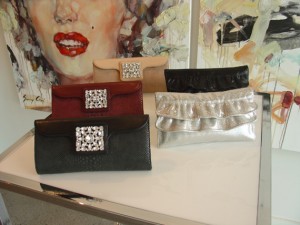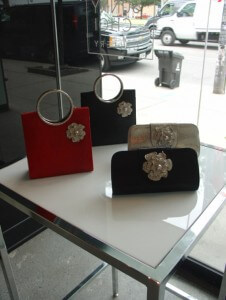 With handcrafted pieces made of the finest quality leather and textures and patterns inspired by her international travels, Seru handbags are sure to give other luxury handbags a run for their money.
Seru's Holiday 2012 collection, set to launch in August, consists of a variety of shapes, styles, and textures all of which are highly versatile.
My personal favourite were the super fun, super chic, glitter-tastic holiday clutches. My first thought jumped to how perfect these would be for any holiday party or night out on the town. However, Amrin suggested the amazing idea of pairing them with casual jeans and a t-shirt for the day as well!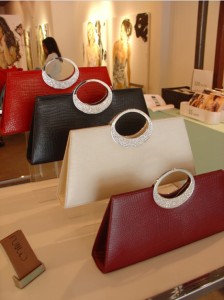 The basket-weave, sheep-skin clutches were also a stunning quality piece that could be worn both with formal and casual outfits.
Coming in a variety of colours, the handbags are perfect for travel or a busy day around town. With both neutral tones and fun, vibrant colours available, they make a perfect gift for any fashionista in your life (though we perfectly understand if you would prefer to keep them all to yourself!). The beautiful Seru logo makes them look all the more must-have.
Some might worry that their handbag or clutch will lose its charm if they start seeing it everywhere on the street. This is where the unique part of the business model comes in. There are only 150 bags of each style and many of the items are Limited Edition; often times, styles will have more than one colour, which means that if there are three colours, there will be only 50 bags available in each colour – talk about exclusive!
So what makes Seru all the greater? Its service. Luxury is not having a luxury item. Luxury comes from having the luxury to order that item at home in your pyjamas. Seru's online boutique makes that easy.
While attending the preview, I found out that shipping is free across North America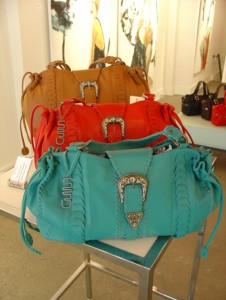 and all bags come with a 30 day money-back guarantee.
So to recap: glitter, quality leather, variety of styles, patterns, and colours, versatility of usage, and great service. Who else is excited about the August release of Seru's Holiday 2012 collection? I know I am!
About Seru:
Website: http://www.seru.ca
Twitter: @SeruShop
Facebook: https://www.facebook.com/SeruShops