Say Cheese
"Say Cheese" is an expression every Canadian is familiar with. It brings up the image of a big, smiling face, and what's not to love about that?!
Say Cheese is also a restaurant recently opened up on Bloor near the U of T. Well, restaurant may not be the best choice of words, it's more of a cafe, or more likely, a cafeteria. Bright white walls with some accent lights, white tables, and white chairs starkly greet you as you walk towards the counter. There were TV's but no image, speakers but no music. The atmosphere needs some help.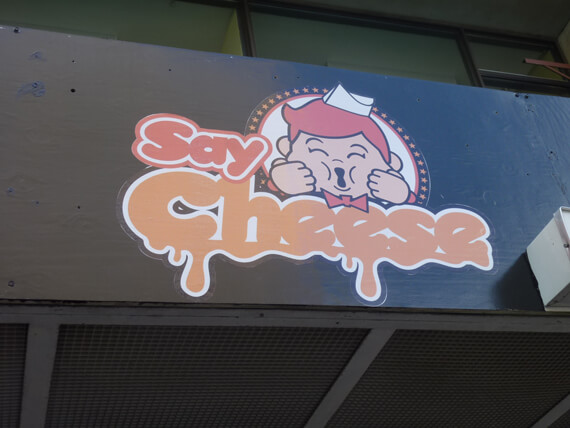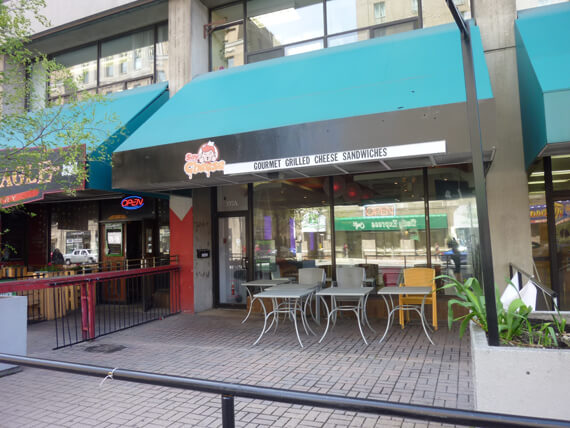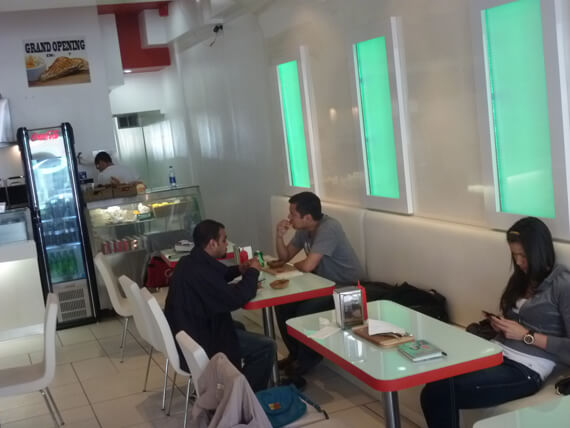 Chris, Nigel, and Indira opened Say Cheese about 3 months ago in a space that used to be frozen yogurt shop. Between the three of them, they had management, kitchen, and serving experience. Tired of running someone else's business, they decided to branch out on their own. The kitchen was their first hurdle. To call it small would be giving it too much credit. They had enough counter space for a burner or two and a panini press, so with that in mind, they opened a sandwich shop.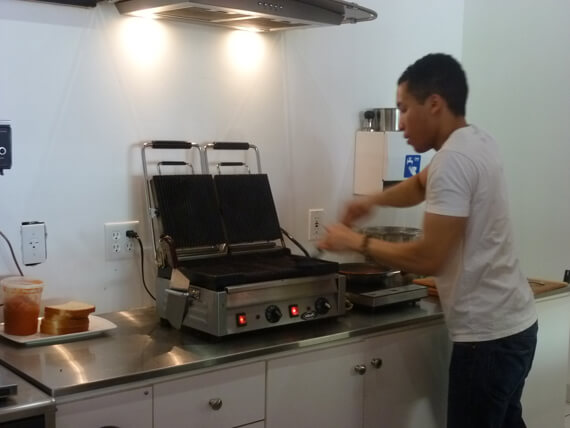 Being close to U of T created a new set of challenges. Yes, there are thousands of hungry students nearby, but most of them are on a starving student budget. Unwilling to pay $10 for a gourmet sandwich, the Say Cheese team has to work within the students budget. They've created a menu ranging from $4 for your basic grilled cheese, to $8.50 for a combo meal.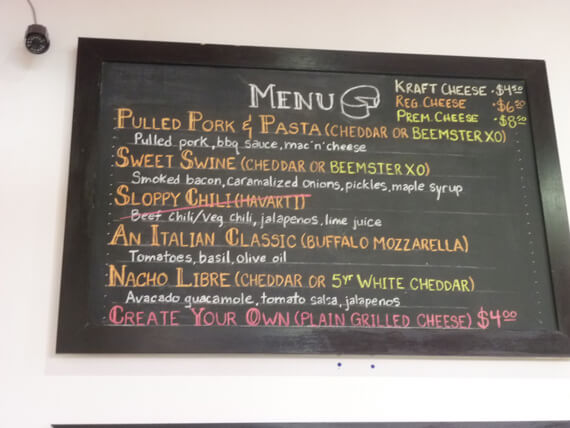 The Nacho Libre, Pulled Pork & Pasta, Garden Veggie, and Raspberry French Toast were sampled during our visit.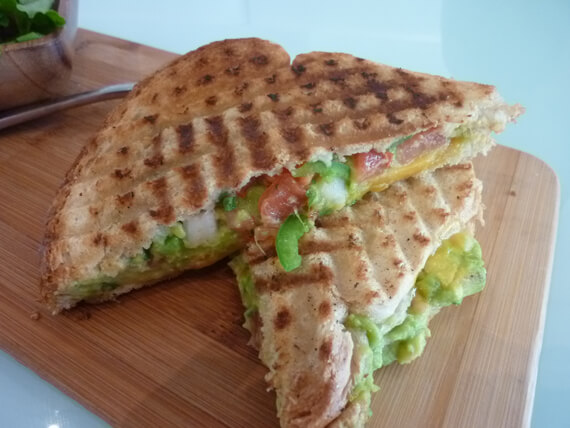 Nacho Libre was a vegetarian, mexican inspired panini of sorts. Filled with avocado, the sandwich tasted like a guacamole gone wrong. I for one LOVE avocado. Love with all caps. But warm avocado smooshed in bread is not the way to do it IMO.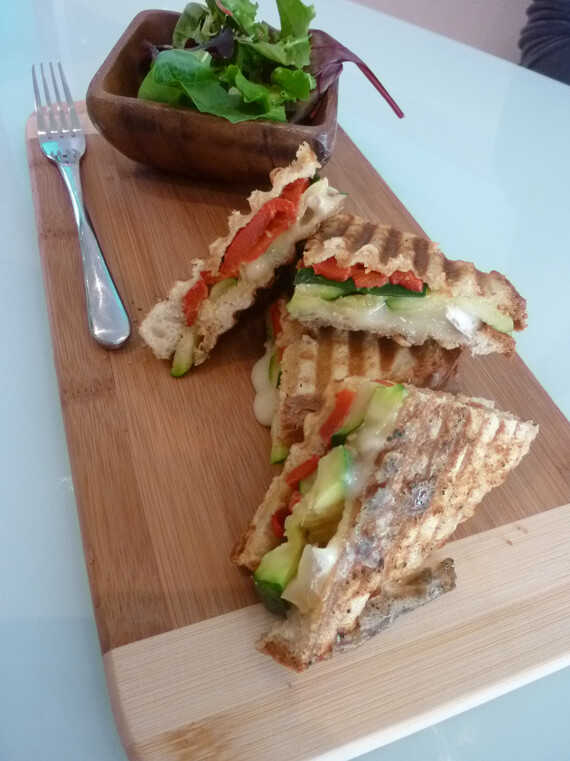 The Garden Veggie was okay, better than Nacho Libre. Red peppers & zucchini served with melted brie cheese. Yum. The sandwich however needed some something; salt, pepper, spice, I don't know, but it didn't have any zip.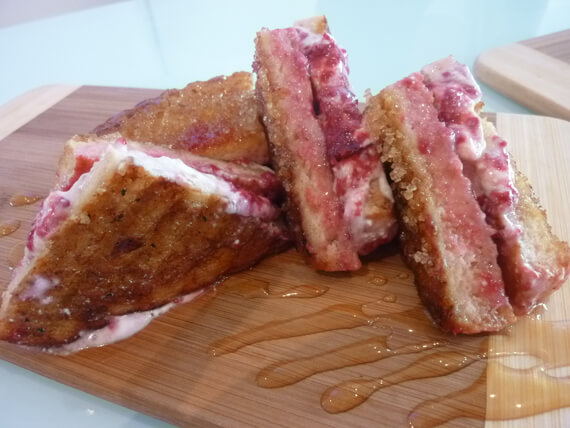 Raspberry French Toast panini was quite yummy. Raspberry jam with mascarapone cheese and granulated lemon sugar on top. Sweet on sweet on sweet. Maybe that's your kind of thing, but for me two bites was enough.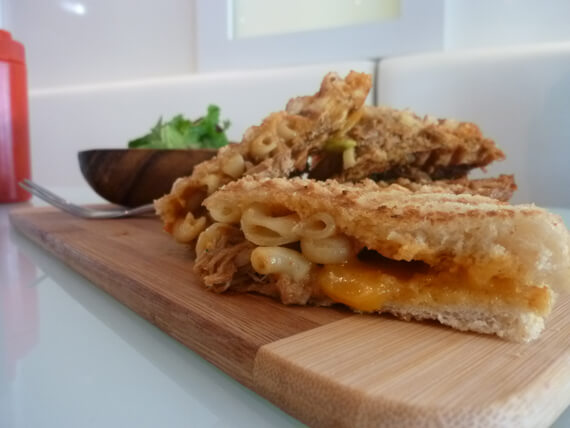 The saving grace of my visit to Say Cheese however was the Pulled Pork & Pasta Sandwich. This may sound bizarre but it was DELICIOUS!! Like seriously good. Crispy bread, sweet sweet pulled porky goodness, and al dente macaroni noodles. What a combo. This sandwich blew me away. I for one don't eat a lot of red meat (yes pork is a red meat!) but I had to force myself not to devour the whole thing. It was good. Majorly good.
The team at Say Cheese is making everything they can in house; their sauces, spreads and dips. Since they are so small, they don't yet have a commercial supplier, meaning they are purchasing all their ingredients direct from market, ensuring the freshest ingredients. Summer plans for the Say Cheese include creating a gluten-free option and creating a fun, outdoor cooking space on their store front patio, allowing for greater exposure & an increase in foot traffic hopefully stopping in.
Say Cheese is located at 337 Bloor Street West and is open Monday through Saturday 10-10, and Sunday 10-5.
@SayCheeseTO
<a href="http://www.urbanspoon.com/r/10/1650365/restaurant/The-Annex/Say-Cheese-Toronto"><img alt="Say Cheese on Urbanspoon" src="http://www.urbanspoon.com/b/logo/1650365/minilogo.gif" style="border:none;padding:0px;width:104px;height:15px" /></a>