The Saint Tavern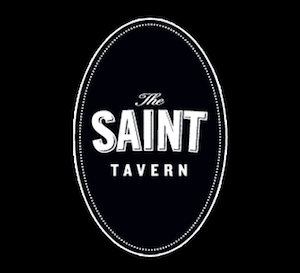 A restaurant called The Saint Tavern poses many questions. Okay, it really only poses two: 1.) Is it an actual tavern? 2.) More importantly, are there actual saints there? Forgive my literal tendencies but I love learning about the history and meanings behind names; so imagine my delight upon discovering that the answer to both of my queries is a resounding, "Yeah, kind of!"
As a nod to a former Wesley United Church planted right on the northwest corner of Dundas and Ossington back in the days of yore, playing heavenly host to over 2,000 members, The Saint Tavern pays homage in its name and opened its doors with hopes of also becoming something of a local hub. Owners Peter Tsebelis and Gus Giazitzidis (of Buca and Jacobs & Co fame) got a late start to their grand debut, but now they're here and ready as ever to impress. As far as taverns go, yes, this is a millennial version that takes its libations every bit as seriously as its cuisine. And as for saints? Well, I have to believe something divinely inspired is going on in that kitchen.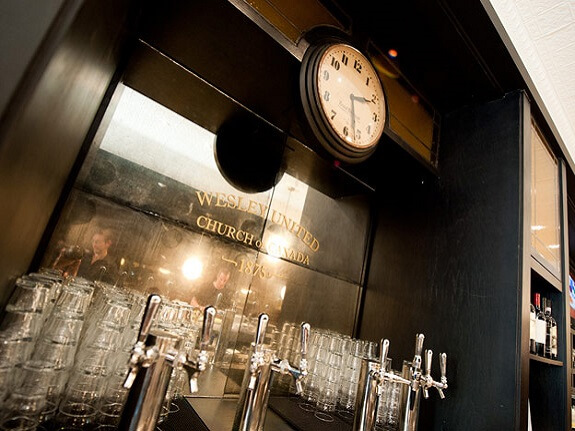 I arrive about 15 minutes late for my dinner date, forgetting that while the destination is not a far jaunt from my humble abode, Friday nights in Toronto transit are a slow and unsteady bob-and-weave type frenzy. Yikes. Disheveled and breathless I make my way down Ossington, The Saint just steps away from Dundas, and two minutes later I discover that, according to the address and basic math, I have walked right past it. Ugh. Backwards I go and when I spot a large black and white building with "SAINT" shouting "duh!" at me in bold lettering, I instantly feel stupid. But then I realize something; this place is easy to miss – not because it's a microscopic hole in the wall, but because everything else in the neighbourhood usually is. On a strip that is otherwise notorious for hidden gems, a hot spot in plain sight is…well, a sight to see. In other words, I'm already impressed.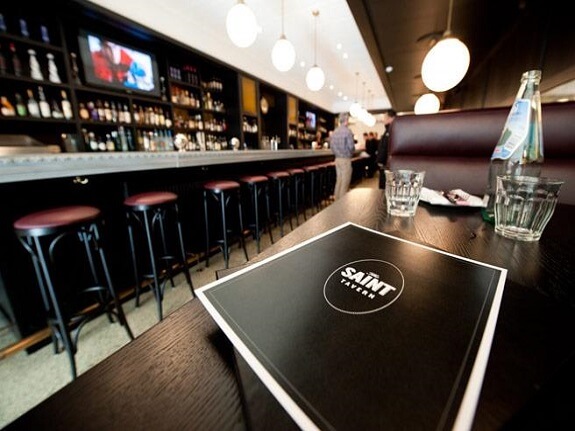 Luckily my guest receives my tardiness kindly, and she has been well taken care of by the staff. At the front of house Julia Clabassi smiles warmly and leads me through the dark and sleek space, past bistro style tables and larger black dining banquettes, to the back of the room where we are seated in a burgundy leather booth. Intimate and cozy, with a perched view of the whole space? I can dig it. The Saint is almost an optical illusion in its layout; from some angles it looks narrow and compact, but walking the length of it you see that it really is quite open and spacious. Dimly lit by low hanging spherical light fixtures, the venue features white-tiled walls, black trim, and long horizontal mirrors elevated behind each booth with menu items scribbled on in yellow marker. Toward the center of the room simple stools are lined up at a bar where two flat screen TVs play a baseball game. The Saint, it seems, is sophisticated five star meets easygoing bistro-pub.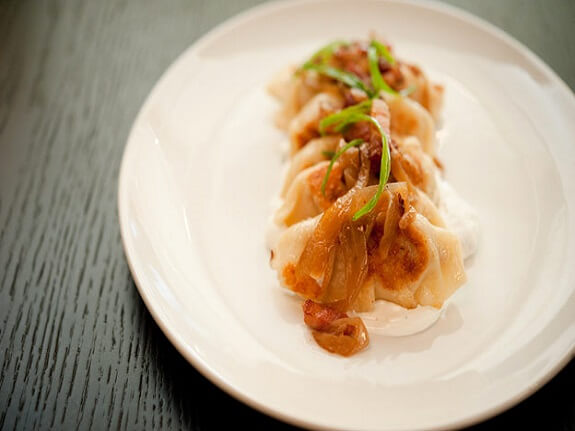 The food. Oh, the food. Our server, Drew, gives us a thorough rundown of the specials on chef Jesse Vallins' menu, and when we ask for recommendations he looks like he's just been ordered to choose his favourite child. With Drew's assurance that every dish is drool-worthy, we start with a shared plate of pork belly stuffed pierogies with cabbage, cheddar, herbed sour cream, and topped with bacon. These are easily the best pierogies I have ever tasted. A hint of sweetness in the filling pairs incredibly with the smoky bacon and herbed sour cream. The pierogies are cooked perfectly, soft and not too chewy, and already I can tell this is one of the meal's highlights.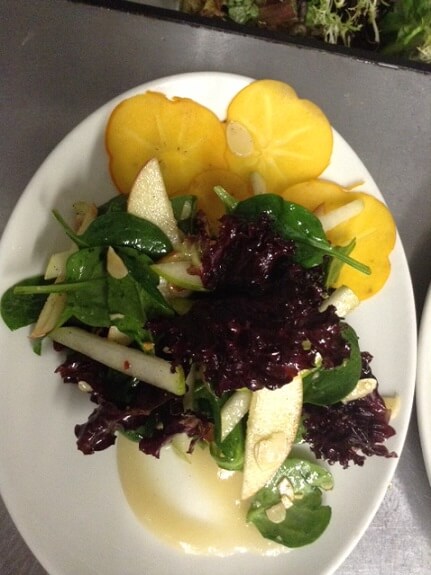 Next we try their seasonal salad made with apple and pear slices, cranberries, almonds, persimmons, pear butter, and maple sherry vinaigrette. Another winner, this salad is delicious because it has 'stuff' in it. It's plated beautifully with plenty of colour, and the pear butter is a uniquely nice touch. The persimmons make up the bulk of the salad as they layer the bottom, but they're not overwhelming.
For mains we order The Saint Cheeseburger and the Gooseberry Cod Chowder. The burger arrives stacked high like any signature burger should and is topped with bone marrow aioli, American cheese, and dill relish. A box of crispy golden fries sit next to it with a side of homemade fruit ketchup (sweeter than store bought ketchup, great texture).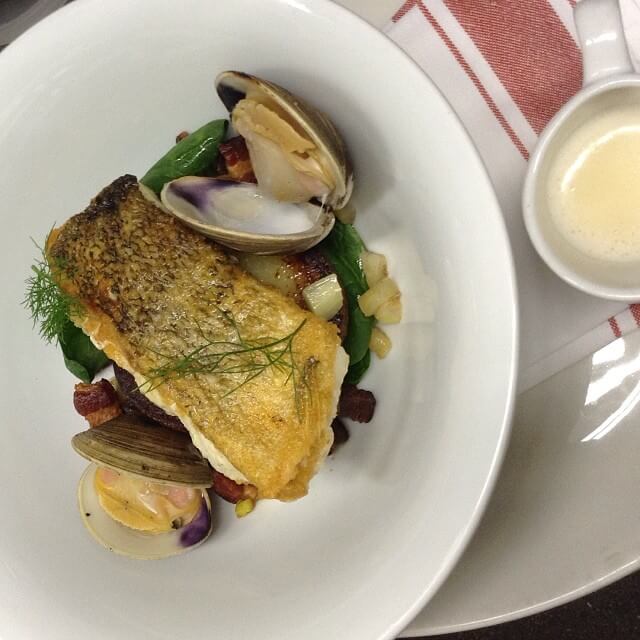 My cod sits on a bed of potato confit, fennel, and steamed clams with bacon broth. It's not as much of a "chowder" as I'd anticipated but it's beautifully flaky, flavour-blasted, and the skin is crisp and salty. It's my first time trying clams and I have to admit the texture is not really for me, but I can see how they would be a nice addition to this main.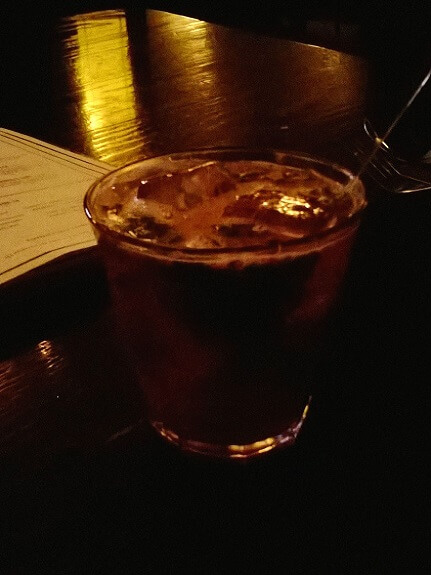 Between courses my guest and I are sipping on The Saint's popular Cherry Bomb cocktail which is a mix of bourbon, mint, lemon, and muddled cherries. It's like refreshing cherry lemonade – delish!
And now for the pièce de résistance…well, to me anyway. My love for decadent desserts always prompts me to order the richest, sweetest, creamiest option- and tonight is no different. We ask for the Warm Chocolate Mousse and briefly deliberate over whether we should share or each get our own. Drew advises us that one is plenty and he promises that sharing will be a cinch, given the richness. And boy is he right.
Layers of peanut butter mousse, chocolate brownie, vanilla ice cream, and chocolate covered cornflakes – which he affectionately refers to as "crack" – blend gorgeously together to form a dense and ultra filling treat that definitely hits the sweet spot. Once we finish, Drew comes around and asks if we want to scrape the sides of the bowl, and I gladly oblige. He's kidding; I'm not.
The final verdict: The Saint Tavern should be canonized. We'll be back!
http://www.thesainttavern.com/
227 Ossington Ave. | T: 647 350 2100
SUNDAY – WEDNESDAY 4PM TO 12AM | THURSDAY – SATURDAY 4PM TO 2AM
BRUNCH SATURDAY & SUNDAY 10AM TO 3PM

About Courtney Gilmour
Courtney is a Toronto-based writer and editor whose work has appeared in various digital and print publications, and probably the back of your chair in high school. She is known for her ability to create a near perfect plate of nachos and her inability to properly close a pizza box. Follow her on Twitter: @minxcourtney