Reservoir Lounge
The Reservoir Lounge on Wellington Street is a very romantic setting. Small red candle holders with tea lights on every table really set the mood. It is decorated and accented with tiny red lights around the bar and backrests are plush, red velvet giving the space an old school jazz bar feel.
For such a well-known venue, the place feels small, intimate and cozy. The signs on Wellington Street point you down the stairs and into a warm, comfortable space with that 'underground' feel. You can hear the live music while walking along Wellington Street to lure you in. Who can resist such beautiful sounds?

I went with three friends and it is the perfect venue for a night out with the girls. Great music, delicious cocktails, round tables and just chit-chat. Tyler Yarema & His Rhythm were performing when we were there. Tyler and his band are very communicative and open with the crowd, making it a very personal experience and not so loud as to inhibit conversation. The band have been playing here for eight years and their fun, positive attitude (not to mention their absolute talent) keeps the fans returning.
The place has a very relaxed atmosphere a lot of people come specifically for the music, both long-time fans and those looking for a new experience. The clientele is, but everybody is there for his or her love of jazz and you can tell from the body language and movement how much they love the jazz vibe. I can't explain in words the feeling you get from being in the presence of such talent and the vibe that you get from everyone in the room. Each person is experiencing a different feeling, yet similar all at the same time. When the older songs are performed, everyone relives a memory that is attached to each one and it is expressed through the movement of everyone in the room. If you are a lover of jazz and have yet to visit Reservoir Lounge you must head down there on a Tuesday – I am positive you will quickly become a 'dirty regular'.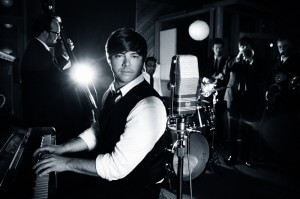 Tyler Yarema is an award winning piano player, singer and bandleader. He began his career as a teenager playing bars and festivals in his hometown of Thunder Bay ON. At the age of 21 Tyler moved to Toronto to pursue a life long career and was immediately welcomed into the scene. Tyler honed his craft working with Canadian blues Legends 'Hock' Walsh, King Biscuit Boy, Dutch Mason, The Downchild Blues Band, Jack DeKeyser and many more. He is also an accomplished studio musician having played on over 50 cds and numerous TV, Film and Commercial projects. Tyler has been instrumental in keeping Jazz and Blues alive in Toronto with his long-standing house gig a the world famous Reservoir Lounge in downtown Toronto. For over a decade he has been performing two nights a week at this hot-spot to a multitude of fans. It is his dynamic approach to the piano and performance style that keeps them coming back for years. Tyler is a "must see" performer.

All of the liquor is kept on a table in the center of small, intimate, bar which can be swiveled 360°, insuring patrons can be served at any place. We started with four cocktails, but it is worth noting that the bar has an excellent selection of beers for those who prefer that to cocktails. If like us you are unsure what cocktails to chose then ask your server. Our waitress' recommendations were far better than the ones we would have selected!
Grapefruit Martini (vodka, raspberry sour puss, grapefruit juice, fresh grapefruit.) This is absolutely delicious! We were skeptical because of the grapefruit but the raspberry sourpuss shot masks the bitterness. Choosing this made our server very happy!

Asian Beauty (vodka, lychee liqueur, fresh lychee puree, a splash of cranberry.) If you're a fan if lychee martinis this is the cocktail for you! Accompanied by two lychees this perfectly chilled beverage is an amazing combination of sweet, sour and lychee! I am a huge lychee martini lover so this is one I would definitely order again.
Asian Pear Martini (sake, pear liqueur, pear puree, lemon sour, fresh Asian pear.) This was our server's personal favourite and is very light and refreshing. It's smooth but not too sweet. To be honest, it's probably not all that memorable but easy to drink.

Strawberry Coconut Martini (vanilla vodka, Malibu coconut rum, strawberry liquor, fresh strawberry puree, house-made sour mix.) This reminded us of being on vacation. Smooth, sweet, cool and fresh it is similar to a strawberry daiquiri (which perhaps explains why it is a ladies' favourite, as we're known for not being so adventurous with our liquor.) It is a little too sweet for my tastes but a great one to choose if you don't like the taste of liquor.
After cocktails we turned to the menu, which is simple but enticing. It consists of a tapas selection, which is always appreciated; salads for those looking for something on the lighter side; toast, a unique item that comes in combinations of cheeses and vegetables on grilled garlic bread; sandwiches for those looking for something simple; pizzas and a short but sweet (pun intended) of delicious desserts. These include creme brulee, raspberry chocolate truffle, chocolate fondue for two and cake by the slice.

We selected two seafood tapas. Pistachio crusted shrimps, with spicy mango papaya dip; chili and lime scallops, with shrimps, papaya, cucumber salsa, soy ponzu glaze. The shrimp accompanied by a roasted red pepper sauce is slightly spicy and tangy, but with combination with pistachios gave it delicious and unique flavour. The scallops, on top of a bed of tomatoes and cucumbers was also slightly spicy, but just a perfect pinch. It was delicious and can easily be shared for a table of four. Take a bite of the scallop or shrimp paired with a cucumber and it will cool down the spice perfectly.

For a salad with went for a tomato Salad, with arugula, sun-dried olives, basil oil, goat's cheese truffles. We chose this because it was the most unusual one on the menu. It is light and just a little sour and I loved it. We followed the salad with a selection of Devil's Toast, which consisted of three different toppings on grilled garlic bread: tomato, basil, fresh goats cheese with black olive tapenade; ragout of wild mushrooms, pancetta, melted asiago cheese; and chick peas, roasted red peppers, cherry tomatoes and Italian parsley. The moment the toast arrived and scent hit our noses we couldn't help but let out a collective "mmmm", it smells so good. The mushroom in particular is absolutely delicious and was my favourite of the three.

Skipping the sandwiches we moved onto pizza. Following our server's recommendation we went for a Quattro Staggione, which allows you to try all the four different pizza on the menu at once. These consist of: shrimp , scallops, spinach, cheese, double smoked bacon; wild mushrooms, eggplant, artichokes, sun-dried tomato; goat cheese, asiago , blue cheese, Tomato pesto sauce; and blackened chicken p, roasted peppers, black olives, aged cheddar cheese. In my view this is the perfect choice. Each of the pizzas is delicious and we ate in complete silence. To be honest I would come back for the pizza alone, though my love of jazz is a good enough reason in itself.

We decided to forego dessert and move onto our next round of four cocktails, this time deciding to try some a little stronger.
Papa Mojito (Havana club rum, demerara brown sugar, fresh limes, mint leaves.) This is the perfect mojito, being not too sour and not too sugary. It was a favourite amongst the four of us.

Bloodhound (vodka, pure blood orange, muddled limes, demerara sugar served over crushed ice.) This tastes like cranberry vodka only with way too much lime. The lime was overpowering and the drink was a big disappointment.
Hendrick's Gin Martini (Hendricks' cucumber infused gin accompanied with cucumbers sprinkled with sea salt.) Described as the "the ultimate gin martini" for a man who loves gin and wants to be fashionable with a martini, this is the drink for you. Once the cucumbers have steeped it makes a nice blend in your mouth, though it wasn't one of our favourites.
Chocolate Storm Martini (Godiva white chocolate liquor, vanilla vodka, house made Swiss chocolate ganache.) This is very thick and chocolatey, so perfect for someone with a chocolate craving, and it is like drinking a piece of chocolate cake. Rich and delicious, you certainly couldn't drink more than one.
In short, if you're looking for a relaxed venue, with no pretensions, great food, drink and fantastic music then you really need to look no further than the Reservoir Lounge. A great evening is guaranteed. Tyler Yarema and his band will keep you returning each and every Tuesday evening and maybe even for one of their Saturday shows. The place and everything that comes with it has earned bragging rights and you will will be sure to pass along the message to others. I advise you to plan an up and coming Tuesday evening with Tyler at the Reservoir Lounge – what else are you going to do on a Tuesday evening in the city? This is ideal! Meet you on the dancefloor!
Cheers.
The Reservoir Lounge
52 Wellington Street East Toronto, ON M5E 1C9
Mon-Thu 8pm-2am; Fri-Sat 7:30pm-2am; also open Sun
Weekdays 11:30am -10:30pm; Sat 5pm -10:30pm
Known for their cocktails and martinis.
http://reservoirlounge.com/