RENT FROCK REPEAT – RfR
I am one of those people that doesn't take long to get ready when it comes to my hair and make up, however, when it comes to finding something to wear, oh boy, that can take hours! Looking good means feeling good and nothing feels better than wearing something new and fresh. Unfortunately, my closet is at capacity now… I am lucky to fit in a dress or two AND finding the appropriate dress for the proper event takes even longer. If you are anything like me, you prefer it to be laid out right in front of you.
Ladies, allow me to introduce you, New York meets Toronto!
Life just got easier, the birth of Rent Frock Repeat has reformed fashion as us Torontonians know it! Lisa Delorme and Kristy Wieber are not only the Co-Founders but the life savers for many of us indecisive women in the city who just don't want to fork out the cash for a designer dress. So why not rent since we all know it'll only be wore once for that event and then collect dust in the back of your closet and be forgotten. Not only will you be saving money, you will save you time in going shopping and hunting down the stores for the look you desire for that one special event. With their easy to browse website you will find yourself absolutely smitten with their collection and convenience. You can even register to rent it online. Exciting and fabulous!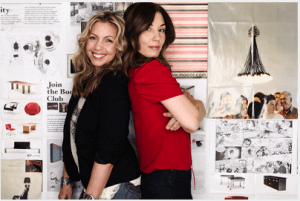 Their story is quite marvelous. Both Kristy and Lisa encountered a situation in which they became stuck- invited to another wedding and neither one of them wanted to spend the money or time on yet another dress that would be only worn once, then tossed aside and be forgotten. Realistically, most of us dread this process too. Spending countless hours at the mall, in and out of stores in search for the appropriate dress and size. They discovered an article that featured a dress rental service. Kristy and Lisa thought they were saved from the headache of dress shopping until they realized the company was based out of the United States and did not provide the delivery service to the Canada. Completely disappointed the two were until they noticed this is something the Canadian market was completely lacking. The pair then founded "Rent frock Repeat" in August of 2010. Located at 35 Golden Ave, Suite 102 Toronto ON and open M-F 9:00 a.m. to 8:00 p.m. an Saturday 10:00-3:00. However, there website is live 24/7. The convenience is at your finger tips, ladies.
1-855-FROCK-IT (1-855-376-2548)
info@rentfrockrepeat.com
www.RentFrockRepeat.com
*Photograph of Kristy and Lisa taken from rentfrockrepeat.com