Recipe: Watermelon Mint Refresher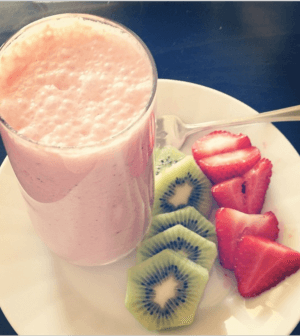 In anticipation for the warm weather, it's safe to say it's time to brighten things up, from our wardrobes to our plates. With our busy schedules though, it can be difficult to spruce up the menu and entice our taste buds. Smoothies are the perfect source to get in our superfoods on the go. Here's a blend that can compliment your favorite breakfast, or as a post-workout refresher.
Recipe:
o 1 cup of watermelon
o 1 sprig of fresh mint leaves
o 1 cup of almond/coconut milk (Blue Diamond Almond Breeze is great)
dash of cinnamon
o Handful of ice (or frozen watermelon chunks)
o Blend until smooth & enjoy.
*Tips
Replace milk with coconut water to emphasize the watermelon taste. If you prefer a creamier drink, stick to a dairy-free milk of your preference.
Try adding a handful of spinach to give your smoothies a boost of nutrients. It's virtually tasteless so you won't even know it's there – apart from the color!
Next time you have left over raw fruits and veggies, throw them in the freezer instead of the trash and add them to your smoothies. They create the same consistency as ice cubes, giving you a refreshing drink.

About Amanda Santalucia
Amanda Santalucia, originally from Montreal is a driven Marketing student, currently developing her Advertising career in Toronto. Remaining active as a young adult, her passion for health and fitness sparked several years ago while reading an intriguing health related book. After being diagnosed with various food intolerances shortly following, Amanda began to explore several diets, the effect of stress and different environments on the digestive system, food groupings, food health benefits and more. Currently, she practices a healthy lifestyle, free of gluten, dairy, meat, GMO's and refined food. Amanda enjoys experimenting in the kitchen and believes in creating foods using healthy alternatives without substituting great taste.