Have You Heard About The New Wine Mobile App?
Plan Your Ultimate July 1 Barbecue with THE New Wine Mobile App!
Game-changing technology allows you to instantly scan 150,000 wines in the LCBO.
Listen up Toronto foodies and wine lovers alike! A new free mobile application is now available that will change the way Ontario wine lovers find, buy and enjoy wine this summer. The Natalie MacLean "Wine Picks & Pairings" app allows you to use your smartphone camera to snap a picture of any bottle label bar code in the liquor store. With one click, you get tasting notes, scores, and food pairings.
I'm absolutely in love with the idea of this application! Not only am I a total foodie, but a huge wine lover and enthusiast. However, I always find myself stuck when it comes down to which wine goes with which meal? Which wines haven't I yet to taste? Is this label really worth the cost of the contents inside?
I am thrilled that I can use my mobile gadgets to help me solve these unanswered questions! Absolutely brilliant.
"You're in the LCBO wondering if you should buy the bottle with the castle on its label or the one with the fluffy squirrel," says Natalie MacLean, the editor of Ontario's largest wine web site at www.nataliemaclean.com. She created the tool to make buying wine easier for consumers.
"Now you just point and click to find out if that shiraz actually is a good wine to go with your pepper steak, or if the sauvignon blanc would work with your grilled veggies. No more guesswork based on castles and critters."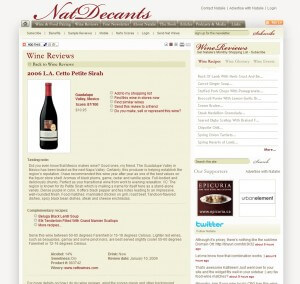 No more shopping lists either since you can scan the wines right in front of you in the store. The app's key features allow you to:
– Instantly access tasting notes, scores, prices, recipes and food pairings
– Search 150,000 wines at the LCBO and other liquor stores across the country
– Get real-time stock for every wine at the store in which you're shopping
– Check the number of bottles in stock at nearby stores via GPS real-time inventory search
– Track your purchases in your virtual cellar with just a few clicks
– Create a wine journal with your own wine notes and pictures in the app
– Share your favourite wines and pairings on Twitter and Facebook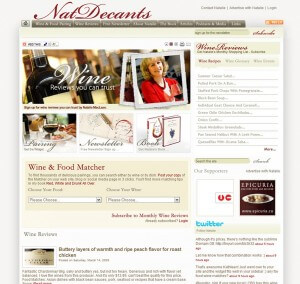 The new Wine Picks & Pairings app is the next generation of Natalie's mobile app, which was selected among the top five food-and-wine apps by both Computerworld Magazine and the New York Times. It's the only one featured on Apple's iTunes store under App Essentials for both "Food & Wine" and "Date Night."
Fans use Ontario's most popular wine and food app to get more than 700,000 wine picks and food pairing suggestions a month—the number of users has grown 230% over the past year. The app, designed by Fluid Trends, bundles a suite of 10 wine apps including reviews, cellar journals, recipes, food pairings, articles, blog posts, a wine glossary, a bi-weekly newsletter, a directory of wineries around the world and excerpts from Natalie's bestselling book Red, White and Drunk All Over.
A certified sommelier and winner of the World's Best Wine Writer award at the World Food Media Awards, Natalie wrote and vetted all the pairings and wine reviews in the app rather than relying on computer-generated algorithms and crowd-sourced material.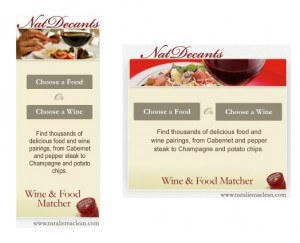 Natalie's Top 10 Well-Done Wine and BBQ Pairings:
1. Juicy Steak and Shiraz
2. Grilled Salmon and Pinot Noir
3. Seared Tuna and Gamay
4. Flame-Broiled Hamburgers and Zinfandel
5. Grilled Portabello Mushroom and Rosé
6. Herbed Chicken and Syrah
7. Lobster in Butter and Sparkling Wine
8. Grilled Veggies and Sauvignon Blanc
9. BBQ Pork Chops and Chardonnay
10. Roasted Marshmallows and Tawny Port
Download the free Natalie MacLean Wine Picks & Pairings app for iPod Touch or iPhone:
http://itunes.apple.com/ca/app/nat-decants/id353052386?mt=8
For BlackBerry, visit App World:
http://appworld.blackberry.com/webstore/content/10584
For Droid, Nexus One, Nokia, Windows 7 and other smartphones, use the mobilized web site here:
http://www.nataliemaclean.com/mobile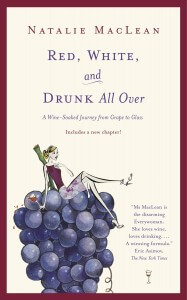 About Natalie
Natalie MacLean is an Ontario wine journalist and author of Red, White and Drunk All Over. She connects with more than 123,000 wine and food lovers who get her free e-newsletter. Nat is the only person to have won both the M.F.K. Fisher Distinguished Writing Award from the James Beard Foundation and the M.F.K. Fisher Award for Excellence in Culinary Writing from Les Dames d'Escoffier International. More bio bunk here: www.nataliemaclean.com/bio.
About Fluid Trends
Fluid Trends is an innovative provider of complete end-to-end mobile solutions that help users make sense of the latest trends in mobile technologies. They leverage the hottest distribution channels, and boost a brand's mobile footprint by combining their industry knowledge, proven mobile development process and proprietary technology. The result: creative, high-quality, original mobile applications that suit their customers' unique needs. To learn more about Fluid Trends, visit www.fluidtrends.com.
Connect with Nat
Twitter: http://twitter.com/nataliemaclean
Facebook: http://www.facebook.com/natdecants
LinkedIn: www.linkedin.com/pub/natalie-maclean/a/364/70b
YouTube: www.youtube.com/user/natdecants
Newsletter: www.nataliemaclean.com/subscribe