Rayne Spa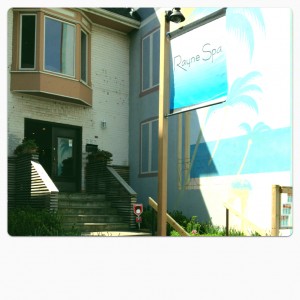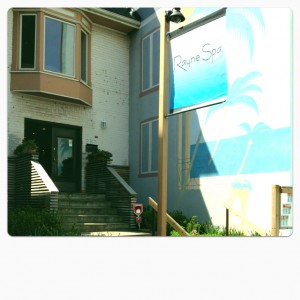 As another busy week came to a close, I couldn't help but get excited about my pending visit to Rayne Spa. It's no real secret that the spa is every woman's sanctuary – whether our bank accounts like it or not – and after climbing into a dozen different cars on the rollercoaster of life this year, I was ready to be pampered. Scratch that, I deserved it! Since misery loves company, I decided to bring my best friend along for the ride, since these sorts of things require the perfect partner in crime.
We were asked to show up 15 minutes early to our appointment in order to sign in – quite the formal operation – so we ducked into traffic late in the morning and battled our way from King West to down along the Danforth. Maybe it was a naked bike ride, maybe it was a parade, or maybe the Leafs had finally won a playoff game, but there wasn't so much as room to rack a moped anywhere within a 30 mile radius. The drive alone demanded a visit to the spa, if nothing else.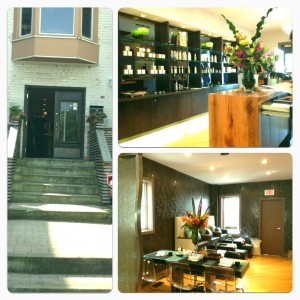 We eventually arrived 10 minutes prior to our appointment – I may have qualified for a NASCAR series along the way – and left our worries behind the wheel as we slipped into unfettered calm. I took a deep breath, pulled the plug on all 40 of my mobile devices, and allowed the Rayne clan to take control. A sense of serenity and a feeling of positivity overtook me; I was put at ease almost at once, welcomed by people whom obviously enjoy their craft. At once it was evident that this was a different sort of spa, a place of ethereal graces. I'm not sure how much of that had to do with Renay, the owner of the spa, and the spread of ripe fruit she presented to us, but I'm willing to take a flyer on it. I'm not going to sit and say I didn't eat all the pineapples… but I won't say I did either. And I certainly won't admit that I wondered what the products would taste like – being 100% organic and all. We sat with Renay and listened to her story over tea (the fruit long gone by now), and we found out what it means to call your spa 100% organic, and how Rayne plans to "take care of you so you can take care of the world." We had yet to receive any sort of treatment, and I already felt like saving baby wales, or planting pine trees. I took this as a portent of good things to come. It's one thing to claim to be a sanctuary, or to put on the airs of restoration and rejuvenation, and another thing entirely to deliver on those promises. Open only a month, and serving as Renay's first spa no less, Rayne has started off (rubbing) on the right foot. And the left foot. And all points north.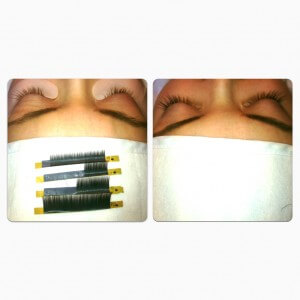 Renay has a history in the corporate world, which may run counter to the ethos of a high-end boutique spa, but when it boils down to it, wouldn't a corporate woman be the perfect person to head a spa? The type of person who lives and breathes stress and rigor most certainly knows a thing or two about how to cut loose, unwind, and relax. Renay trained as an esthetician and put 16 years at MAC under her belt before moving on to positions at Apple, and then Victoria's Secret. She wiped her hands clean of the corporate world and returned to her roots, and couldn't be happier with her decision. Suffice to say, neither could we. Renay wants more than anything to be a role model for her two young daughters, who she hopes will follow their own dreams no matter what path they lead them along. Renay recently took her crew to a local woman's shelter in order to give back to the community, and the goodwill fostered from that one even hangs over the spa like a bright puffy cloud of good intentions.
After getting to know Renay we reluctantly headed off for our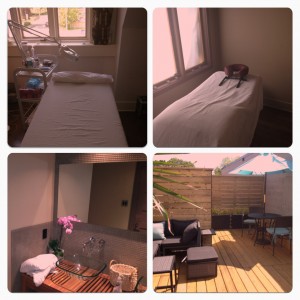 first round of treatment. I say reluctantly because we had become fast friends with Renay and her crew; they have a way of welcoming everyone who steps through the doors into their little family with open arms. Eventually I was treated to an organic facial while my friend was served with eyelash extensions – currently the most popular service on the board at the spa, believe it or not. I had initially been excited about a massage – name a person who doesn't get excited about a massage and I'll show you a fibber – but I couldn't pass on the opportunity for a facial. Liana lead me to a room that would become my kingdom for the next hour, and delivered a treatment beyond my expectations. The room itself was calm, cool, and refined, and by the time I undressed and hopped up onto the table I was giddy with anticipation. It may be a stretch to say that I melted into the table, but then again, maybe not. I was cleansed with lemon cleanser, I was toned with Rosehip Tonique, and I was primed. Liana applied a pear and poppy seed microderm polisher and worked me over gently for 3-4 minutes before steaming me up for another 10. The polisher was removed with a warm, wet towel before she applied a pink grapefruit clarifying masque and massaged it on for another 10 minutes. By the time she massaged the apricot oil into my face, neck, shoulders, hands, and feet, I was in heaven. Everything was brought together with an Eight Greens Youth serum and blueberry eye repair cream and Calm Skin Chamomile Moisturizer. In short, I was as good as new. A Zen master in the Art of Awesome, Liana delivered me to another plan of spatial relaxation, and brought me back home softly. I felt as if I had been worked on by my grandmother, a woman of immense natural health knowledge, a mentor to many in the field of beauty, someone who I completely trust. I felt the same way at Rayne, and I can think of no bigger compliment to pay the crew. When it was over, I sighed, if only because it would feel like forever before I would return.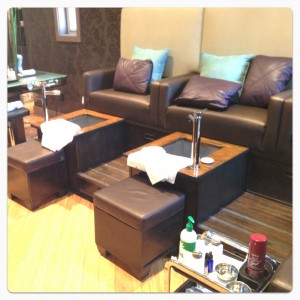 My friend was treated to a mesmerizing massage by Evgeniy, while Nadene worked on her extensions. Post-euphoric experience, Tina provided me with a gentle, relaxing manicure and witty banter followed by Elise (Makeup artist to local celebrities) who applied beautiful fresh makeup to my glowing face that left me looking camera ready. Respectively, the entire crew conspiring to help us forget about the world, if only for an hour, the way only real professionals can.
Please stop by Rayne Spa at 257 Danforth Ave and say hello to the amazing women that work there.
www.raynespa.com
https://www.facebook.com/RayneSpa
https://twitter.com/RayneSpa
257 Danforth Avenue
Toronto, Canada
Phone: +1 416.405.9465