Rawlicious
When the word 'vegan' is dropped in the midst of a meal proposal the first reaction of many is a cringe or maybe a smirk and the insinuation of a meager snack. We have been conditioned to see a filling meal as one with an unwavering piece of meat with a side dish. The concept of eating vegetarian is tough enough for some who are used to the classic Western meal, but now to eat vegan? What am I, a rabbit?
To clarify for those of us who think all the V-words related to dietary choices are all the same, a vegetarian comes in many forms: some choose to eat eggs (ovo) some dairy (lacto) some both (lacto-ovo) and some even eat fish (pestitarians) while others are classic vegetarians eating only plants. The main difference between vegetarians and vegans however, aside from dietary exceptions that distinguish different vegetarians, is that vegans do not cook their food (hence the likeness to a rabbit.) A vegan diet, thus, is really a raw foods diet consisting mainly of nuts, fruits, legumes and anything else that can be eaten as picked. So why, then, do many think it's not a proper meal? Nuts and fruits contain the proper amounts of good fats and easy to digest sugars to keep us fed, full, and active. Furthermore there is less work on your internal organs with respects to the process of breaking down your meal. Everything in a vegan diet is fuel with no excess. But this isn't a lecture on how skewed our dietary preferences are nor an attempt at pushing a vegan diet. It's just my way of introducing an experience I've had that's changed my life, got me to think outside the box, and one that I would love to hopefully convince you to consider.
I tried my first vegan restaurant and not only did I love it but I walked out completely satiated. Rawlicious is a vegan restaurant that boasts a completely uncooked menu that's healthy, nutritious, delicious and organic. They call it "clear conscience eating" and I could not agree more. This article focuses on the Yorkville location, but it is important to note here that this is the second location (the original being located in the Junction at 3092 Dundas St. W) with a third location in Barrie soon to follow. What's more amazing about Rawlicious is its success and current expansion into a franchise. For those who said vegan would never make it: stuff a carrot in it.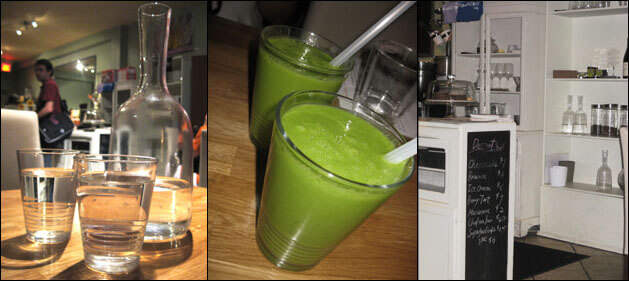 The Yorkville location (located at 20 Cumberland st.) is quaint with an air of eclecticism muddled with a little bit of that Yorkville class. You are ushered into what seems like a cozy apartment with cushy chairs and natural wood tables, warm walls and paintings enclose the space and soft jazz sets the mood as you settle into your table and relax with a glass of pure water. I especially loved the presentation of the water, where most restaurants serve it insignificantly, Rawlicious brings it to you as if it's the source of life in a beautiful glass bottle. If you'd like to enjoy an alcoholic beverage alongside your meal they are fully licensed and serve organic wine and beer, but a viscous hat tip most definitely goes to their selection of smoothies. Smoothies are classically composed of fruits with yogurt or milk, but at Rawlicious nutmilk replaces the dairy for a delicious and healthy alternative that will have you smacking your lips. I went for the greenest option on the menu "Tropical Green" which featured a very vegan blend of spinach, kale, banana, mango and pineapple. Our extremely knowledgeable hostess also suggested the "Creamsicle" which consists of nutmilk, banana, orange, avocado, vanilla and agave – a very popular choice. I, however, could not be swayed from making my experience as green as possible.




One of the most unique parts of the experience at Rawlicious is that their kitchen is right there in the open for you to enjoy visually as your meal is prepared. It is a wonderful experience to watch your 'pasta' come to life as it is forced through the pasta maker. For tasting purposes we began with a feature menu order of the 'angus burger' a delicious meat like patty that's really a play on words than a suggested likeness, vegan samosas and nori rolls. We were especially impressed with the samosas which tasted identical to the classic yet its production story was the most unique we have ever heard. The casing was made of dehydrated zucchini, a process that requires them to roll it out (apparently a very messy process) and dehydrate in an oven that at very low heat (under 118F) slowly dehydrates the zucchini turning it into a sheet that I can only liken to a vegan tortilla. Likewise the nori rolls surprised us drawing us to the conclusion that the raw fish barely makes a difference in the flavor of the original.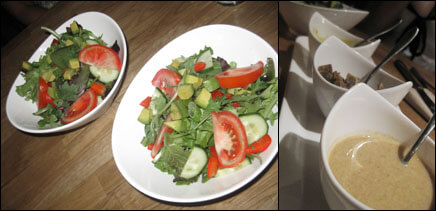 Our meal was then followed by a garden salad to which we added their signature onion bread croûtons alongside a tangy lemon dressing and a ginger-date dressing. The croûtons are most noteworthy, they were sweet and tangy yet supple and moist. The process of making these croûtons takes two days, where the mash is dehydrated for 36 hours on one side, then flipped and dehydrated for another 12 hours. How many restaurants have you been to that can claim that much preparation time? The vegetables were fresh and crispy and the dressings likewise beautiful. We found the Tangy Lemon delicious and perfect for any salad while the ginger-date tasted like the ideal dressing for a summer salad. One for those accustomed to a standard zesty palate while the other appealed to those of us who enjoy a little sweetness. This course was followed by my absolute favorite: The Taco Wrap. This dish came highly suggested and featured a healthy dose of guacamole, lettuce, onion, salsa, nut-loaf, and my absolute favorite ingredient, nut (almond) cheese all wrapped neatly in a salad leaf. This quick and easy wrap, one I can foresee being my new favorite lunch item, had all the notes of a taco and had a truly authentic Mexican flavor.

Although I initially felt it to be a restaurant I would much rather lunch in, retrospectively the quality of the food and my level of satiation post meal has definitely changed my perspective to a potentially unique dinner date. What solidified the perfect-for-dinner mentality however was their pasta with 'neat balls'. Zucchini noodles, which have a beautiful crunch and very unique, mouth-watering flavor, are paired with a gorgeous pesto, garnished with sundried tomatoes and snap peas and topped with – are you ready for this – Neat balls. I won't venture to disclose what's in them, just that you have to try them for yourself, and that you will love them and their meat-like flavor and palate.

Okay so I've established that it's perfect for summer and winter, lunch and dinner, but what about dessert? Surely they must not be able to fill the shoes of wonders like ice cream, cheese cake or brownies. Well I'm sorry to tell you vegan-skeptics that their cheese cake is so delicious my taste buds exploded in a cornucopia of delight. Not only is it creamy, cheesy and sweet but it's actually GOOD FOR YOU! Even more points – those of us who are lactose intolerant but can't help the allure of cheesecake will rejoice in this healthy, decadent and satisfying version of the calorie-packing original. The ice-cream too is creamy and palatable with strong flavor and a nutty base. Their desserts menu passes the sweet tooth test and more.
I suppose while you're drooling you're still curious about other things such as the service. Let me ask you a rhetorical question: If I was able to tell you this much about the food and it's process, how did I learn all this? Thus settling the question of service, I found them not just friendly and accommodating but extremely informative and interactive beyond the serving process. And the price tag? The most expensive item on their menu is a whole $14 for a pad Thai that will have you so stuffed you'll be babbling. An even cooler aspect of Rawlicious (oh yes there's more)? You can buy their product for home use. Whether you want a batch of onion bread croûtons, a full cheesecake for your next celebration, or a batch of cookies to please your office, they do that too.
I know the idea of a meal without 'sustenance' (I define this as meats and complex carbohydrates) may not have much of an allure but if I learned anything from this experience is that my preconceived template of a meal was completely faulty. Raw CAN be delicious, filling, and above all, it is healthy and good for you no matter how decadent it may taste.