Online Bargain Shopping 101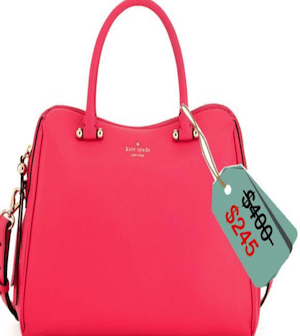 Online shopping can get overwhelming at times. There are so many things to consider and the worst part…Shipping! For some reason it always seems to be double the price of the item you're ordering. When shopping online I look for three things: shipping, duties, and of course if it ships to Canada! After I have figured this out I start to search for the bargains that make shopping online worth my while and wait! With this comes three rules: always, and I mean ALWAYS check the sale section, second rule; always filter the category you're looking at by picking the max price you're willing to pay, and rule three don't have any specific items of clothing in mind… this always leads to you paying more money than you originally planned! Here is a list of online stores that have great products, and amazing deals!
Beyond the Rack: This site is amazing; it functions on the concept of flash sales so be prepared to buy fast! This website is great because it's Canadian, and best of all shipping is only $8! They carry name brands, and sometimes offer 80% off of certain events! They also carry beauty products, and items for your home. I recently got a straightner and blow dryer set for $30 that was originally $160… Talk about bargain!
Chloe Bag and sunglasses found on beyondtherack.com
Shop.ca: This website is all Canadian and has free shipping! It's awesome because they carry everything you need, from Kate Spade purses, to Steve Madden shoes, to electronics, to pet accessories! This website has successfully achieved the concept of "one stop shop"! I check this website daily because they're always getting new items. This website is hassle free, and they make shopping simple; you don't need to factor in how much money you're really spending because the price you see is the price you pay! Bonus: you get aeroplan miles with your purchase!!
Kate Spade bag found on Shop.ca
Oasap: If you are really looking for a bargain this website is your best friend. They give you beautiful street styles for a super low price! You can get amazing clothes for as low as $9, and shipping is only $5.95. The thing I love about this website is that 1% of every purchase is donated to less developed parts of the world.
All items are from oasasp.com
Gilt.com: This website is international and works off the flash sale concept! Shipping is $9.95 to Canada. They carry multiple brands, even ranging to Christian Louboutin. They are so unique because they replicate the feeling you would get when shopping in a designer store; items get reserved once you put it in your bag and they only carry so many units of each item making you feel super special and unique.
Christian Louboutin shoes found on Gilt.com
Boohoo: Is a global website; it offers shipping for free on orders over $35, which is so worth it! This website has amazing pieces that are super low in price, but they look like you spent hundreds. They ship super fast and the quality is amazing. This is the go to website for the bargain fashionista!
All items found on boohoo.com
Bargain shopping doesn't have to be hard, especially if you're armed with the right websites! Happy shopping!

About Mackenzie Cammisuli
I'm just a girl who adores fashion. I love to browse online, wander in and out of stores as if I'm in an art gallery and truly get lost in the art of creating clothes."I bought a Vogue instead of dinner. I felt it fed me more."(I'm a huge fan of Carrie Bradshaw) Is probably the description of my life, with a dash of sass! Follow me on Instagram @kenziecamxo