One Night at Blow Fish…
The evening began like any other. My girlfriend and I sitting in front of our mirrors, bronzer compacts and curling irons in hand, getting ready for yet another night out. It was a Wednesday evening, and the Monday previous I had met a fellow visiting from L.A. who had asked my opinion on some good places to go for dinner and drinks. We made arrangements to meet up on on this evening at Blow Fish Restaurant and Saki bar located at 668 King Street West for some sushi and champagne. Following our usual 'fashionably late' routine, we arrived about 15 minutes after we had arranged, at 10p.m. Apparently the gentlemen hadn't arrived yet, oddly enough, but we sat down and ordered two glasses of champagne. I've always loved the ambiance at Blow Fish at night. The lights are dimmed, pretty pink lighting glows from under the tables and behind the bar, and the good music is turned up to the perfect level so that conversation is effortless. The flawless combination of sophistication and comfort make it an ideal setting to indulge in some of the best sushi downtown Toronto has to offer. I received a text from the fellow we were meeting, he and his friend would be running late. By this time it was 10:30p.m. and we couldn't wait any longer, we ordered more drinks, and more then enough sushi. Salmon Sashimi, Orange & Black rolls (salmon, mango and avocado,) and my personal favorites; Spicy Tuna on Crispy Rice and Zesty Black Garlic Angus Beef Tenderloin Tartare were a few among the many dishes we ordered. Our dinner guests still had yet to arrive, and to be perfectly honest, we preferred it that way! The girl talk and champagne was flowing, no need for some boys to be interrupting that! Our food came, filling the entire table top. I must admit, it must have been quite the sight, two young women sitting in front of a table of sushi that probably could have fed a table of five or six. But oh well! Blow Fish just has so many amazing menu items that we needed to have one of each of our favorites.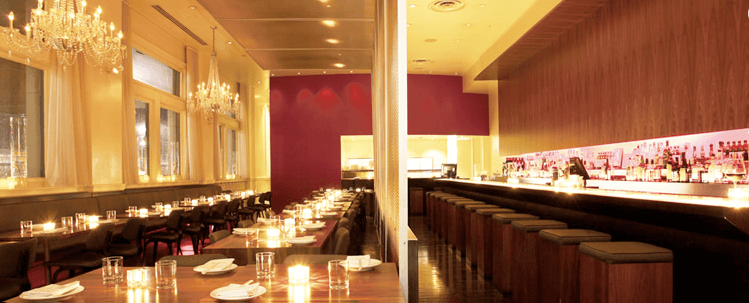 Now this is where our night begins to get interesting. It certainly isn't out of the ordinary for my girlfriends and I to be approached by any number of random gentlemen on a given night out, interested in chatting us up and of course offering drinks, but what this night had in store for us in regards to that was anything BUT ordinary. As we sit, enjoying our sushi and drinks, we were abruptly interrupted by a complete stranger pulling out a chair and sitting down at our table. He didn't say a word, but reached out with his hand and picked up a piece of sushi and tossed it into his mouth. I turned to my friend, and asked if she knew who this slightly confusing individual was with a look of disgust on my face, and just as I thought, she hadn't a clue. The waitress came around to offer this gentleman (I am using the term 'gentleman' loosely of course) some water, which he was happy to take! "Um, no, he won't be staying for water!" my girlfriend said to the waitress. A look of utter confusion appeared on the young woman's face. "You don't know this person?" she said. We both said no, we had no idea who this was, as the guy got up from his seat and dashed out of the restaurant. Our waitress felt awful. She knew we had been waiting for two dinner guests and had assumed he was one of them. She apologized profusely, and of course we didn't mind. Slightly off-put and shocked for the moment, but we are easy going ladies, so we bounced back quick. Moments later the manager came over to our table, offering his sincere apologies for the odd occurrence and proceeded to send over a round of shots which of course we gladly accepted.
Within moments we were over what had just happened and happily back to eating and drinking. Still no sign of the guys, but after an exchange of text messages it was apparent that they were running a lot more then 'fashionably late.' But oh well, more girl time! Or so we hoped…
I will first quickly add that before we had arrived on this evening, Blow Fish was hosting a private corporate gathering, so there were still a few guests left over from the event. Lucky for us, an obviously drunken older man felt it necessary to come over to our table, help himself to a chair and try his best at charming us. His conversation was a bore and his presence a nuisance. I guess by the expressions on our faces, his boss, who was watching from the other side of the bar, could tell. He came strutting up to our table and in a respectful manner, asked him to come back over and join the group. The degenerate man was not interested, he would rather interrupt a perfectly lovely evening and sit with two women half his age. It was obvious the boss wasn't going to succeed in his efforts to remove the portly fellow, so he said good night and went back to his people. A minute or two passed of this despicable man desperately trying to impress us with his stories about what he does for a living, and blah blah blah, (I really wasn't listening,) before the manager made his way over to the table. He could tell the man was making my girlfriend and I extremely irritable, and wanted to help us out. He politely asked the man to leave us be, the man turned to us, "is this what you want? Do you want me to leave you alone?" We both nodded. Suddenly the man became belligerent, "I am important in life, and the two of you are NOTHING! You don't have any money, your just a couple of snobby b*tches!" Looks of utter shock and disbelief struck our faces. Not only were we in public but we were in a place our circle of friends go to a lot and this was becoming embarrassing. The man shuffled his way back to his LUCKY group of colleagues, and we thought that would be the end of it, NOPE! We could hear him bashing us from across the bar. I listened in and could hear all of the lovely, overly descriptive adjectives he was using to describe my girlfriend and I. Two perfectly innocent young women who were simply trying to enjoy a night out with each other, and didn't wish the company of a drunken degenerate, I mean is that so much to ask? The manager, as expected, was now back at our table… Such a nice gentleman he is! Apology after apology! "What a night the two of you have had!" Glasses of champagne were sent over, and he told us not to worry about a thing, that our evening was going to be taken care of. (Did I mention the rest of our party STILL didn't show up?)
What started out as a lovely evening, became a what could seemingly be described as a complete and utter disaster! Not only had we had our meal interrupted not once, but twice, but it looked like we were being stood up! Most people would probably be left bitter and angry after this experience, but not us. We laughed it off. It was a story to tell! The staff at Blow Fish more then made up for our strange experience. They were extremely accommodating and apologetic. I have been countless time before and returned several times since this evening, and not once have I ever had a negative experience. The food and service is always top notch, exceeding my expectations each visit.
Our dinner guests (I had almost forgotten about them!) finally showed up, sincerely sorry for their tardiness, (blah who cares,) ordered a round of drinks and our night was back on track.
For some of the BEST sushi and service downtown Toronto, make sure to try out Blow Fish! 668 King Street West, 416 860 0606.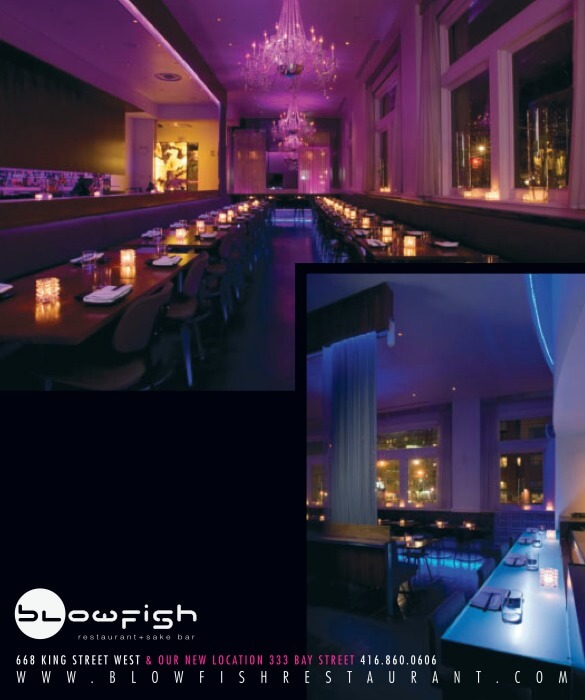 www.blowfishrestaurant.com
For timely updates on the brutally honest pursuit of love & happiness through the eyes of an intelligent, witty, & overly emotional buxom blonde, please feel free to follow me on twitter www.twitter.com/TdotTweetHeart
xoxo,