Obsessed with Blyss Salon!
Being a beauty writer certainly has its perks, and this past Friday I was lucky enough to have my hair done at the incredible Blyss Salon in Yorkville. My hair was in desperate need of a colour correction, so I had the ethereal Rob Pizzuti do a number on my mane. The orange tone of my ombré was taking over, so Rob brought my hair back to life by swapping out my brassy colour for a sandy-blonde beachy look. Never one to sacrifice hair's health for a look, everything that was used on my hair was super nourishing and worked to rebuild my damaged strands. Resurrecting my hair and getting a flawless dye-job? Sign me up! My hair was ridiculously shiny and gorgeous when I left.
Not only did I get gorgeous new ombré, but the amazing Alyson Peach sliced off all my dead ends and gave my hair its shape back! Easily the most impressive cut and style I've ever had. This woman knows what she's doing!
Check out these before and after photos: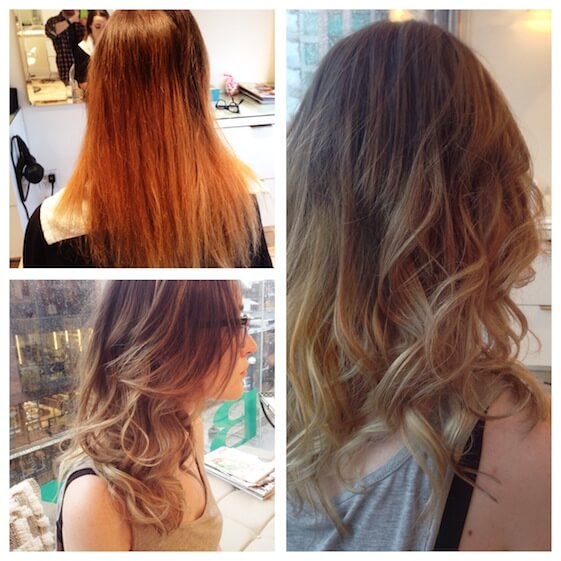 Aside from the incredible work Rob and Alyson did, every single person at Blyss was unbelievably sweet and helpful! From the moment I walked in to the moment I left, everyone I interacted with was awesome. After getting my hair washed and moving over to Alyson's chair, my bag and coffee were already waiting for me! It's the little things!
I can honestly say that I've never had a better overall experience at a salon. I've found a new home away from home at Blyss, so they better get used to seeing me!
25 Bellair St, Toronto, ON M5R 3L3
(416) 921-7860
http://www.blysssalon.com/ and "Like" the Facebook Page here: https://www.facebook.com/blysssalonyorkville
About Alex Payne
Alex Payne is a fashion student living in Toronto, and a complete pop culture junkie. She's an avid blogger, writing about beauty, fashion, dating, music and film. She's obsessed with cupcakes, Kate Spade and The Simpsons. Oh, and vodka.